Non-Surgical Treatments for The Perfect Butt
Skin Vitality Medical Clinic is the #1 Provider of Morpheus8, Botox®, CoolSculpting®, Juvederm®, PRP Hair Restoration, Sculptra®, EMSculpt® and Fraxel® in Canada and WE CAN OFFER YOU:
Sculptra Buttock Augmentation
With summer heat and bikini season in full gear, many aspire to show off a flawless hourglass figure, but even with consistent efforts to eat healthily and workout regularly, it's nearly impossible to achieve the Kim Kardashian bum and figure on its own. Sculptra buttock augmentation is an amazing non-surgical option for many patients. Whether you're seeking to enhance your curves, restore any lost volume or just to smooth out any irritating skin dimples, Sculptra provides the results you're looking for! Continue reading for alternative, non-invasive, non-surgical options to achieve the perfect butt without the pain and excruciating recovery of a Brazilian Butt Lift!
Want that Kim Kardashian Butt?
A full, plump and voluminous rear end is one of the most desired traits of a youthful physique, yet many women feel as though they all short of this criteria. If you're struggling to see results regardless of how many squats you do, or exercise classes you take, don't fret. While surgical options exist, many factors come with them that are unavoidable. Undergoing surgery is painful, invasive, and are accompanied by a lengthy recovery process. In addition, not everyone is guaranteed to be an accurate candidate: such as patients struggling with excess skin or those who do not have an adequate amount of body fat that's needed. Buttock augmentation with Sculptra is an amazing and inclusive option for anyone wishing to achieve a full, shapely butt, and avoids the inconveniences of invasive surgery. Sculptra is an FDA-approved injectable that has the ability to beautifully contour and enhance the buttocks, reduce cellulite, and ultimately boost your self-confidence.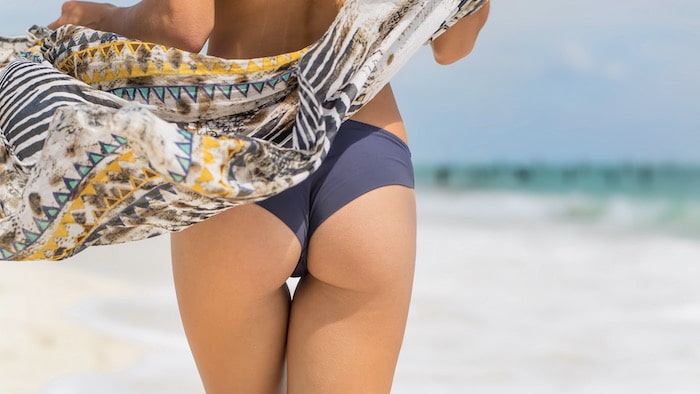 Sculptra is a new, non-invasive, and versatile procedure to add more shape and volume to the buttocks. It is a great way to enhance your natural curves using a dermal filler that stimulates collagen growth in the skin. Sculptra for Brazilian butt lift allows you to achieve a rounder, fuller look without surgery. Different from a regular Brazilian butt lift where fat is taken from the body and placed in the buttocks, Sculptra is a procedure that is minimally invasive, does not require anesthesia, and has a little to no downtime.
Over 2 Million Treatments with Sculptra Worldwide
The popularity of Sculptra has grown exponentially in popularity over the last few years, with over 2 million treatments performed worldwide in 2018 alone. The reasoning for this is that Sculptra is a safe, non-surgical alternative to other options of invasive surgeries, requiring no downtime, no anesthesia, no scarring and virtually no pain. In addition to being a safe and convenient butt-lift, Sculptra has the ability to revitalize the skin, smooth our imperfections and improve skin tone and texture. What's not to love?
Immediate long-lasting results
Sculptra provides immediate and long-lasting results for up to two to three years. Since it works to promote collagen production within the skin, the skin is able to thicken and improve volume over time. The results for Sculptra butt lift will get better over the following weeks after the procedure as the body absorbs the filler and boosts collagen levels. While the best results will be seen after a few weeks, many patients return to get multiple Sculptra treatments to ensure the best possible outcome. Sculptra serves as a fantastic alternative to surgical intervention, by preventing scarring and not requiring a long recovery period. Once your final results are achieved, the results are long-lasting; making it a patient-favorite!
Sculptra butt lift for women
Sculptra ® is a non-surgical butt lift that achieves results like those of a Brazilian butt lift without the intense pain and recovery. That's right you can have a Kim Kardashian Bum without surgery. If only Kim Kardashian knew this. You can imagine how happy I was to learn that I could get a Brazillian Butt Lift near me without having to hop on a plane!
What is Sculptra®?
Sculptra® is a unique treatment designed to increase collagen, the key structural component of healthy, vibrant skin. Sculptra® rejuvenates your skin with volume, free of fine lines and sagginess through the injectable poly-L-lactic acid that prompts your body's natural production of collagen to reveal. This is why Sculptra® injections have been coined as the non-surgical Brazilian Butt-Lift.
Sculptra Injections Before and After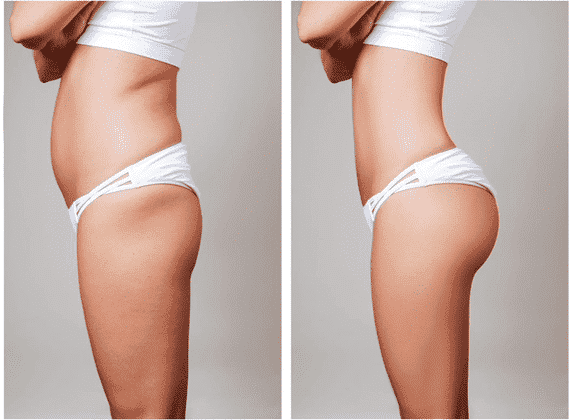 Sculptra vs BBL (Brazilian Butt Lift)
Sculptra is non-surgical; there are no risks of infections that may come from surgical incisions
Sculptra is a non-invasive procedure that has no downtime, while a BBL involves a minimum recovery time of two weeks
Sculptra provides more subtle and natural looking changes, so it is not evident that you've had work done
Sculptra is long-lasting, however not permanent. If you are not pleased with the results or if trends change and you no longer desire as large of a bottom as the initial results, you have the ability to return to your starting point
Why choose skinvitality for your butt lift in canada?
Our Sculptra® Butt Lift treatment is performed in 30 minute sessions and requires little to no downtime with results that can last up to five years! Today, the worry of synthetic buttocks implants is unnecessary, and risks related to liposuction can be a thing of the past! Allow yourself to enjoy all of these benefits of Sculptra ® at SkinVitality:
Enhanced curves
Restore lost volume
Smoothed dimpling
Inflated and lifting of the butt
Less downtime for recovery and lower risk of serious complications than a surgical procedure
No anesthesia, treatment uses freezing
Quick 30-minute treatment
Long-lasting
No risk of infection
Gradual results that avoid extreme and unnatural changes in appearance
Minimally invasive treatment without the need for surgery
Natural results that can be modified based on number of treatments
Good option for patients without available fat for grafting
Short recovery time
No scars
Provides volume, firmness and lifting
I went in to buy my mom a gift card to use for her next treatment and I saved $200. I ended up buying myself one too! Totally worth it to buy in advance.
A great gift for my Mom who never takes time for herself. I have no idea what she does but I know she loves going to Skin Vitality. This will be the best gift for her and it was so easy to get. As a University Student, anything that gives me more for my money is sweet to me. A win for us both! I payed 180 and she gets 200 :)
My husband got this gift card for my bday. I really love how easy and smooth it is to use this card at SV. And on top of it, there is a discount when you buy the card. Really an amazing deal :)
Received GC as a birthday gift! best gift ever!
I saved a $100 When I bought a $900 Gift Card for my bestie. She was able to put $1000 toward her CoolSculpting treatments and even got a discount on her purchase. Really excellent savings 🙌🏻
Skin Vitality will provide you butt lifting exercises to do while your Sculptra® treatment is in the process of working. This section will go over what exercise lift your buttocks to improve your Sculptra® butt.
Lunges
Walking lunges are an amazing exercise that incorporates cardio with muscular stimulation to achieve those booty goals for summer! The exercise involves stepping out with one foot, bending at the knee until your knee almost touches the floor, and then lift back up while simultaneously pulling your rear leg to meet the front.
Now, you are again at a standing position, and step out with the opposite leg and preform the same set of motions. Try a few in slow motion, and once you feel like you have the hang of it go through the motions continuously to create a smooth transition between lunges so that you are almost walking!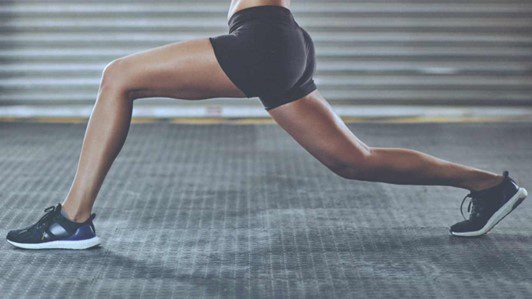 Donkey Kicks
This exercise should actually be called the "booty toner" because that's exactly what it does! Get on your hands and knees, look forward with a straight back. Now, slowly kick one leg back while tightening your core and your butt. Kick your leg high enough that you feel your butt muscles clench, which means they are working. In no time you will feel the burn. Alternate legs and repeat for the ultimate booty makeover.
Squats
 I know they're tough, but that is because they work. If you want that Kim Kardashian butt it is time to start squatting! Stand with your feet a little further than shoulder width apart. Put your arms straight out in front of your chest and begin to sit back into an imaginary chair. Ensure that your weight is going into your heels so that you are not tipping onto your toes, which is cheating.  Go easy on yourself when squatting and over time you will build up the strength to squat more and more every day. I recommend starting with 10 and increasing your squat count by 10 each day. If you reach a day where you cannot do anymore, then pause at that number and repeat for three days, then continue increasing your squat count until you reach the same problem.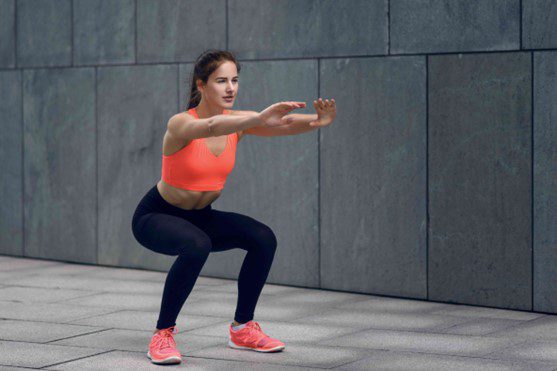 Bridges
This exercise is the perfect booty contouring workout! Lay on your back, YAY! But you're not resting! Put your feet flat on the ground so that your knees are pointed to the sky and place your arms by your side. Ensure that your knees are not spread apart as they should only be able to fit around two fists in-between both knees. Now, squeeze your butt cheeks together and lift your hips to the sky, hold for 15 seconds, and lower yourself back to the ground slowly. Repeat this range of motions and feel the burn!
Recently, some of the most iconic celebrity faces have been paving the way and turning their attention to new and innovative technologies and treatments. Kim & Kourtney Kardashian, and Chrissy Teigen have been open and honest about what treatments they have used for skin tightening and resurfacing. Such treatments include innovative radiofrequency treatments that are breaking the boundaries of innovation for minimally invasive procedures that mark the beginning of the future of non-surgical body and face contouring procedures.
Kim Kardashian & Morpheus8
More recently, Kim has been posting more about the new radiofrequency treatments that she's been doing and LOVING. Bless her heart for being so open, she even includes IG videos of her receiving treatments like Morpheus8 for her body.
What is Morpheus8?
Morpheus8 is a brand new, innovative solution for treating skin laxticity while removing fat. Using a safe radiofrequency (RF) and an advanced needling treatment, Morpheus8 helps you achieve tighter and smoother looking skin on the face and body. The unique engineering of the device results in treatment that can be performed on both larger, easily assessable areas and smaller, more delicate regions that require precision.
It's a unique treatment in which micro needling is used in combination with radiofrequency technology and has the ability to penetrate the skin at a deeper level than regular micro needling treatment sessions. Morpheus8 is typically a treatment for the face that is able to address and treat various skin concerns from hyperpigmentation to acne scarring but can also be really effective in firming and tightening tissue on most areas of the body.
Morpheus8 can work on any area of the body and treats a wide range of skin concerns. It treats irregular skin tone & texture, deep lines and creases, sun damage, acne and acne scarring, skin laxity, enlarged pores, and stretch marks. People exhibiting common signs of ageing can also undergo this treatment, as the results are universally beneficial.
The innovative Morpheus8 treatment applies just the right amount of heat to:
Remodel skin texture on subdermal layers
Remove unwanted fat
Reintroduce collagen fibers for increased volume and suppleness
Morpheus8 Body:
Morpheus8 is an ideal treatment if you are looking to get rid of the following issues that are affecting body contour:
Sagging skin around the thighs and buttocks
Cellulite
Loose skin around the stomach
The innovative engineering of the Morpheus8 hand-held device has resulted in customizable device tips that are designed for deliver, meaning that treatments are able to be performed on both larger and smaller, more delicate areas. The needles will only affect the subdermal layers of the skin, so there's no risk of hyperpigmentation post-session, making Morpheus8 a fantastic option for all completion types. While it can take up to 6 months to see an improvement in collagen, some patients have noticed a reduction in cellulite in as little as one month!
At Skin Vitality, we'll ensure the proper amount of radiofrequency heat is delivered safely to your target area in order to obtain the results that you want. We are able to accomplish this through in-depth training on our medical aesthetic practitioner, their extensive experience and the precise regulation of energy the device is designed to deliver.
The best way to decide which procedure is best suited for you is to have an in-person consultation with one of our experts at Skin Vitality. Skin Vitality is proud to offer these services. Call us today to book a free consultation and discuss your treatment plan!
WE ARE THE TOP Injectable PROVIDER IN TORONTO!
We perform thousands of injections every year – so many that we are the top provider of Botox® and Juvéderm® injectable treatments in Toronto and Canada. We also perform more CoolSculpting®, PRP Hair Restoration®, Sculptra®, EMSculpt® and Fraxel® treatments than any other providers in the country! Our doctors, nurse practitioners, registered nurses, and registered practical nurses have injected over 5 MILLION patients in the last 15 years. If you are looking for the best Morpheus8 results in Toronto, you have come to the right place!
Skin vitality location NEAR ME
Skin Vitality Toronto is our fourth location in Southwestern Ontario. This Toronto medical spa is just one of our 11 locations. Not located in Toronto? No problem! We offer non-surgical treatments across the GTA; browse through the clinics below to find a location near you! 
Mississauga offers non-surgical treatments at our Mississauga clinic, located around the Port Credit area.
Oakville offers non-surgical treatments at our Oakville clinic, located beside the Harper's Landing on Cornwall Road.
Richmond Hill offers non-surgical treatments at our Richmond Hill location, just North of the 407, in the LCBO Plaza, a few stores down from the Shoppers Drug Mart.
Ajax offers non-surgical treatments at our Ajax clinic, located in the Westney Heights Plaza, just North of the 401.
Stoney Creek Hamilton offers non-surgical treatments at our Stoney Creek, Hamilton location, a couple of minutes from the QEW, at the intersection of Fruitland Rd and Barton St.
London, Ontario offers non-surgical treatments at our London clinic, located within the Starbucks, No Frills and Shopper's Drug Mart Plaza on the northeast corner of Fanshawe Park Rd. W.
Kitchener Waterloo offers non-surgical treatments at our Kitchener location, just north of the 401 in the Deer Run area.