You want to look great but have trouble finding a medical aesthetic clinic that you can get to easily, without fighting traffic and stressing out about missing an appointment. If you live in Ajax, a beautiful, vibrant complexion and slimmer body is just minutes away. Skin Vitality Medical clinic is right in your neighbourhood.
We are the Top CoolSculpting, Botox and Juvederm Provider in Canada
We are proud to be the top provider of Botox and Juvéderm injectable treatments in Canada. We are also the top provider of the world's most popular body contouring treatments: CoolSculpting, ThemiVa, Fraxel, Venus Freeze and Venus Legacy. We perform more of these treatments than any other provider in the country, which makes our team of 10 doctors and 26 registered nurses the most experienced.
Address
Ajax
15 Westney Rd N #1c
Ajax, ON
L1T 1P5
Phone: (905) 619-2639
Fax: (905) 619-2037
Directions: Skin Vitality Ajax is located in Westney Heights Plaza on the North East corner of Westney Road North and Kingston Road West (highway 2), just north of the 401.
Hours of Operation
Monday 9:00 AM – 8:00 PM
Tuesday 9:00 AM – 8:00 PM
Wednesday 9:00 AM – 8:00 PM
Thursday 9:00 AM – 8:00 PM
Friday 9:00 AM – 7:00 PM
Saturday 9:00 AM – 5:00 PM
Sunday CLOSED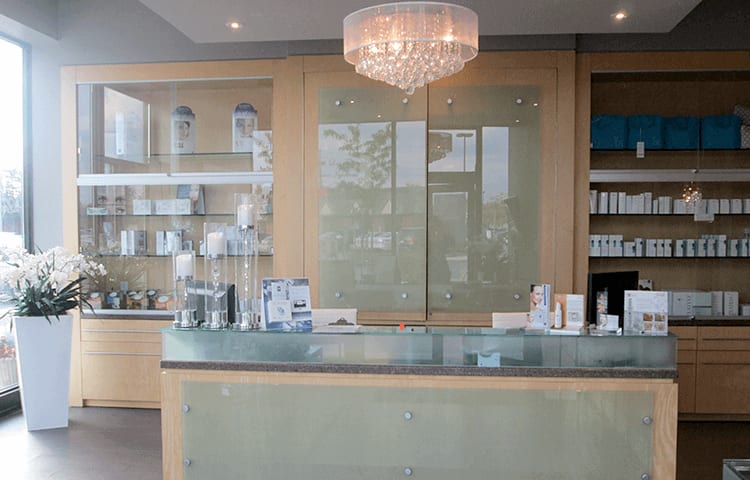 Skin Vitality Ajax is one of our largest facilities. Featuring the top quality medical aesthetic treatments that have made Skin Vitality a leading clinic in Canada!
Rating: 5 out of 5
Your Feedback: I recently had my third Botox treatment at Skin Vitality Ajax and I feel great! The staff is always friendly and helpful. The nurse suggest different areas of treatment if I ask and l love the results! Natural and refreshed is what I feel after my treatments! I recommend Skin Vitality to all my friends and family with so many locations around Ontario it makes scheduling an appointment very convenient! Becky M.
Reviewer: Rebecca
Visit our Ajax location for a 20 minute procedure that will instantly smooth away your wrinkles or experience a full day of luxury as you are pampered and cared for by our expert medical aestheticians who will chase away your stresses and transform you into the beautiful person you truly are.
Skin Vitality Ajax offers these treatments:
We also offer:
You'll walk out of our Ajax clinic looking fantastic and feeling great about yourself! Contact Skin Vitality in Ajax at 1 (877) 356-7776 or (905) 619-2639.
Ajax, Ontario
With Lake Ontario at its doorstep, five massive golf courses, and a number of shopping hubs, there's always something to do in Ajax. The town, founded in 1941, is located east of Toronto and is home to close to 100,000 residents. It experienced rapid growth in the 1980s onward.Although considered part of the Greater Toronto Area, its popularity as a "town" will ensure that it becomes a city all on its own!Did you know that Ajax is named after the first major British naval victory of WWII? The HMS Ajax was part of a flotilla of ships that successfully overpowered the German battleship Admiral Graf Spee.A tribute to the town's origins is expressed in their motto: BORN IN CONFLICT · SETTLED IN PEACE.