Skin Vitality Medical Clinic is the #1 Provider of Juvéderm Fillers in Canada and WE CAN OFFER YOU:
SHOP OUR EXCLUSIVE GIFT CARD OFFERS!
Give that special someone (or yourself) the gift of confidence and feeling amazing from the inside out! Easy to order, packaged in a fabulous gift box or send an eGift Card online directly to the recipient!
Get up to $200 back when purchasing a gift card with us.
WANT TO RECEIVE A $25 OR $50 GIFT CARD?

One of the most popular products used in the field of aesthetic medicine is Juvéderm®. It is an injectable gel facial filler that is able to give patients the benefits of improved skin and anti-aging effects but differ in several important ways. This FDA and Health Canada approved "next-generation" dermal filler, based on hyaluronic acid, is a naturally occurring substance in your skin. A single treatment can provide a subtle to dramatic improvement of your appearance, without surgery. Skin Vitality Medical Clinic is the TOP provider of Juvéderm® Fillers in Toronto, Mississauga and in fact, the whole country. We perform more Juvéderm® dermal filler injections than any other medical practitioners in Canada. 
Our talented medical staff specialize in the application of Juvéderm dermal fillers, that:
For facial contouring to reshape your original features, whether you're younger or older, Juvéderm® simply adds more HA to your skin to add the volume necessary to make a positive change. 
Once our doctor has deemed the treatment to be safe for you, you will meet with one of our expert medical injectors. They'll examine your facial structure and skin type. They will also talk to you about your goals and expectations of your treatment. This can take anywhere from 10 – 30 minutes depending on the areas you are looking to treat and the extent of your concerns. Every assessment is personalized to fit your needs. 
A topical numbing cream may be applied for local anesthetic in order to increase your comfort, however, this isn't always necessary. Juvéderm® already has an ingredient in it designed to help you: lidocaine. Lidocaine provides temporary numbing of the treated area at the time of your injection, making any additional anesthesia unnecessary.  
The areas to be treated will be marked. Then, a series of Juvéderm® injections are made in the area(s). A sterile syringe and fine needle that has been pre-packaged by the manufacturer is used. One or more syringes can be administered in a single treatment. Once injected, your injector may massage the areas lightly to adjust the placement of the product. It's important to note that you should not do this yourself at home, even if you see any lumps or bumps that are taking away from your desired results.  
If there are any Juvéderm® results that you do not like, we will be able to fix them during your follow up, two weeks after your initial treatment. By that time, any initial swelling will be gone, making it easier to assess and deal with irregular contours that require adjusting.
Cost of Juvéderm Injections
Juvéderm® is considered a non invasive, nonsurgical cosmetic procedure. This makes it a much more affordable option compared to surgical procedures with much less risks and complications associated with treatment.  
The cost of Juvéderm® varies widely, the factors that go in to the treatment cost include the area or areas being treated, the size of the area or areas being treated, the Juvéderm product needed, and how many sessions/syringes you'll need to achieve your personal desired goal. In general, some of the thinner Juvéderm® products range from $600-$800 per syringe. Longer lasting Juvéderm® products range from $900-1,000 per syringe category.  
Most commonly, just 1 syringe is used for augmenting the lips, regardless of the type of filler you use. Occasionally, we will build up to 2 or even 3 syringes in the lips for a patient, but this is usually an older patient who has lost some of the definition and structure in the lips, as well as volume. However, keep in mind that a personalized treatment plan will be tailored just for you, meaning the cost can vary depending on the results you are looking for.  
Juvéderm® has a wide range of products, these include: Volbella, Ultra, Volift, Ultra Plus, Volite, Volux, and Voluma. Each Juvéderm® filler has its own properties, purpose, and longevity. 
Each formula is available in an "XC" version. The "XC" version, which contains lidocaine makes the injection process less painful for patients.  
Juvéderm Syringes & Application
Juvéderm Voluma XC
Juvéderm Voluma XC injectable gel is typically used for restoring cheek or mid face area to correct age-related volume loss and also to help restore a more youthful curve and position to the higher area of cheekbones in women.
Juvéderm Volbella
Juvéderm® Volbella is primarily used to treat volume loss in the skin. This filler will create natural-looking results that mimic the look and feel of your natural lips. Specifically, this filler can also be used to correct concerns such as: Perioral lines (lip lines).
Juvéderm Volift
Over time, lines can form from the outer corners of the nose to the mouth (nasolabial folds) and from the corners of the mouth to the jawline (marionette lines). Juvéderm® Volift can effectively fill out these areas, adding volume to the skin and reducing the appearance of wrinkles and creases. This new formula includes lidocaine, which helps to numb the skin for your comfort. In addition, a smaller amount of hyaluronic acid can be used while achieving the same results as alternative fillers.
Juvéderm Volux
Juvéderm® Volux is a hyaluronic acid dermal filler which has been specifically designed for use in the chin and jawline. We can use it to improve facial harmony by strengthening the jawline and chin, to soften jowls, improve 'double chins', or to give a stronger more defined jawline.
Juvéderm Volite
Juvéderm® Volite is a unique treatment that stimulates the fibroblasts (cells responsible for collagen formation), causing a dramatic increase in the production of elastin, collagen and hyaluronic acid — the three elements of your skin that are vital in keeping your skin youthful and radiant. You don't need multiple treatments to get the results you want — with just a single treatment, results can last up to 9 months.
Juvéderm Ultra
Juvéderm® Ultra is an advanced dermal filler with a smooth consistency that is excellent to restore volume and hydration for skin elasticity and support. It is selected to treat fine lines and wrinkles around the mouth, under the eyes in the tear troughs, and for lip augmentation.
Juvéderm Ultra Plus
Juvéderm® Ultra Plus is thicker than Juvederm Ultra. Medical professionals use it to improve the most severe wrinkles, the deepest nasolabial folds and marionette lines, and to fill depressions in cheeks. It can be used as a "liquid facelift" in order to sculpt facial contours.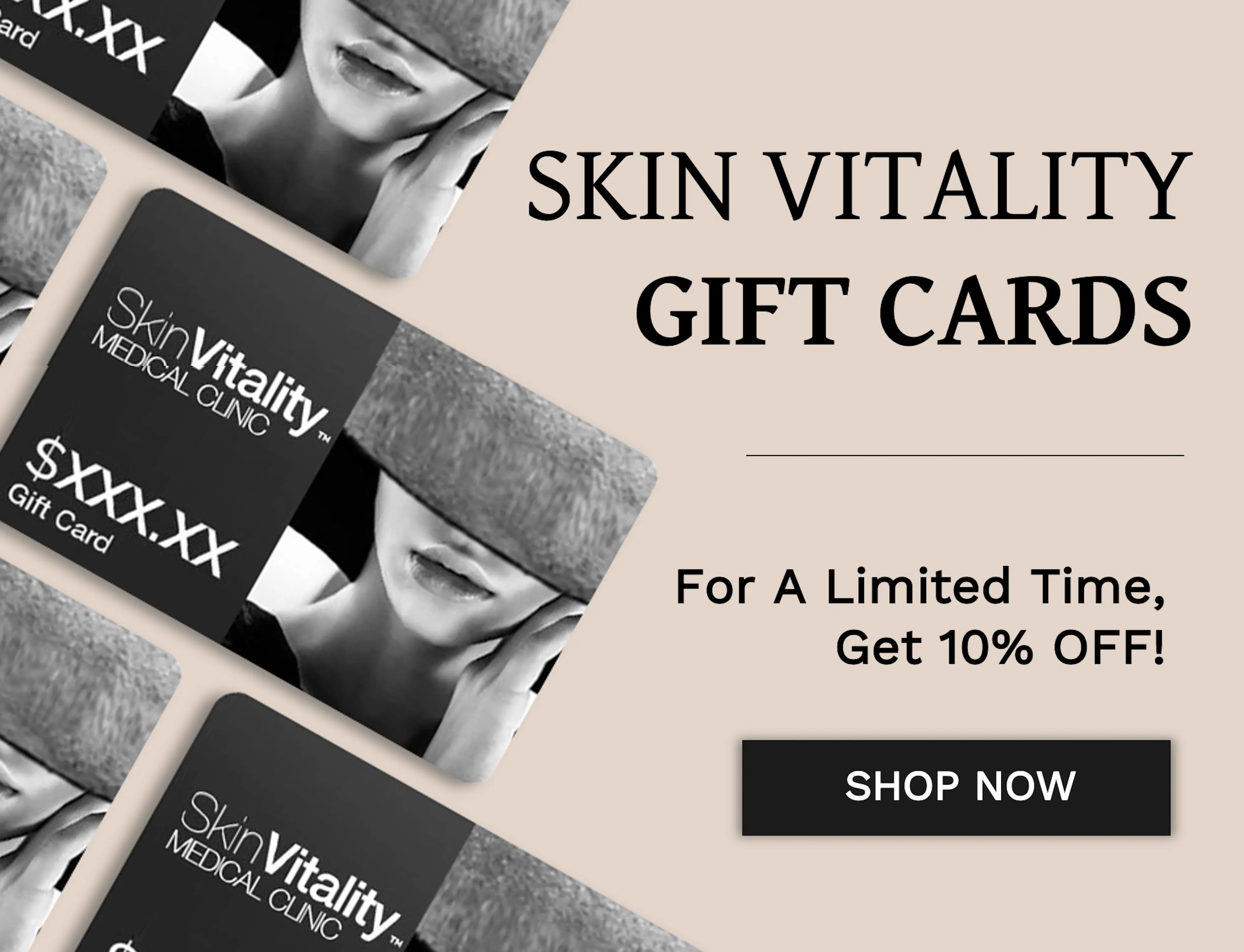 JUVÉDERM FILLERS In The News
What They're Saying ABOUT JUVEDERM FILLERS
I had lip fillers done at Skin Vitality and I absolutely love my lips and the nurse is incredible! I can't say enough wonderful things! During the whole process she kept me so calm and relaxed. I love how my lips turned out, she made me feel like a princess! I would recommend 100 times. They are best in the biz! :)
I went for my first Juvéderm consultation and it went so well. Their facility is clean and their staff is so kind and attentive. The ladies made me feel so comfortable and confident with my decision. I'm so glad I chose Skin Vitality and am so looking forward to exploring everything else they have to offer. Thank you!
Highly recommend Skin Vitality. My sister has been going here for years and she is always raving about how skilled they are. I finally went to get Botox and Jawline filler. I am sooo pleased with my results!! Definitely coming back !
I got lip fillers today by Jess and honestly it was the best experience I've ever had doing a beauty treatment. She was so sweet and professional she explained what she was doing the whole time and took her time. She did the exact shape of lips I asked for and more! I Couldn't have asked for a better injector. Money well spent!
A friend referred me, to Skin Vitality, to have my lips done. Everyone there was so nice, and informative. They listened to what I wanted, and gave me exactly what I was looking for. This was my first experience with fillers, and I couldn't be more thrilled. I highly recommend, and can't wait to go back!
Where JuvéderM FILLERS can be used?
Juvéderm Filler for Face:
JUVÉDERM filler for Other Areas:
Lips feature an independent and sophisticated fibrous muscular structure that allows fine manipulation and extensive movement. This complex of muscles is called the orbiscularis oris and is found only around the mouth. The orbiscularis oris, also known as a sphincter muscle, allows us to form the correct expressions to form a smile and frown, to talk and laugh, as well as to eat and sip. Juvéderm® for lips can be used to fill in some of these smile or frown lines. 
As we age, our lips naturally begin to lose the elasticity and plumpness that we associate with youth.  Juvéderm® is one of the most popular methods used by medical professionals to restore lips to a youthful, fuller appearance. After lips have begun to lose their shape, Juvéderm® is able to help restore plumpness and elasticity through the properties of its main component, hyaluronic acid.  
Once it has been injected, the hyaluronic acid integrates with natural tissues and enhances the fat content of a patient's lips. Regular follow-up injections allow you to maintain plumper lips and reduce the appearance of aging. 
Juvéderm is an FDA approved hyaluronic acid dermal filler that is designed to enhance facial features, restore lost volume, and smooth out wrinkles and folds. Juvéderm is the go to brand of lip fillers because it provides a sensual, natural look. Some other benefits of Juvéderm for the lips include: Adding volume and definition, correcting asymmetries, improving contours, reducing lines around the lips, providing instant and long lasting results, and most patients are able to have the treatment performed over their lunch break with no downtime. Hyaluronic acid occurs naturally in the body with most patients responding well with little to no side effects. These side effects could include mild swelling, bruising, and redness. They typically resolve within three weeks. 
Within the Juvéderm® line, the most used products for lips are Juvéderm® Ultra XC and Juvéderm Volbella® XC.   
Juvéderm® Ultra XC is injected into the lips and perioral area for lip augmentation. It is also injected into the facial tissue for the correction of moderate to severe facial wrinkles and folds, such as nasolabial folds. 

 

Juvéderm Volbella® XC is injected into the lips for lip augmentation and correction of perioral lines, and injected into the undereye hollows to improve the appearance of undereye hollows.

 
Juvéderm
Filler for Cheeks: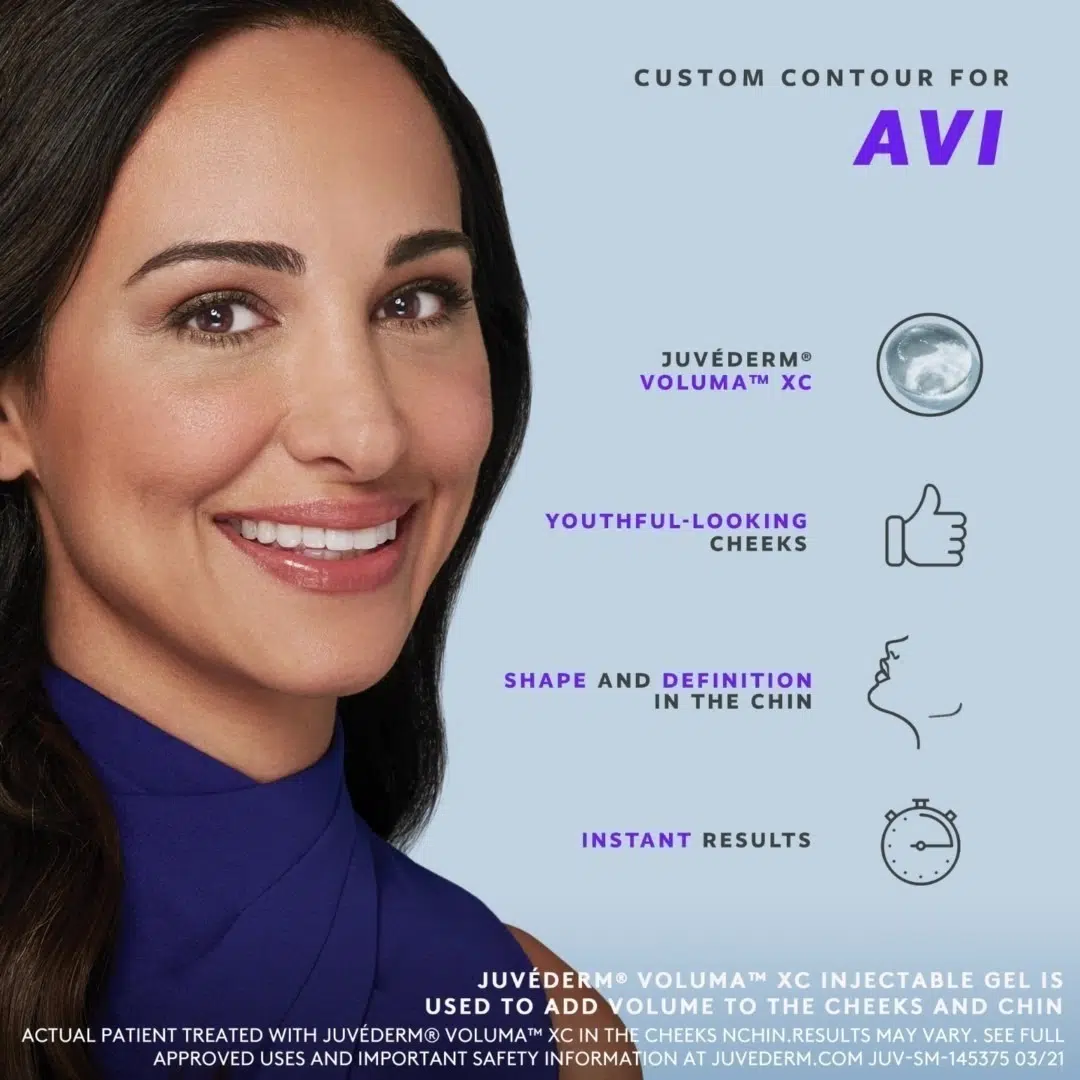 Our cheeks, just like the rest of us, are affected by age. As we get older, our skin begins to lose the elastin, collagen, natural fats and ability to retain moisture that is responsible for smooth, full and firm skin. Our cheeks can succumb to these problems faster than the rest of us. This is problematic because the cheeks are such a prominent part of our faces so damage to them greatly effects the general appearance of our face. 
Juvéderm® works to make cheeks look younger by giving back what time and nature have taken away. The injectable Juvéderm® Filler integrates with the cheek's skin tissue on a cellular basis to reverse the damage and promote a healthier, more youthful look. 
The two major characteristics of aging cheeks — gauntness and wrinkling — can be resolved by Juvéderm®. Patients that undergo treatments with the filler soon begin to see volume added to the skin of the cheeks, a plumping up of the skin and a pleasant reduction to a hollow or gaunt appearance. Juvéderm® patients leave their treatment with cheeks that have been restored to their proper look.
Juvéderm Filler for A DEFINED JAWLINE: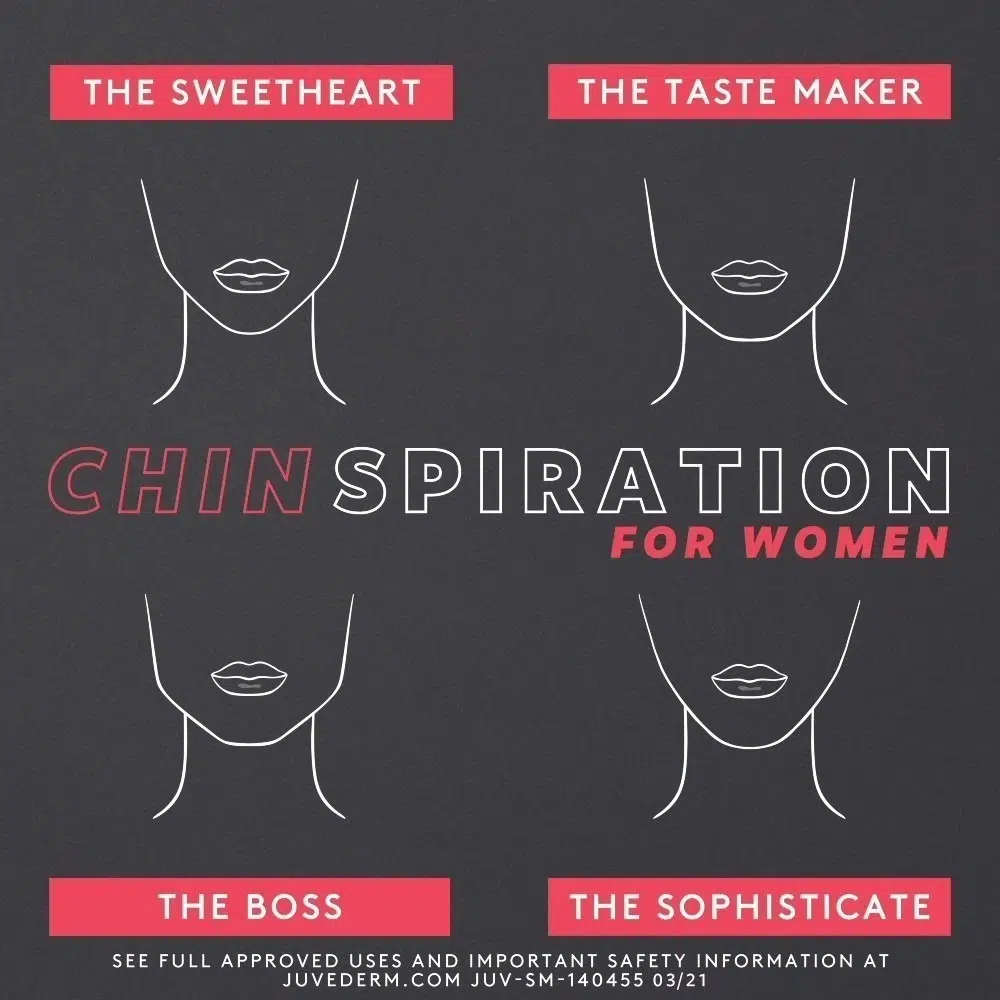 As we age, the bone volume in our jaw and chin begin to decrease. We lose definition, structure, and support over time, with genetics playing a role. Some people naturally have a weaker jawline or chin. With Juvéderm® Volux we now have the ability to achieve incredible results in the lower face.
Volux is a hyaluronic acid dermal filler which has been specifically designed for use in the chin and jawline. It can be used to improve facial harmony by strengthening the jawline and chin, to soften jowls, improve double chins, or to give a stronger and more defined jawline.
Genetically, some people have a small or weak jawbone or chin, whereas other lose volume through the ageing process. As we age, we lose bone in our skull – our cheeks deflate which mean that facial fat drops downwards with gravity. The thick hyaluronic gel in Juvéderm® Volux adds volume, structure, and support in the jawline and chin to create a more defined, chiseled, and sculpted jawline within a matter of minutes. 
Watch This Quick JUVÉDERM Video!
Founded in 1992, Skin Vitality Medical Clinic has 13 Locations across Southeastern Ontario. Our Medical Team consists of over 200 professionals including 10 Medical Doctors, 40 Nurse Practitioners and dozens of Registered Nurses and Registered Practical Nurses. We are the Largest Provider of Botox®, Juvederm®, CoolSculpting®, Hair Restoration®, Sculptra®, EMSculpt® and Fraxel® in Canada.
How Does Juvéderm filler work?
Juvéderm® uses hyaluronan to address wrinkles, facial contours, enhance the size and shape of the lips and can even smooth our scars and indentations. Juvéderm® can restore fats and elasticity that is lost, not just in skin, but also in lip tissue. For aging, the goal of our injectors is to simply replace the amount of HA in your skin that has been lost with every passing year. 
The primary ingredient of Juvéderm® injectable filler is hyaluronic acid (HA), a substance that loves water, which is perfect because your skin is made up of about 70% water! An injection of Juvéderm® into the problem areas on your face introduces fresh HA into your skin.  
Once injected, HA molecules bind with the naturally present water in your skin and each swells substantially. This swelling is what plumps up your skin to fill out those unwanted wrinkles, creases and noticeable hollows. This same effect is what also helps to modify facial contours that you want reshaped or more defined, such as your cheeks, nose, jawline, or chin. 
Another great effect of a Juvéderm® injection is that it improves the overall moisture levels in your skin, something that older patients can definitely appreciate. Higher moisture levels means that your complexion will look more vibrant and healthier as well. 
Juvéderm® is one of the most commonly performed FDA approved, nonsurgical, non-invasive cosmetic treatments referred to as a dermal filler with a hyaluronic acid base. Hyaluronic acid is a natural substance found in the human body. It stimulates the production of the connective tissue that plumps the skins collagen. As you get older, the production of hyaluronic acid and collagen decreases which in turn increases the appearance of sagging and wrinkling of the facial skin. Juvéderm is used to restore facial contours and improve these signs of aging, specifically on the cheeks, lips, and around the mouth and nose. 
There are several products in the Juvéderm® filler family with each product in the line featuring different bonding and concentrations of hyaluronic acid which is tailored to target specific problems when injected into different areas and depths. Each Juvéderm® product also comes in an "XC" version which contain a small amount of lidocaine. This will help minimize any pain or discomfort you feel during treatment. 
Advantages: 
Juvéderm® is approved for all skin types.

 

Juvéderm® lasts longer than many other fillers as it contains the highest concentration of hyaluronic acid currently available in a dermal filler.

 

Hyaluronic acid is found naturally in the body, meaning there's little chance of an allergic reaction.   

 

Procedure time is short; injections only take about 15-30 minutes and can be done over a lunch period as you can resume normal activities immediately, is no downtime time involved.

 

Can be accompanied by other skin treatments, such as microdermabrasion and even laser resurfacing.

 

Results can be as dramatic as those seen with surgery without the risks associated with surgery.

 

Known to have a more natural look and effect on wrinkles than other dermal fillers that consist of collagen.

 

Like other hyaluronic acid-based fillers, they can be dissolved with hyaluronidase if you don't like your results or have a complication.  

 
Hyaluronic acid (otherwise called hyaluronan or hyaluronate) is a naturally occurring property of the human body known as a glycosaminoglycan. It can be found throughout the average person in skin, cartilage, muscles and tendons. As it is found throughout the body, hyaluronic acid has long been of interest to cosmetic medical doctors.  
Hyaluronic acid (HA) is an essential component that forms the healthy structure of our skin. When we're young, HA levels in our skin are relatively high, which is one reason why our skin is supple and elastic. However, with age and exposure to the damaging elements of our environment (particularly UV rays from the sun), our body produces less and less hyaluronic acid. The amount of HA in our skin disintegrates, combined with a decrease in collagen and elastin fibers causes the most notable signs of aging develop: wrinkles and volume loss. 
In a similar manner to its medical uses, hyaluronic acid is also appropriate for skincare products and is commonly found within them. 
Find a Juvéderm
clinic near you!