Lumecca™ – IPL Treatment (Intense Pulsed Light) Therapy – Toronto, ON
Skin Vitality Medical Clinic is the #1 Provider of Botox®, CoolSculpting®, Juvederm®, PRP Hair Restoration, Sculptra®, EMSculpt® and Fraxel® in Canada and WE CAN OFFER YOU:
About LUMECCA™ SKIN REJUVENATION
Lumecca™ is an intense pulsed light (IPL) treatment used for a wide variety of skin conditions that helps improve skin tone and decrease hyperpigmentation. Ageing, sun spots, rosacea, vascular lesions, and even acne are some of the many skin problems Lumecca™ is designed to treat.  
The treatment involves sending beams of light and heat into your skin tissue, which breaks up discoloration on your face by constricting facial veins close to the surface of the skin. Once the skin is heated, the treated area will rid itself of the unwanted cells while also boosting collagen production. With increase collagen levels, your skin will become remodeled to make it look and feel stronger and healthier.  
Lumecca

™

 Skin Rejuvenation Treatment at Skin Vitality

 

With a variety of IPL treatments on the market, Lumecca™ is proven to be more effective, requiring only 1-2 treatments to achieve your desired results. Comparing this to other IPL devices, you'll typically have to need 6-8 treatments to get the same results. Many patients are looking into Lumecca™ for the following benefits: 
Treats "pink", vascular-based conditions of the skin can improve by up to 80%. Conditions like rosacea, redness, broken capillaries, flushing, and spider veins all fall into this category.

 

Treats "brown", melanin-based conditions can improve by up to 80%. Conditions like hyperpigmentation, sun spots, age spots, and freckles all fall into this category.

 

Considerably improves overall skin texture.

 

Treating zones that are regularly exposed to the sun.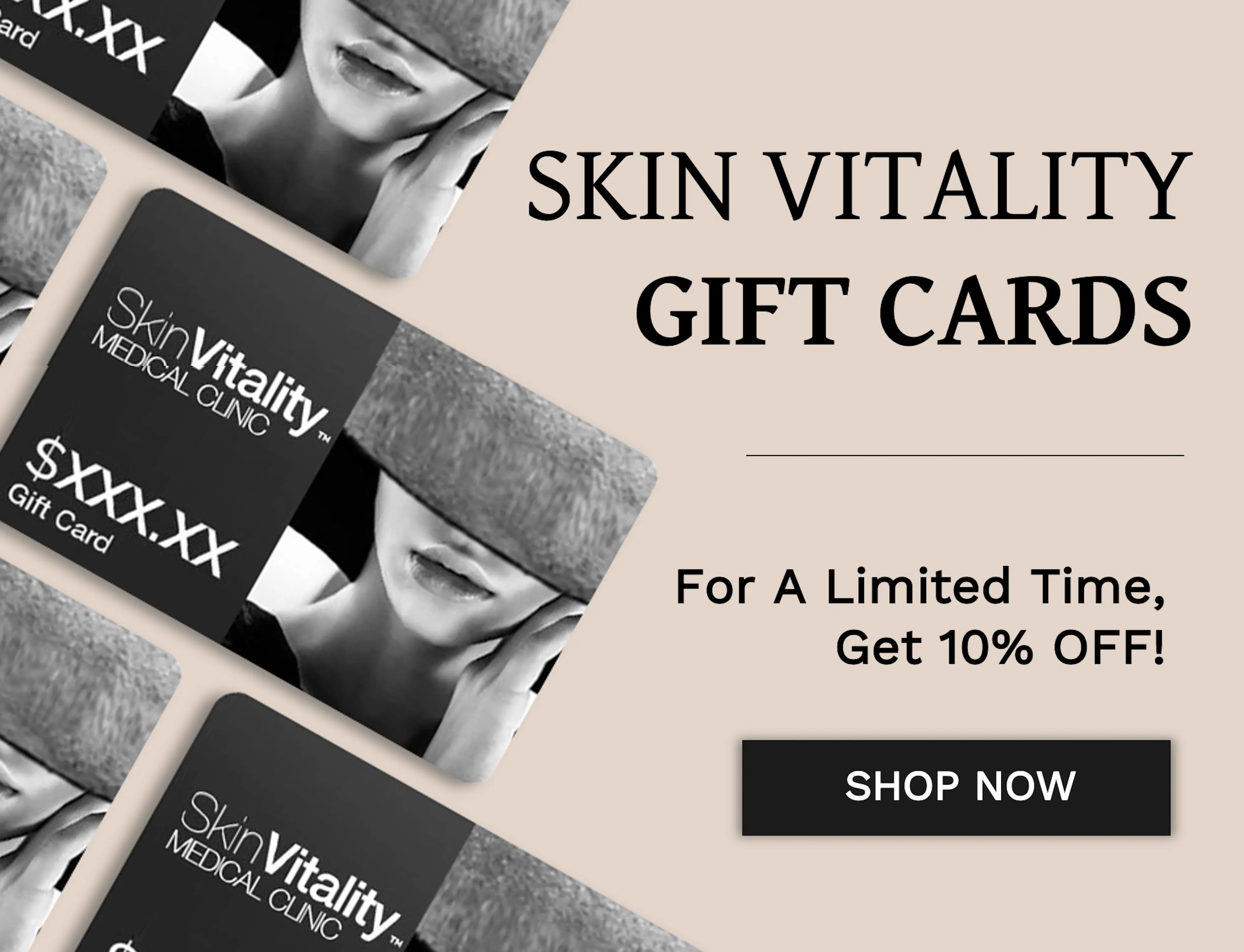 Extremely competent and lovely happy staff. This includes everyone from top to bottom. The environment is clean bright and very well presented and maintained. I have always been more than pleased with my results! I would like to commend Tori on her genuine interest and enthusiasm as well as the rest of the more than competent staff.
I tried the photo facial and I was so trilled with the results from my first treatment that I went ahead and purchased more. Thanks ladies!
My mom has been going here for a few months for facials. She is very pleased with the level of service and the professionalism. Overall, the staff is great, in particular Lisa-Marie has been exceptional and very informative
Such a wonderful, clean, and organized clinic! Would certainly recommend. It is very glamorous and modern, making you feel welcome especially by the wonderful staff! I met with the front receptionist, Diana Papp, who is extremely sweet, knowledgeable, and will take care of your needs. It is guaranteed that you will have an amazing experience!
I have been having tweaks done here for 2 years. When my daughter was getting married l wanted something subtle. The consultants listened and gave suggestions and l walked away feeling confident and beautiful! I've trusted them ever since and the facility is clean, nicely decorated and most importantly right now taking every precaution in our new normal of COVID-19.
Where can Lumecca™ be used?
Lumecca™ is safe to be used all over the body, however, patients most often target areas of the skin that are regularly exposed to the sun. This includes the face, neck, chest, legs, hands, and arms.  
Lumecca™ is considered a photofacial, meaning it targets skin damage that is caused or exacerbated by the sun. Through intentional or unintentional tanning and exposure to UVA and UVB rays, photodamage will occur over time—resulting in sun spots, fine lines, and other skin irregularities like large pores. As we age, these problems can become more visible and may require aesthetic treatments.  
This treatment is safe for patients with skin types 1, 2 and 3. For lighter and darker skin types, you can rely on Lumecca™'s advanced technology to treat various skin areas and conditions with its wide range of wavelengths that adjust to you skin's natural pigmentation better than traditional IPL. Our team of highly trained professionals will ensure that your treatment is performed safely and effectively. 
Founded in 1992, Skin Vitality Medical Clinic has 13 Locations across Southeastern Ontario. Our Medical Team consists of over 200 professionals including 10 Medical Doctors, 40 Nurse Practitioners and dozens of Registered Nurses and Registered Practical Nurses. We are the Largest Provider of Botox®, Juvederm®, CoolSculpting®, Hair Restoration®, Sculptra®, EMSculpt® and Fraxel® in Canada.
Lumecca™ treatments are safe, comfortable, and convenient. Using IPL technology, Lumecca™ delivers up to 3 times more energy in the 500-600 nm range which improves efficacy for pigmented and vascular lesions. This translates into more effective treatments with fewer overall sessions, saving you the time and money.  
During the treatment, a cool gel will be applied to the targeted area. The handheld device will then be moved across the skin, sending warm flashes of the laser to the affected area similar to the sensation of an elastic band lightly flicking the skin. Depending on the size of the problem zone, one session should take anywhere around an hour.  
Post-treatment, you may feel some slight tenderness similar to a sunburn, but no downtime is required. Most patients have reported little to no discomfort after their Lumecca™ treatment. Over the following 24-48 hours after your session, you may see a darkening of the pigmented spots. Over the course of about a week, these pigmented spots will flake off, leaving the skin underneath even and smooth. If a vascular lesion is treated in your session, you may see the vein blanch and disappear or a slight colour change in the vessel which will dissipate after the next few days. 
Many patients notice an immediate improvement in their skin after just one treatment, with optimal results typically seen after 4-6 weeks after the final session. Each treatment thereafter will take place as needed with 4-6 in-between each session.  
To be considered a good candidate for Lumecca™ you must: 
Be in good overall health.

 

Not be pregnant.

 

Not be taking

 Accutane.

 

Not have an active tan, or have recently applied a sunless tanning cream.