Men's EMSculpt Treatment for Abdominal Muscle Toning
Skin Vitality Medical Clinic is the #1 Provider of EMSculpt®, CoolSculpting®, Botox®, Juvederm®, PRP Hair Restoration, Sculptra®, and Fraxel® in Canada and WE CAN OFFER YOU:
SHOP OUR EXCLUSIVE GIFT CARD OFFERS!
Give that special someone (or yourself) the gift of confidence and feeling amazing from the inside out! Easy to order, packaged in a fabulous gift box or send an eGift Card online directly to the recipient!
Get up to $200 back when purchasing a gift card with us.
About EMSculpt Abdominal Muscle Toning for Men
You spend hours doing crunches and squats and are always careful about what you eat. Yet, you still don't have the firm stomach you've worked so hard for. You need something that will tone and tighten your muscles, without all that effort. So what is EMSculpt® and how can it help you achieve this?
EMSculpt® is the first and only Health Canada approved technology designed to tone muscle mass, so you can have the leaner, firmer body you aren't getting by going to the gym. Just one 30 minute treatment is like doing about 20,000 squats or sit-ups — without any exercise at all! The treatment is non-surgical, non-invasive, and painless. In fact, most guys describe an EMSculpt® session as feeling similar to an intense training session. However, instead of exerting themselves at the gym, they get to sit back and relax while EMSculpt® does all the work.
Leaner Abs – EMSculpt tones muscle and reduces fat for a flatter, tighter stomach
A Perkier Butt – Show off your defined glutes with this no-surgery, no-pain butt-lift
Contoured Thighs – Wear shorts and miniskirts to show off your firmer thighs
More Prominent Calves – Balance out your thighs with more prominent calves
A Flat Stomach – Get the same ab treatment as JLo and tone your tummy
male EMSculpt Treatment at Skin Vitality
All you have to do is lie back and relax, while the technology does the work for you. There's no pain or discomfort involved, and you'll be able to get back to your regular daily activities immediately after a session, with no recovery time necessary. 
Studies have shown that EMSculpt results can achieve the following: 
Patients can experience up to a 45% reduction of fat in the target area and increase in the metabolism of fat by 5! 
According to RealSelf, the popular website dedicated to potential patients, patients and providers of aesthetic medicine, EMSculpt® was voted 'The Most Worth It Procedure' by patients in 2019. 
WANT TO RECEIVE A $25 OR $50 GIFT CARD?

men's EMSCULPT In The News
men's EMSCulpt Before & Afters
I've had three appointments with Aggie so far for EMSculpt and she is well worth the drive to Oakville. Aggie has a feel-good energy that puts a smile on my face and puts me at ease. She listens to my concerns and offers solutions to help me get closer to my goals with EMSculpt.
EMSculpt has gotten my COVID body back into shape! I gained a few pounds during the last few months due to working at home and not being able to hit the gym. I just completed a series of EMSculpt muscle toning sessions. Holy &*$% the results are insane!! On to my Buttocks next! Awesome team at Skin Vitality
I've had several treatments before and during COVID time period. They've been very helpful and supportive throughout the time explaining their procedures, ensuring I'm comfortable during treatment and flexible in payment plans. Highly recommend checking them out to see if it's a fit for your needs. Their flexible hours and services helped me.
Love this place. Even during a pandemic they are still working to make the world a beautiful place! Abbie is awesome!! Got my treatment in time for the Canada Long Weekend and feeling awesome!! Very professional and patient. They gave great treatment advise for pre and post treatment and are very knowledgeable and affordable.
I've been going to skin vitality for a few years now and have always had an above and beyond experience. The staff are very professional and knowledgeable, it is a clean atmosphere, and the results are always great. I would highly recommend Skin Vitality to friends and family.
Where can EMSculpt be used?
EMSculpt® is specifically designed to target five key areas on your body: the abdomen, buttocks, arms, calves and thighs.
EMSculpt Abdomen/Stomach for men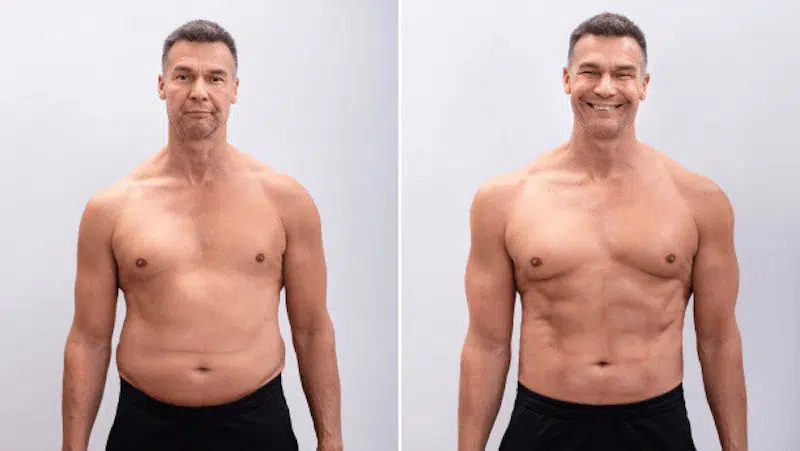 You've always wanted a flatter stomach that has good muscle tone. Tone muscle AND lose fat: now you can get it without doing any crunches or sit-ups. You can even get a six-pack with no work!
All those lunges aren't doing it for you. EMSculpt® will reshape your inner and outer thighs to make them leaner and firmer. 
We can also help you achieve tight, slim arms with the EMSculpt® treatment.The EMSculpt® systems are able to activate 100% of the muscles in the arms versus voluntary exercise, which only activates about 5% of muscles. This means that one thirty-minute session is the equivalent of doing 20,000 bicep curls.
Watch This Quick Video on how emsculpt for men works!
Founded in 1992, Skin Vitality Medical Clinic has 13 Locations across Southeastern Ontario. Our Medical Team consists of over 200 professionals including 10 Medical Doctors, 40 Nurse Practitioners and dozens of Registered Nurses and Registered Practical Nurses. We are the Largest Provider of Botox®, Juvederm®, CoolSculpting®, Hair Restoration®, Sculptra®, EMSculpt® and Fraxel® in Canada. 
EMSCULPT is the first device to build muscle and sculpt your body. Through the high intensity electromagnetic therapy procedure one can enlarge current muscles, as well as grow new muscle fibers.
What sets Emsculpt apart from the pack is its duality: It not only implodes fat cells (for a 19 percent loss after four treatments), but simultaneously builds muscle fibers (by roughly 16 percent) for more defined abs and rounder rear-ends. One company-sponsored study even reported a 10 percent reduction in diastasis recti, the abdominal separation that occurs commonly in pregnancy. (Tummy tuck surgery can correct the problem completely.)