Medical Grade Chemical Peels Toronto
Skin Vitality Medical Clinic is the #1 Provider of Botox®, Belkyra®, CoolSculpting®, Juvederm®, Sculptra®, EMSculpt®, Fraxel®, and PRP® Hair Restoration in Canada and WE CAN OFFER YOU:

About Medical Grade Peels to beautify your complexion!
Revitalize your skin with a medical grade facial peel, designed to clinically transform your complexion. Each medical grade peel treatment is tailored to address the particular issues of the patient, varying in strength to achieve the desired amount of subtle, gradual or astonishing transformation. The treatment can smooth out fine lines, minimize pigmentation irregularities and improve the overall texture and quality of the skin.
Encountering dirt and debris is a natural part of life that can lead to skin problems and worsen your complexion. Almost everyone suffers from issues related to clogged pores at one point of their life or another, and that's why gentle exfoliation techniques like a medical grade peel can help a lot in thoroughly cleansing the skin and keeping your complexion as clean and beautiful as possible.
Medical Grade Peels

at Skin Vitality 

Skin Vitality offers two different Medical Grade Peel options for our patients: The Vivier Peel and a Glycolic Peel: 
Vivier Peel
A combination of lactic acid, salicylic acid and resorcinol to brighten and tighten your complexion. 
Glycolic Peel
A chemical exfoliant to promote the repair and regeneration of skin. Recommended to aid in the appearance of aging skin and uneven texture and tone. 
Both peels can be performed alone to effectively treat a number of complexion concerns, such as pigmentation irregularities roughness acne minor lines and wrinkles photodamage freckles dullness. Either peel can be used in conjunction with other cosmetic skin treatments, such as fotofacial rejuvenation and fillers, to achieve complete complexion rejuvenation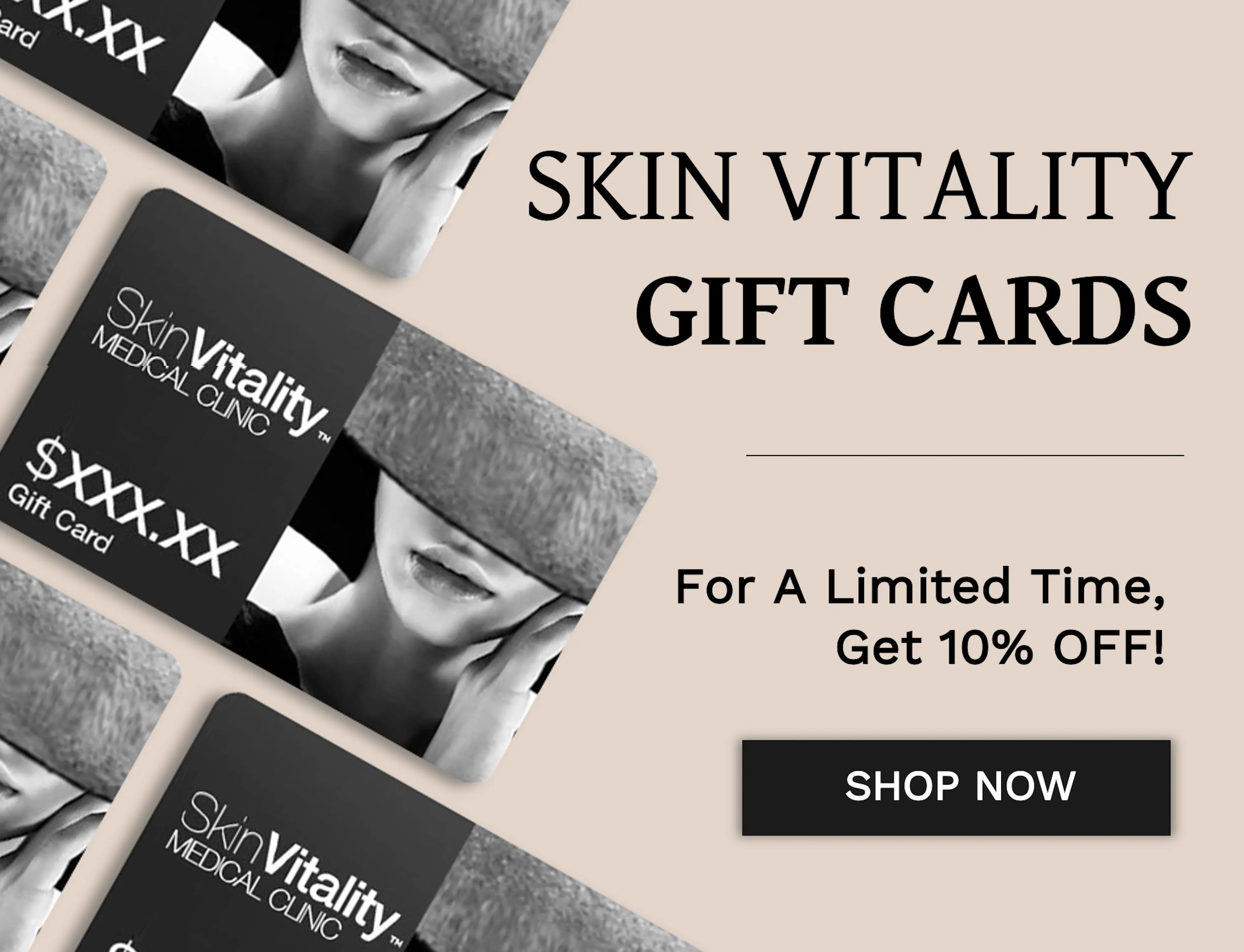 Before & After Medical grade peels
Fabulous! Yolanda was super helpful with all of my questions, and I've been happy with my results. Lisa, my med-tech, has always been so professional and courteous. I have been coming to Skin Vitality for almost a year, and have been completely satisfied with everything. The ladies are fantastic!
I went for the chemical peel. The clinic was very clean, everyone there was very professional and knew what they were doing. The products used were of good quality. My skin looked brighter within a week of getting the peel. I would love to go back.
Came to Skin Vitality for the free birthday skin peel as an introduction to the service- and it turned out to be an amazing experience! The front desk staff were so friendly, helpful and cheerful...and the technician herself was welcoming, knowledgeable and upbeat. The procedure itself was completely refreshing and I felt the glowing clear skin impact for weeks after.
The staff here where all so warm and welcoming. They make sure to assist you with all your needs. Mary did an amazing job with my chemical peel. Looking forward to come back to complete my treatment plan.
Talented and professional staff. I always feel I am in good hands here. Had an appointment with nurse Tori in December, who was wonderful and informative. Lovely results!
Where can Medical Grade Peels be used?
Both Medical Grade Peels can be used on the facial and neck area. The intensity of chemical peel, from mild to deep, is determined by the concern and the patient's skin. For example, thicker skin may require a peel that contains a more aggressive formulation so that it can work more deeply into the dermal layers in order to obtain the desired results better. A lighter peel may be necessary for patients whose skin is sensitive and more fragile. The best type of peel for you will be determined during the initial consultation process prior to treatment.  
Vivier Peel for Glowing Skin 
The Vivier Peel contains key therapeutic ingredients to improve your complexion, giving it a healthy glow that you'll be able to see instantly. It is also gentle enough to have the treatment done just days before a big event. 
Here are the active ingredients: 
10% Lactic Acid

:  helps improve moisture levels in overly sensitive or dry skin.

 

2% Salicylic Acid

: helps ease acne, reduce oiliness, improve texture and ease post-inflammatory hyper pigmentation (PIH). Also encourages the removal of debris that can clog your pores and dull the upper layer of your skin.

 

14% Resorcinol

: helps ease inflammation, redness and acne.

 
Benefits: 
Boosts the rate at which your cells regenerate, giving you smoother and softer skin.

 

Clears out your pores, improving acne, blackheads and whiteheads.

 

It acts as an anti-inflammatory, easing redness.

 

It also softens tough skin, stimulates collagen production and leaves your skin looking cleaner and fresher.

 

Skin is strengthened after just one treatment

 

Moisturizes and heals your skin.

 
You'll notice an improvement in your skin quality after just one session, but we recommend 3-6 treatments for the best results.  
Glycolic Peel for Acne, Discoloration and Wrinkles
The Glycolic Peel, a type of chemical peel, is one of the most popular solutions for anyone who suffers from common skin conditions. These conditions, such as acne, wrinkles, age spots or uneven coloration and tone, can all be treated. 
By taking advantage of the aesthetic properties of this peel, you can enjoy the benefits of youthful, healthy skin with even texture and coloration. It's a gentle treatment that is helpful in restoring your complexion. Its application includes the resolution of skin problems like: 
Irregular pigmentation

 

Sun or age spots

 

Mild to moderate acne

 

Superficial acne scarring

 

Wrinkles, fine lines

 
Glycolic peels are chemical exfoliants that use glycolic acid, whereas other chemical peels make use of lactic, salicylic or retinoid acid. It is an AHA (alpha hydroxy acid) that  has several medical uses. As the molecules that make up glycolic acid are tinier than other AHAs, they are able to penetrate your skin more easily and reach the deeper layers. 
Founded in 1992, Skin Vitality Medical Clinic has 13 Locations across Southeastern Ontario. Our Medical Team consists of over 200 professionals including 10 Medical Doctors, 40 Nurse Practitioners and dozens of Registered Nurses and Registered Practical Nurses. We are the Largest Provider of Botox®, Juvederm®, CoolSculpting®, Hair Restoration®, Sculptra®, EMSculpt® and Fraxel® in Canada.
Learn How Medical Peels work
Keeping your pores clean of dirt and debris is essential for achieving or maintaining clear, healthy skin. Pores are the most basic (and influential) factor involved with how healthy a person's complexion is and, if they become clogged, many different skin problems — from acne to uneven skin texture or coloring — quickly arise. Pores can easily become clogged when foreign matter — like dirt and debris — and excessive oil block their openings. Dead cells that haven't been removed by washing or scrubbing can also build up and interfere with the pores. Excessive dirt and debris build-up on the skin is the most avoidable problem, however, taking care of this is important. 
The more serious skin conditions that a chemical peel can treat are photodamage (like freckles or age-related spotting), fine lining around the mouth and eyes, mild to moderate scarring, acne and hyperpigmentation. 
During your consultation, your skin will be assessed and you can express the goals you have for your skin. During this time you can express any medical conditions or medications you may be taking. This process is for your safety, minimizing risks and improving the outcome of your Medical Grade Peel. It is important to disclose if you: 
Have cold sores or a history of cold sores

 

Are pregnant

 

Have a genetic predisposition to the development of pigmentation irregularities, particularly after trauma

 

Have a history of keloid scarring

 

Had acne treatments within the last year, especially Accutane

 
This list is not complete. A full list will be discussed prior to the treatment so you can briefly go over your medical history. 
Chemical peels are considered a relatively gentle treatment that can help your skin look better and become healthier. Lighter chemical peels achieve results that improve with subsequent treatments while you may just need one deep peel to achieve much longer lasting results. 
FAQ's About Medical Grade Peels