Skin Vitality Medical Clinic is the #1 Provider of Botox®, CoolSculpting®, Juvederm®, PRP Hair Restoration, Sculptra®, EMSculpt® and Fraxel® in Canada and WE CAN OFFER YOU:
WANT TO RECEIVE A $25 OR $50 GIFT CARD?

About Dysport® for frown lines and wrinkles:
Wrinkles and frown lines between your eyebrows is the first obvious sign of aging that shouldn't define you. For patients who want a natural look, Dysport® is a natural-looking, fast-acting, long-lasting prescription injection proven to help smooth moderate to severe frown lines between the eyebrows without changing the look or movement of the rest of your face.
Dysport® (abotulinumtoxin A) is an injectable treatment designed to help with wrinkles and prevent the formation of future fine lines. This non-invasive treatment temporarily decreases muscle movement in the targeted areas to soften the appearance of glabellar lines, the vertical wrinkles more prominent on your forehead in between your eyebrows. It can also be used to treat certain medical conditions. Dysport® is approved in 69 countries and has 25 years of clinical experience worldwide. More than 97% of women treated with Dysport® say they would do it again!
Dysport® at Skin Vitality Medical Clinic
Your Dysport® treatment will be performed in one of our beautiful facilities, designed with your utmost comfort and safety in mind. Our experienced injectors are constantly striving to improve by performing extensive, hands-on training. Our injectors will ensure that your treatment is performed accurately to address fine lines and wrinkles, and achieve your desired results.
Skin Vitality offers Dysport® at all 13 of our locations: Toronto, Mississauga, Richmond Hill, Ajax, Oakville, Stoney Creek, Whitby, Burlington, Milton, London, Kitchener and St. Catharine's. Let us help you achieve your aesthetic goals so you can feel more confident about yourself!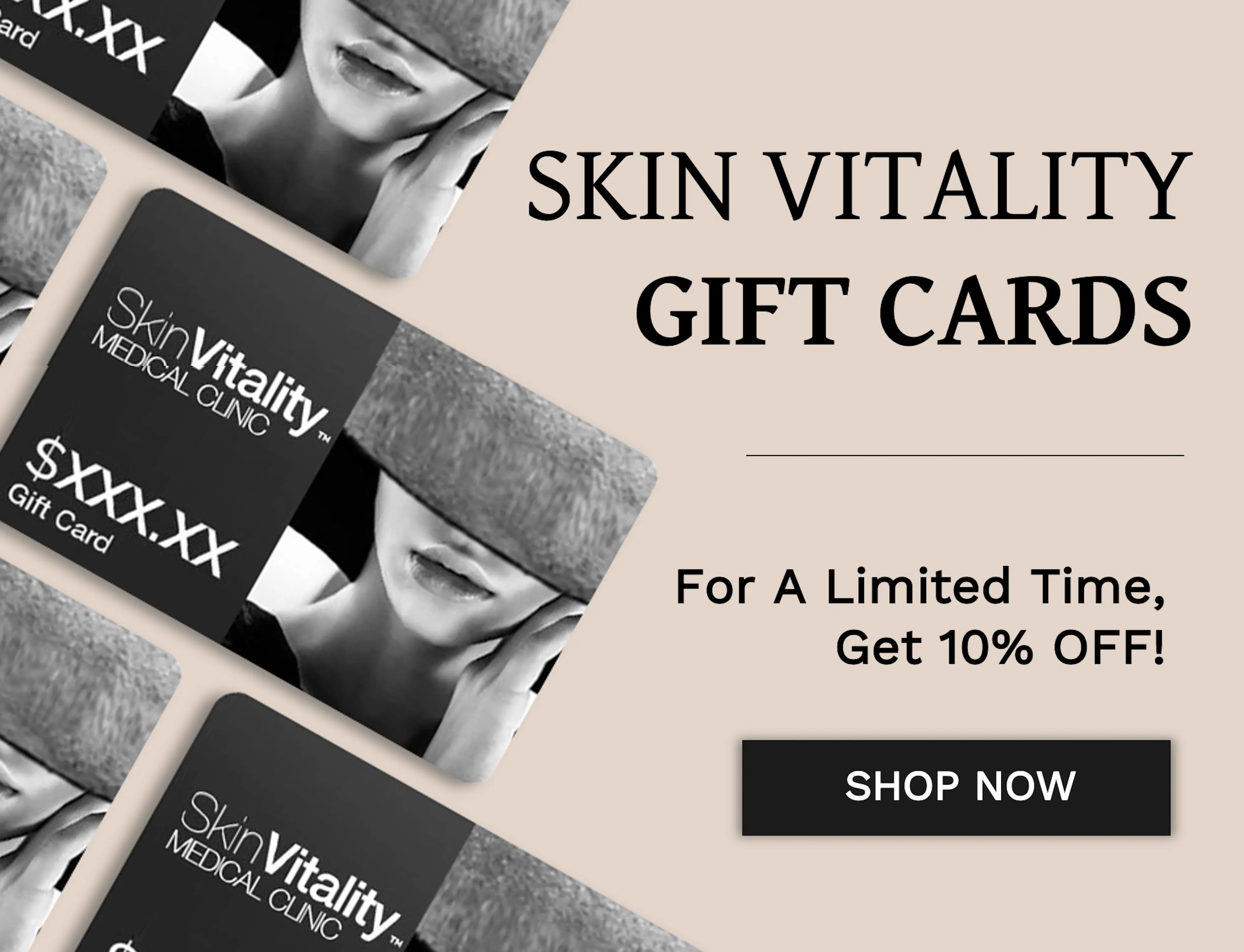 Amazing experience! Fantastic communication, lovely, professional and welcoming group of ladies from the first step in the door. Rochele is a fantastic nurse injector. I will be back for sure.
Such an amazing experience!! I did Botox at another clinic and I felt like I never got the results I wanted. My friend recommended me to come to this clinic and I'm so glad I did. My results last so much longer and they look amazing ! The nurses are always so great at answering any of my questions and concerns.
My overall experience at skin vitality was wonderful. The atmosphere is very welcoming, and the girls are all well versed and passionate about their work. I was offered great options after my assessment and booking my future appointments was never easier. I cannot wait to see my results.
The staff was excellent with explaining the procedures that I had requested with the benefits that should be expected as well. By talking to me with each injection, I was calm and confident with the results and the follow up after my appointment was appreciated. I would recommend this clinic.
Great group of people! They make their customers feel seen, heard, and welcome. They take their time to make sure both the client and clinic share the same vision for treatments. The injector was professional, gentle and fast. Thank you kindly ladies, will be back again soon!
Where can Dysort® be used?
Dysport® has a growing number of uses, it can ease muscle spasms, flatten wrinkles, and modify the jawline! Dysport® targets glabellar lines, these are vertical wrinkles that are located on your forehead. They most often start to form in between your eyebrows during early adulthood, and can become more prominent as you age due to a decrease in your body's production of elastin. They can also become more noticeable when you squint, giving you a frowning or angry appearance. Dysport® is Health Canada and FDA-approved for use in the treatment of lower limb spasticity in children, spasticity in adults, and cervical dystonia, which affects neck and head movement.
FACE
Dysport® for forehead wrinkles
Dysport® for crow's feet
Dysport® for lines between the eyebrows (glabellum)
Dysport® for lines on sides of the nose (bunny lines)
Dysport® for corners of the mouth (lip depressors)
Dysport® for eyebrows (brow lift)
OTHER AREAS
Dysport® for neck bands
Dysport® for hyperhidrosis (excessive sweating)
Sometimes Dysport® is used in adults and children with severe muscle spasticity of the limbs.
Founded in 1992, Skin Vitality Medical Clinic has 13 Locations across Southeastern Ontario. Our Medical Team consists of over 200 professionals including 10 Medical Doctors, 40 Nurse Practitioners and dozens of Registered Nurses and Registered Practical Nurses. We are the Largest Provider of Botox®, Juvederm®, CoolSculpting®, Hair Restoration®, Sculptra®, EMSculpt® and Fraxel® in Canada.
Learn How Dysport® works:
Dysport® is an injection containing abotulinumtoxin A (Botulinum toxin type A). Botulinum toxin blocks nerve activity in the muscles, causing a temporary reduction in muscle activity. Dysport® belongs to a class of injections called neuromodulators. Other injections in this class include Botox and Xeomin. These all use a form of botulinum toxin, but are used to target different areas of the face.
Neuromodulators like Dysport® reduce the appearance of lines by relaxing and limiting the movement of muscles around the injection site. Your injector will insert a small amount of the substance directly into your muscle. As your muscles relaxes, the skin above it becomes smoother, thereby reducing wrinkles. Decreasing movement is meant to prevent the formation or deepening of wrinkles, which are caused by repetitive movements over time, along with your genetics and aging.