Customized Weight Loss – Still Eat Your Favourite Foods
SERVING CANADIANS SINCE 1992
ABOUT Customized Weight Loss – Still Eat Your Favourite Foods
Lose an average of 3 – 7lbs per week without exercise and missing your favourite foods!
Get on a customized weight loss program you'll finally enjoy being on.
Transform your body with a clinically proven scientific program for optimal weight loss, as designed by a medical doctor and expert on obesity and related issues. It is based on over 25 years of experience in achieving quick weight loss that's healthy and does not sacrifice desirable muscle mass.

For effective weight loss, in the short and long term
Our customized weight loss plan is designed to help you shed excess fat for a leaner, trimmer body that you'll find easier to maintain over the long term. At a healthier weight, you'll be able to enjoy living life more confidently!
These are all of things it can do for you:
Your body will learn to burn off fat reserves.
The consumption of simple and complex carbohydrates can make it more difficult to lose weight.
Foods with a high protein value can boost weight loss.
Nutrient-rich supplements will help preserve muscle mass.
Unique Weight Loss Program
Dr. T. Tran, a graduate of the prestigious Faculty of Medicine, Paris, is the brainchild behind this unique weight loss program. Dr. Tran has devoted his extensive medical career on nutrition and obesity. His weight loss method is a simple program that stabilizes your pancreas and blood sugar levels while at the same time improving the rate at which you burn fat and maintain lean tissues, including muscle mass. You'll experience a rate of weight loss that is fast and healthy, achieving a leaner, fitter body. The program can also support cellulite reduction efforts.
Millions of people across North America and Europe have benefited from being on the program, including high level athletes whose main purpose is to maintain fit, strong and healthy bodies.
The reason why this program has helped 5 million people succeed at losing weight
Almost all of us struggling with weight issues has been on a diet before, and yet we often failed at losing weight. You probably put it back on, and then some. While on a diet, you may have felt tired, dissatisfied with everything you ate, and stifled by so many restrictions on what you could and couldn't eat. Our weight loss program is designed to be totally different. Your current diet is probably heavily based on saturated fats and sugars. This forces our body to produce too much insulin, which remains in our system and creates an imbalance of blood sugar levels – resulting in sugar cravings and weight gain. The typical North American diet is unnatural and unhealthy. Our weight loss program allows your body to repair itself, eliminating fluctuating blood sugar levels so that you can lose the pounds and keep them off, as you'll no longer have cravings for sugary and fatty foods.
Lose weight, NOW
Begin your customized weight loss program by calling us at 1-877-356-7776 now. You'll book your consultation with a Medical Consultant to discuss your weight loss needs.
The program is an easy one you can do at home. Simply eat and drink all of our approved gourmet products and follow your treatment plan to experience a gradual and fast weight loss at an ideal rate. Every product is rich in protein with all the nutrients you need, fulfilling your daily dietary and nutrition needs.
What Our Patients Are Saying About Ideal Protein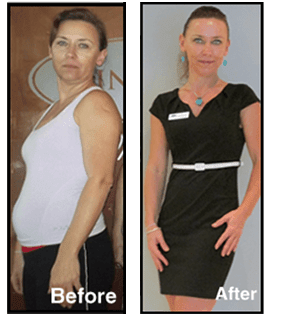 2. Barbara Muniz
"My name is Barbara Muniz and I have been overweight for 10 years. I was feeling unattractive, depressed and suffered from low self esteem. I went on the Protein Program with Skin Vitality on Thursday May 17, 2012. Today is Thursday July 19 and my picture was just taken. I have lost 22lbs in 8 weeks and I haven't been hungry one day. I have more energy than I have ever had and I feel happier, sexier, more energetic and healthier than I have felt since my 20s and I am in my 40s.
Thank you Skin Vitality for changing my life. I couldn't imagine living my life any other way!"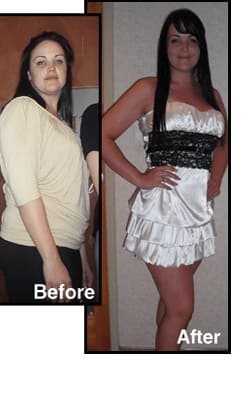 3. Dawn Jackson
"My name is Dawn Jackson. I am someone that has been struggling with my weight since my late teens. I was relentlessly ridiculed and teased by others which left me depressed, felling unattractive and with low self-esteem. Now in my mid twenties I decided that it was finally time to do something about my weight. I joined this program through Skin Vitality in early May and now today, July 24th, I am 32lbs lighter. During the program I was never once hungry nor did I crave chocolate or chips as the program has every food imaginable! July 24th at 32lbs lighter I decided to become a registered coach to help other people in my position and share my incredible journey and tell them yes it is possible!"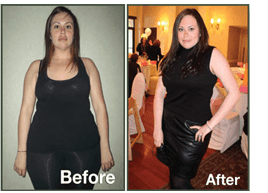 4. Stephanie Modafferi
"Hi my name is Stephanie Modafferi, I have always suffered with weight issues and finally gave up all hope until I was introduced to this program , I was skeptical at first just thinking I would "try it out". I have now been on the program for 9 weeks and have lost 24 pounds and over 28inches. I am down 4 dress sizes! The protein weight loss program has given me my life back. Not only is the food great but I look forward to having my meals as I know the success I will achieve with every pound loss."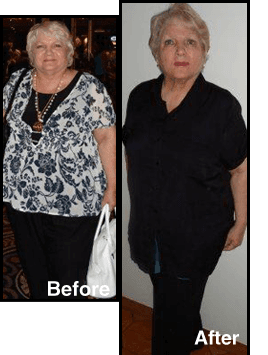 5. Emilia F.
"Talk about a new lease on life!! Thanks to this program, I now know that what I thought was impossible, is not only possible, it is in fact doable. Like magic, I have been watching the pounds and inches disappear revealing a healthier, more vibrant and slimmer me. It is sheer delight accepting the compliments of those around me who mention how different I look, how more attractive and how much smaller. This is a journey upon which I embarked hopeful and somewhat guarded, but this protein weight loss program has proven to be the real deal. The scientific basis of its program and the purity of this program's products are above reproach. The individual coaching is not only informative, it is inspiring. This protein weight loss program is a proven success and I am the living proof.
Thank you to Skin Vitality, ever on the forefront of providing superior services and products, for offering so many this life altering opportunity. If you, like myself, have tried everything out there to lose weight and keep it off, you cannot afford to miss this magnificent chance to bring your true self to a new, healthier and energetic life. Let everyone else see the real you and hurry to Skin Vitality for this weight loss program and you too will be singing its praises. Thank you Skin Vitality."
Customized Weight Loss Protein Program Foods
These are the foods and beverages that you can enjoy while on your customized weight loss program.
DRINKS
Blueberry, Cranberry and Pomegranate Drink Mix
$29.96

Cappuccino Drink Mix
$29.96
Cappuccino Drink RTG
$29.96

Chocolate Drink Mix
$29.96

Chocolate Drink RTG
$31.95

Hibiscus and Watermelon Flavoured Drink Mix
$29.96

Lemon Matcha Green Tea Flavoured Drink Mix
$29.96

Mango Flavoured Drink RTG
$36.95

Orange Drink Mix
$29.96

Peach and Mango Flavoured Drink Mix
$29.96

Pina Colada Flavoured Drink Mix
$29.96

Pineapple and Banana Flavoured Drink Mix
$29.96

Strawberry Banana Drink  RTG
$31.95

Vanilla Chai Latte
$29.96

Vanilla Drink Mix
$31.95

Vanilla Drink RTG
$36.95

Wildberry Yogurt Flavoured Drink Mix
$29.96

MEAL REPLACEMENTS
Strawberry
$29.40
Chocolate
$29.40

Vanilla
$29.40

Raspberry and Coconut
$29.40
BREAKFASTS
Maple Flavoured Oatmeal
$29.96

Apple Oatmeal
$29.96

Crispy Cereal
$29.96

Pancake Mix
$29.96

Chocolatey Chip Pancake Mix
$29.96

Fine Herbs & Cheese Omelet Mix
$29.96

Cheese & Bacon Omelet
$29.96

ENTRÉES
Broccoli Cheese Soup
$29.96

Chicken Flavoured Soup Mix
$29.96
Chicken Flavoured Noodle Soup Mix
$29.96

Mushroom Soup Mix
$29.96
Tomato Basil Soup Mix
$29.96
Potato Puree Mix
$29.96

Mushroom Parmesan Risotto
$29.96

Macaroni and Cheese
$29.96
Rotini
$29.96
Chicken A La King
$29.96
Vegetable Chili
$29.96
Chicken Dijonnaise
$45.00
Chicken Flavoured Patties
$29.96
Leek Flavoured Soup
$29.96
DESSERTS
Almond and Milk Bar
$29.96
Caramel Nut Bar
$29.96
Caramel and Vanilla Bar
$29.96
Chocolate Peanut Butter Bar
$29.96

Chocolate Crispy Square
$29.96

Chocolate Raspberry Crispy Square
$29.96

Chocolatey Coconut Protein Bar
$29.96
Chocolate Mint Bar
$29.96
Chocolatey Caramel Mug Cake
$29.96
Cookie Dough Bar
$29.96
Cranberry Pomegranate Bar
$29.96
Double Chocolate Brownies
$29.95
Lemon Wafers (NONRESTRICTED)
$31.95
Orange Wafers
$31.95
Peanut Butter Bar
$29.96

Raspberry Chocolate Bar
$29.96

Strawberry Wafer
$31.95
Toffee Pretzel Bar
$29.96
Triple Chocolate Wafers
$29.96
Vanilla Crispy Square
$29.96
Vanilla Peanut Bar
$29.96
Vanilla Wafers
$31.95
PUDDING & JELLY
Chocolate Pudding RTG
$31.95
Vanilla Pudding
$29.96

Raspberry Gelatin
$29.96

SOY-BASED
Apple Cinnamon Soy Puffs
$29.96
BBQ Crisps
$29.96
BBQ Soy Nuts
$29.96
Chocolate Soy Puffs
$29.96
Dill Pickle Zippers
$29.96
Garlic & Fine Herbs Crisps
$29.96
Nacho Cheese Dorados
$31.08
Peanut Soy Puffs
$31.08

Sea Salt & Vinegar Crisps
$29.96
Southwest Cheese Flavoured Protein Curls
$29.96
Sweet Chili Dorados
$31.08

Sweet & Spicy Trail Mix
$29.96

White Cheddar Flavoured Ridges
$29.96

DRESSINGS, SEASONINGS & SAUCES
Balsamic Dressing
$8.94

Honey Dijon Dressing
$8.94

Italian Dressing
$8.94

Oriental Sesame Sauce
$8.94

Maple Syrup
$8.94

Sea Salt
$4.51
SUPPLEMENTS
Anti-Oxy
$16.15

Cal Mag
$24.96

Enzymes
$25.00

Floralax
$21.02
Multi-Vita
$29.96
Omega 3 Plus
$39.00
Potassium
$13.00

HANDY ITEMS
Shaker Bottle
$8.01

IP Scale
$85.00

Ideal Protein Frequently Asked Questions
You'll be:
thinner
leaner
more toned
less troubled by cellulite
more energetic
less hungry
Contact us today to see if Ideal Protein is right for you!
Call 1-877-356-7776 to book your free medical consultation with our licensed physician.
Ideal Protein Locations
Toronto - Yorkville
11 Yorkville Avenue #202
Toronto, ON
M4W 1L2
Phone: (416) 969-9669
Mississauga
125 Lakeshore Rd E
Mississauga, ON
L5G 1E5
Phone: (905) 274-4440
Richmond Hill
8865 Yonge St Unit B-6
Richmond Hill, ON
L4C 6Z1
Phone: (905) 763-2001
Kitchener
4281 King St E
Kitchener, ON
N2P 2E9
Phone: (519) 650-4100
Ajax
15 Westney Rd N #1c
Ajax, ON
L1T 1P5
Phone: (905) 619-2639
St. Catharines
436 Vansickle Rd #3
St. Catharines, ON
L2S 0A4
Phone: (905) 682-7077
London
595 Fanshawe Park Rd W Unit F
London, ON
N6G 5B3
Phone: (519) 474-0007
Stoney Creek/ Hamilton
311 Fruitland Rd, Unit 3
Hamilton, ON
L8E 5M8
Phone: +1 877-356-7776
Oakville
481 Cornwall Road
Oakville, ON
L6J 4A5
Phone: +1 877-356-7776