Skin Vitality Medical Clinic is the #1 Provider of CoolSculpting, Botox, Juvederm, PRP Hair Restoration, Sculptra, EMSculpt and Fraxel in Canada and WE CAN OFFER YOU:
SHOP OUR EXCLUSIVE GIFT CARD OFFERS!
Give that special someone (or yourself) the gift of confidence and feeling amazing from the inside out! Easy to order, packaged in a fabulous gift box or send an eGift Card online directly to the recipient!
Get up to $200 back when purchasing a gift card with us.
WANT TO RECEIVE A $25 OR $50 GIFT CARD?

About MENS CoolSculpting Toronto
CoolSculpting for men is becoming a new trend in medical spas. Females aren't the only ones who can benefit from the fat-freezing technology of CoolSculpting. There have been several men who undergo treatments to experience how the fat-freezing works to eliminate stubborn fat cells they haven't been able to get rid of in the gym or with their diet. This stubborn fat is the last to go, and unfortunately, you can't spot reduce it with exercise. No matter how healthy your lifestyle or how many crunches you do, lumps and bulges will always find a way to form. As a solution, men can undergo a painless 35-minute treatment and see a more sculpted, lean physique.
So, how do you lose belly fat? Is there a solution to lose face fat, or lose my double chin? And how do you eliminate stubborn love handles?
CoolSculpting® is the ultimate solution to all of these questions. It can help you lose belly fat, lose face fat, lose arm fat, lose thigh fat, and more in as little as one treatment.
Men's Fat Freezing with Skin Vitality
Are you spending more time than ever on Zoom calls? Do things that you didn't notice before bother you slightly?
The CoolSculpting® Chin treatment may be right for you. This treatment has become one of the most sought after non-surgical treatment to in order to target fat removal from the face. The results from CoolSculpting® Double Chin have been remarkable, helping to restore many patients' self-esteem. Please see the CoolSculpting® Before and After photos below.
COOLSCULPTING In The News
What They're Saying ABOUT MEN'S COOLSCULPTING
CoolSculpting Men Before and After
Nice place to do the cool-sculpting; very professional technicians and nice consultant; also the whole vibe is pretty chill- watching Netflix or listening to musics during the treatment; highly recommend this place if it's your first time to do the treatment.
Went there to get Coolsculpting with my wife, everyone from front desk to medical consultant Stephanie and Aggie who took care of our treatments were amazing! We are coming back for more treatments soon as we are very happy with results.
Amazing friendly service without a compromise to professionalism. This is a high quality clinic where the staff is knowledgeable and aims for highest standards. I totally recommend Skin Vitality and I endorse them fully.
This was a completely wonderful experience. From the moment I walked in the gracious and polite staff were helpful and accommodating. The procedure was professionally done and I had a sense that I was in good hands from the moment I met the nurse. Highly recommend this facility.
Great place from the front staff to the consultants and of course the nurses! Stephanie informs me of the promotions and always guides me in the direction to get what I want at an amazing price. Also Shayna my nurse is always amazing and gives me honest answers and let's me know what I need to achieve the look that I want. Thank you :) Looking forward to my next treatment.
CoolSculpting for Men's Belly Fat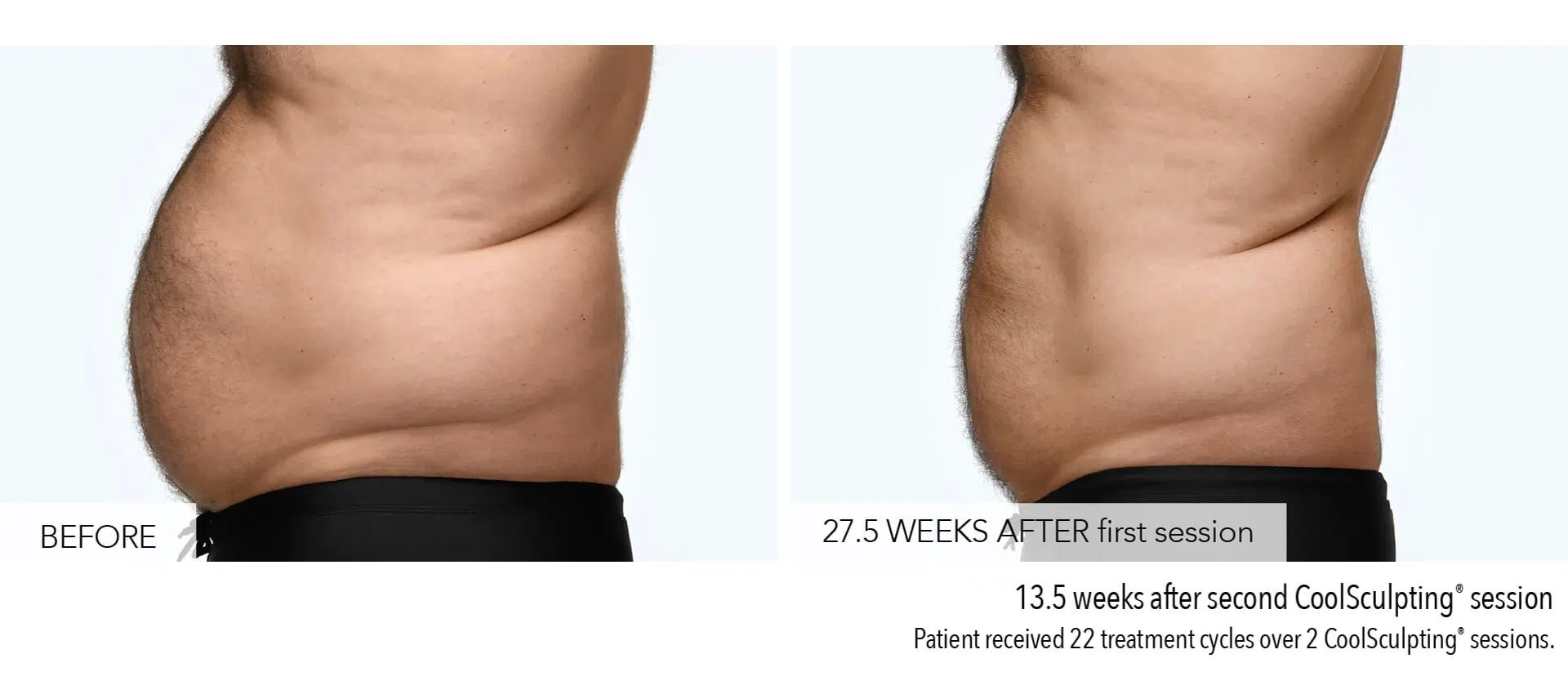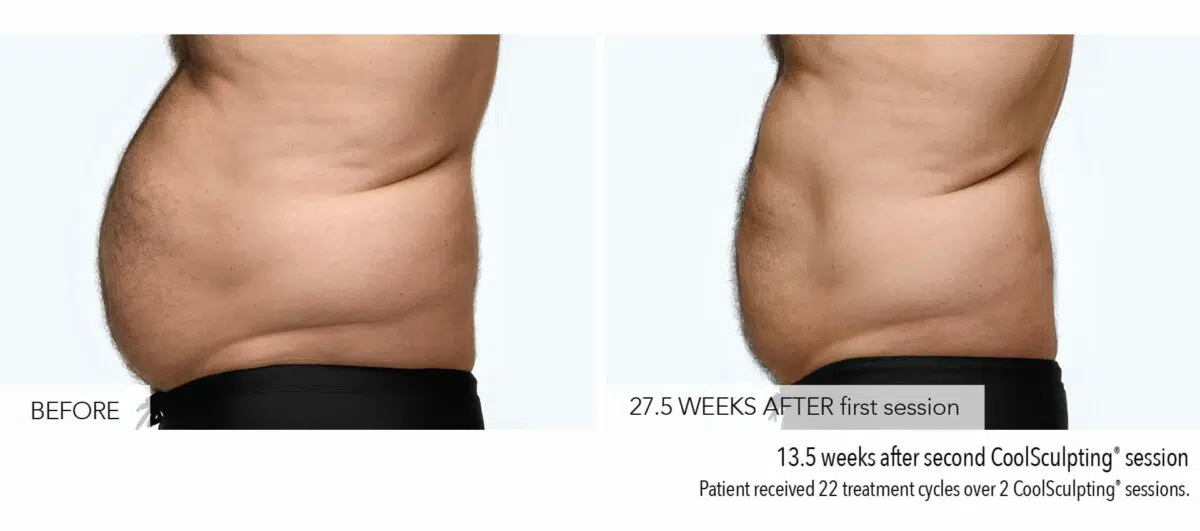 The CoolSculpting treatment is ideal for men who carry too much weight in core areas like the stomach or chest. Carrying excess weight around your belly area is a health and aesthetic issue. Storing too much tummy fat increases the risk of many health conditions, from cardiovascular problems to high blood pressure, while also slowing down testosterone production.
Skin Vitality offers Free CoolSculpting Consultations with a member of our medical team to jointly discuss:
Fatty areas on your abdomen
Your goals and expected results
How the CoolSculpting treatment works
What you can expect before, during and after the procedure
Risks involved
Follow up appointment
Healthy lifestyle after treatment
Where can CoolSculpting be used?
The treatment is perfectly suitable for both men and women. There are two main areas that Skin Vitality is able to treat: CoolSculpting® Face and CoolSculpting® Body. In the facial area, CoolSculpting® Double Chin is the #1 area we treat. We also offer CoolSculpting® for the Jawline and CoolSculpting® for the Neck. For these smaller areas of treatment, we use the CoolMini applicator.
CoolSculpting® Body has a plethora of options to choose from. Each area requires a different applicator depending on the size of the area. One of our highly trained technicians will decide which applicator is best suited to you based on the areas that you would like to treat.
Watch This video about how CoolSculpting works:
Founded in 1992, Skin Vitality Medical Clinic has 13 Locations across Southeastern Ontario. Our Medical Team consists of over 200 professionals including 10 Medical Doctors, 40 Nurse Practitioners and dozens of Registered Nurses and Registered Practical Nurses. We are the Largest Provider of Botox®, Juvederm®, CoolSculpting®, Hair Restoration®, Sculptra®, EMSculpt® and Fraxel® in Canada. 
Learn How CoolSculpting FOR MEN works
CoolSculpting® is praised for being gentle and effective in eliminating fat cells, without harming the surrounding tissues. With just a single session, you will be able to see a measurable improvement of the treated area. According to a study published in the medical journal, Clinical, Cosmetic and Investigational Dermatology, the average patient will experience a 20% to 25% reduction of the fat layer after treatment. In fact, additional research suggests that it may even reduce up to 40% of the fat layer. That is all from just 1 session and absolutely no recovery period! Which is why it has become the first choice in fat reduction for our female and male patients because of how fast you see the CoolSculpting® results. 
CoolSculpting and 

Cryolipolysis

CoolSculpting® uses Cryolipolysis®, which is a totally different approach to fat reduction. Cryolipolysis® is a technology that was developed by two Harvard scientists, Dieter Manstein, MD and R. Rox Anderson, MD, in a rather unique way. They noticed that children with dimples are not born with them on their cheeks, they actually develop the dimples from eating popsicles. The freezing temperatures from the popsicles decrease small pockets of fat cells but do not harm any other tissues, including skin. This results in the creation of dimples. This is how Cryolipolysis® was born and it is the science behind CoolSculpting®. The technology has been approved by board-certified plastic surgeons, dermatologists and other medical specialists alike. 
The controlled cooling of tissues in the target area is 4°C, a temperature that will not harm your skin, muscles or other tissues. However, for the fat located just below the skin, 4°C can be detrimental. This temperature is ideal for freezing fat cells. Once crystallized, they are simply processed through your body over the following weeks.
You may not see any change after the initial week but in 1 to 3 short months you'll see the improvement you've been waiting for! According to a Clinical, Cosmetic and Investigational Dermatology study, the 1 to 3 month mark post treatment is when your body will have effectively processed your fat cells from the targeted area(s). Your body processes these crystalized fat cells through your lymphatic system, the same as any other waste. It is important to drink a lot of water during this stage.
Targeting Fat Specifically
CoolSculpting® is different from other devices because it targets fat cells without adversely affecting the surrounding tissues. Unlike radiofrequency-based and ultrasound-based technologies, the fat cells do not release their contents. The entire cell is targeted, which leads to a reduction of unwanted fat. You can keep your fabulous new shape with a healthy lifestyle.
Skin Vitality is the FIRST in Canada to offer CoolSculpting®'s newest technology. We have the very latest CoolSculpting® fat reduction technology from Allergan, allowing you to reduce your treatments in half with 2x the results! This means that you are able to treat two areas at the same time. For example, you may choose to treat both of your love handles or look into doing CoolSculpting® inner thighs all at once. This allows for two areas to be treated together in one hour rather than two so you can get back to your busy schedule.
MALE CoolSculpting near me
FAQ's About CoolSculpting FOR MEN®