Skin Vitality Coolsculpting Treatments for Weight Loss
Skin Vitality Medical Clinic is the #1 Provider of Morpheus8, Botox®, CoolSculpting®, Juvederm®, PRP Hair Restoration, Sculptra®, EMSculpt® and Fraxel® in Canada and WE CAN OFFER YOU:
Feeling Confident Coming Out Of The Holidays
Especially during the holiday seasons, dressing up and attending social events becomes more common and many face the stress of wanting to look and feel their best. Do you long for a toned and trim midsection that is flattering in all of your favourite holiday dresses? If the answer is yes, you could be an amazing candidate for the non-invasive body sculpting treatment, CoolSculpting®. This service reduces the stubborn layers of fat that you notice by freezing them and then flushing them from your body for good – without any need for needles, surgery, or downtime!  
Targeting Fat Cells with Coolsculpting 
Effectively target fat cells in preferred areas of the body. While diet and cardio can both decrease the size of fat cells in the body, Coolsculpting® allows you to focus on specific areas of the body and the degree of fat loss. This is why you may notice that no matter how dedicated you are to working out and eating healthy, those stubborn pockets of fat just won't disappear. In addition, while diet and exercise are only capable of decreasing the size of fat cells, Coolsculpting® terminates the cells entirely. 
Lose Inches Fast With CoolSculpting Treatment
CoolSculpting® allows for targeted fat reduction by freezing away unwanted fat cells, to sculpt and contour your body. By applying controlled cooling to unwanted fat cells, the CoolSculpting® treatment is a permanent and non-invasive method of eliminating 20-25% of the fat cells in the area treated, and with no downtime!  The ideal candidate for CoolSculpting® is someone who is already at or close to their goal weight and struggling with small areas of fat that just won't budge. 
You may be thinking that a non-invasive treatment that freezes fat cells and has no recovery time, sounds way too good to be true. No ab-killing exercises and a slimmer stomach in just a few weeks sounds impossible. Especially to those who have already tried everything to eliminate their stubborn body fat. The advanced technology with CoolSculpting® offers a unique service that allows you to target certain problem areas so you can  achieve your New Year's resolution. 
Freezing Your fat away with coolsculpting®
Coolsculpting® wins 5 years in A ROW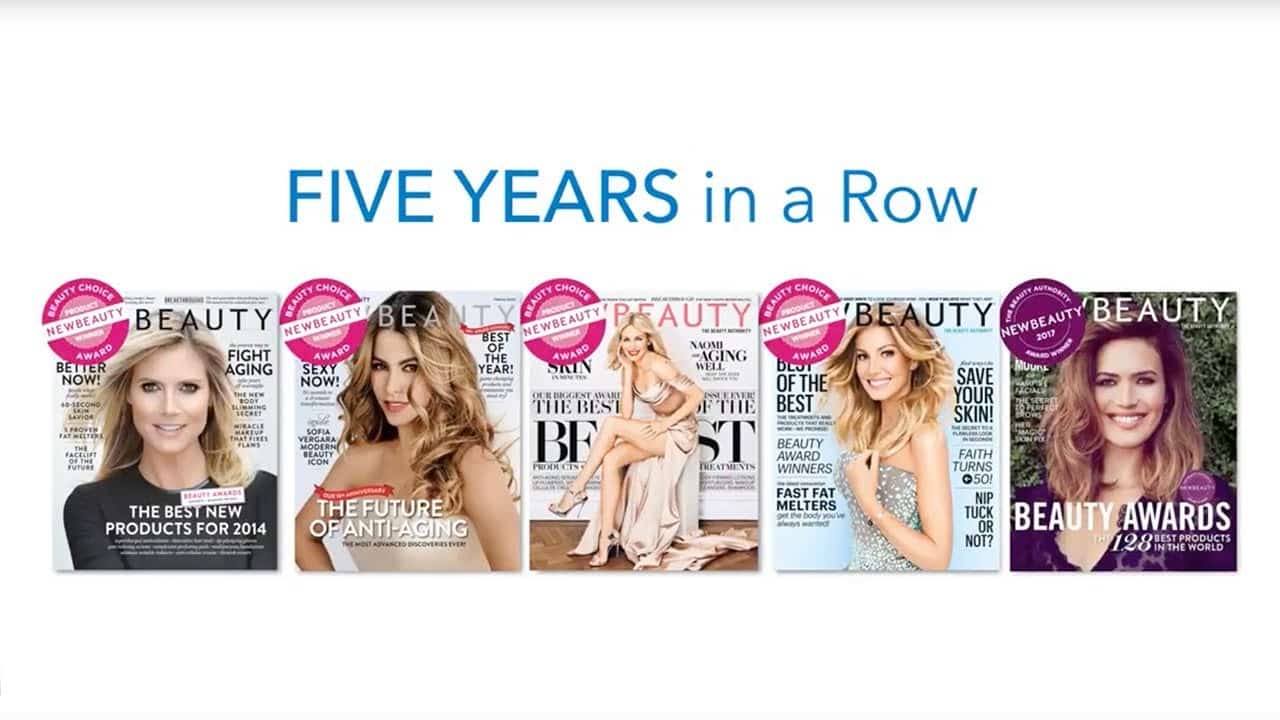 CoolSculpting® Treatment At Skin Vitality
During the treatment, a freezing agent is placed upon the target area. The procedure delivers precisely controlled cooling to target the fat cells underneath the skin. The treated fat cells are frozen and destroyed, and over time your body naturally processes the fat and eliminates the dead cells, resulting in a more sculpted figure. 
A Personalised Fat Reduction Treatment Plan
Each patient will consult with an experienced physician at Skin Vitality Medical Clinic to create a personalized individual treatment plan which is designed to accomplish specific goals. The length of the treatments will depend on the number and size of areas that you are looking to treat in one visit. Treatment times often range from thirty-five to sixty minutes. 
Your doctor will attach an applicator to the targeted area and extract energy from the fat tissue under the skin. A uniquely designed vacuum applicator cup is gently placed between two cooling panels, and heat that is determined by the selected procedure profile is extracted. There are sensors inside the applicator monitor that is attached to your skin, so the procedure is performed consistently. The sensors are connected to a control console that continuously monitors and controls the cooling throughout the entire procedure and gives feedback to the doctor. In the case of anything needing to be adjusted, your doctor will receive an alert to inform them of any device that needs attention and anything you need during the treatment. The system also notifies your doctor when the procedure is complete. 
What can I expect during my CoolSculpting treatment?
Within the first few minutes of your treatment session, you will experience an intense cold sensation that soon disappears. Depending on the type of applicator (different applicators are used for different areas of the body), you will feel a suctioning sensation during application. The area being treated will become numb in about five to ten minutes once the treatment has started. During the process, many patients simply sit comfortably and read a book, watch TV or even take a nap during the CoolSculpting®. Following the treatment, it is common to feel a tingling sensation in the area that was treated, but it will be massaged for 2-3 minutes to help relieve the feeling. There are no long-term post-treatment effects, and patients generally return to work and other normal activities immediately following their appointment. 
what to expect during your Coolsculpting session
What to expect during a treatment of CoolSculpting®: 
Preparation: A clear gel pad will be applied to the treatment area to create a barrier between your skin and the cooling panel.

 
Beginning of the Treatment: When the treatment begins, you will experience a slight sucking sensation from the applicator that is attached to your body. Other sensations include tugging, pulling, intense cold, tingling, stinging, mild pinching, cramping, and some slight aching at the treatment location. The treatment area will quickly become numb and these sensations will subside

 
Relax! As the treatment begins, you are able to relax and allow the CoolSculpting® to do all the work. You are able to answer emails, chat on the phone, or simply relax. 

 
When the Treatment is complete: A brief massage on the treated area will be performed. This massage breaks up the treated fat cells and helps with the overall fat reduction. 

 
Resume your daily activities! There is little to no downtime following a CoolSculpting® procedure, and you are able to resume any work or activities. Depending on the area of the treatment, you may need multiple sessions.

 
I went in to buy my mom a gift card to use for her next treatment and I saved $200. I ended up buying myself one too! Totally worth it to buy in advance.
A great gift for my Mom who never takes time for herself. I have no idea what she does but I know she loves going to Skin Vitality. This will be the best gift for her and it was so easy to get. As a University Student, anything that gives me more for my money is sweet to me. A win for us both! I payed 180 and she gets 200 :)
My husband got this gift card for my bday. I really love how easy and smooth it is to use this card at SV. And on top of it, there is a discount when you buy the card. Really an amazing deal :)
Received GC as a birthday gift! best gift ever!
I saved a $100 When I bought a $900 Gift Card for my bestie. She was able to put $1000 toward her CoolSculpting treatments and even got a discount on her purchase. Really excellent savings 🙌🏻
What to expect after your CoolSculpting treatment
After your CoolSculpting® treatment, a scheduled follow-up assessment will review your results and decide if there are any additional sessions that are needed. It is important to maintain a healthy lifestyle, however there are no specific or special diets that are required post-treatment.  
For CoolSculpting®, the results are not immediate but are very long-lasting. As soon as 3 weeks following a treatment, you will see approximately a 25% reduction of fat bulges, however the greatest results occur over the following 2-4 months post-treatment. The results of total fat loss can be more or less, depending on the body types, the individual patient, the amount of fat that is treated, and the area of the body that is being treated. 
If you are looking for more than a 20-30% fat reduction, you may require multiple CoolSculpting® treatments, depending on the size of the layer of fat to be removed and what your particular goals are. In combination with maintaining your weight post-treatment with a normal diet and exercise, your results should be long-term.   
Post-treatment with Coolsculpting®
Following a CoolSculpting® treatment, the treated fat cells no longer exist and can no longer enlarge which results in the size and occurrence of treated areas to be reduced long-term. It is important to note, however, that each contouring treatment reduces only about 20-25% of fat cells, and if patients do not continue to eat well and exercise, they can still gain weight in the area due to the remaining 75% of fat cell that can expand, making it important not to gain weight after the procedure to ensure that your results are long-lasting. 
When you find out how many areas of the body that CoolSculpting® can treat, it will be hard to pick just one! Although the process remains the same for each person, it's important to understand that the best areas of CoolSculpting® will vary for each particular body. 
Coolsculpting® Before & After
Best Target areas for coolsculpting®
1. Flanks
Also known as "love handles", the bulges at the lower sides of your waist respond extremely well to CoolSculpting®, even if weight loss hasn't effectively worked to shrink them. This will make you feel more confident in slimmer skirts, dresses, and shirts, to eliminate the annoying need to hide your sides any longer 
2. Abdomen
Your stomach is one of the most common places on the body that stores fat, making it very hard to reach and change this area with just diet and exercise. This is the most common area that people want CoolSculpting® for, especially since the results are extremely impressive 
3. Thighs
Thigh fat can be particularly stubborn, especially when the area is exposed in dresses, skirts, or slim pants. CoolSculpting® yields good results on both the inner and outer thigh areas, even though they're very different. The skin on the inner thighs is typically easier to pinch and feel surface area. Fat on the outer thighs, sometimes known as "saddle bags" is harder to pinch however is still made up of the right tissue that CoolSculpting® is able to target and treat. 
4. Upper arms
If you notice that your upper arms have fat that appears fluffier and lumpier, this type of fatty tissue can be targeted by CoolSculpting® and can yield great results that will make you feel better in sleeveless clothes and dresses. 
5. Double Chin
There is actually a miniature CoolSculpting® applicator that is specifically designed to treat the pad of fat that lays just underneath the chin both precisely and safely. The fat under the chin responds very well to CoolSculpting®, making it one of the best areas to target and one of the easiest insecurities to eliminate! 
6. Underneath the buttocks
The pouches of fat underneath the buttocks can be effectively treated with CoolSculpting® to smooth out the area to slim it and create more contour, and follows the rest of the area of your leg under the buttocks 
7. Back fat
Several areas of the back can be stubborn with retaining fat and creating insecurities. The lower back that extends from love handles, the mid-back fat on the sides, and bulges of fat that appear under the bra line can be extremely frustrating. CoolSculpting® is very effective in treating these areas and allowing you to wear that backless dress you've been dying to show off! 
WE ARE THE TOP Injectable PROVIDER IN TORONTO!
We perform thousands of injections every year – so many that we are the top provider of Botox® and Juvéderm® injectable treatments in Toronto and Canada. We also perform more CoolSculpting®, PRP Hair Restoration®, Sculptra®, EMSculpt® and Fraxel® treatments than any other providers in the country! Our doctors, nurse practitioners, registered nurses, and registered practical nurses have injected over 5 MILLION patients in the last 15 years. If you are looking for the best Morpheus8 results in Toronto, you have come to the right place!
Skin vitality location NEAR ME
Skin Vitality Toronto is our fourth location in Southwestern Ontario. This Toronto medical spa is just one of our 11 locations. Not located in Toronto? No problem! We offer non-surgical treatments across the GTA; browse through the clinics below to find a location near you! 
Mississauga offers non-surgical treatments at our Mississauga clinic, located around the Port Credit area.
Oakville offers non-surgical treatments at our Oakville clinic, located beside the Harper's Landing on Cornwall Road.
Richmond Hill offers non-surgical treatments at our Richmond Hill location, just North of the 407, in the LCBO Plaza, a few stores down from the Shoppers Drug Mart.
Ajax offers non-surgical treatments at our Ajax clinic, located in the Westney Heights Plaza, just North of the 401.
Stoney Creek Hamilton offers non-surgical treatments at our Stoney Creek, Hamilton location, a couple of minutes from the QEW, at the intersection of Fruitland Rd and Barton St.
London, Ontario offers non-surgical treatments at our London clinic, located within the Starbucks, No Frills and Shopper's Drug Mart Plaza on the northeast corner of Fanshawe Park Rd. W.
Kitchener Waterloo offers non-surgical treatments at our Kitchener location, just north of the 401 in the Deer Run area.