Skin Vitality Medical Clinic is the #1 Provider of Botox®, CoolSculpting®, Juvederm®, PRP Hair Restoration, Sculptra®, EMSculpt® and Fraxel® in Canada and WE CAN OFFER YOU:
About Sweat Reduction for Hyperhidrosis
Excess sweat, more than what is required to regulate body temperature, is a medical condition otherwise known as hyperhidrosis. The excess sweat becomes present without engaging in tasks that require physical movement or muscular effort, and it doesn't depend on the exposure to heat. Patients most commonly experience hyperhidrosis or excess sweat under the arms, face, neck, back, groin, feet and hands.  
People who sweat excessively often soak through their clothing or drip sweat. Regular antiperspirants don't work well for those with the condition. This condition can be more than a hurdle for some; it can deteriorate your quality of life from a psychological, emotional and social perspective. Luckily, there is an easy solution to this problem, and it requires no surgery or downtime: Botox®. 
Sweat Reduction Treatment at Skin Vitality 
Botox® has been Health Canada and FDA-approved for people who sweat excessively from their armpits. It may also be used "off-label" to reduce sweating in other areas, such as the hands, feet, and face.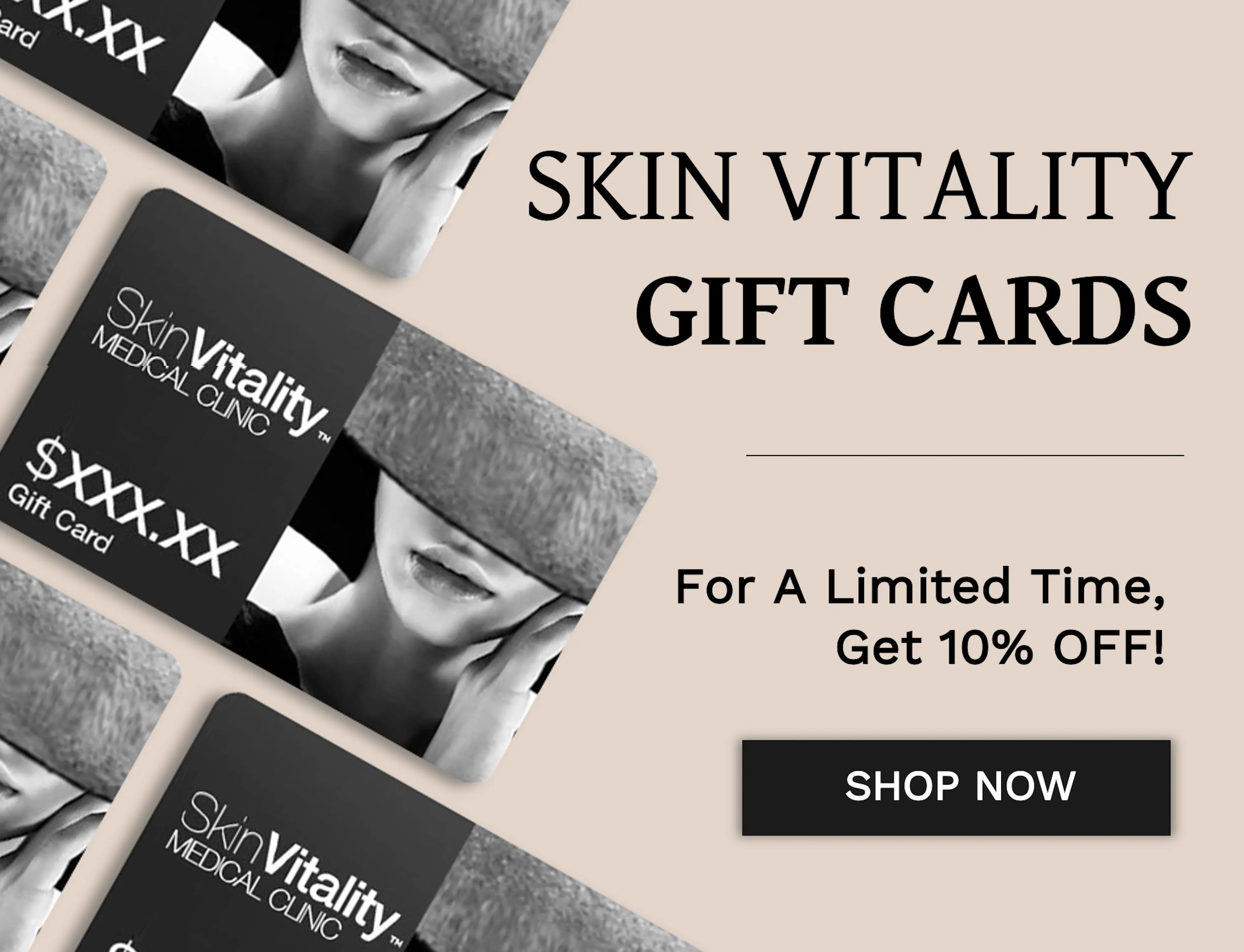 I cannot say enough good things about this place and my experience here! I had my first appointment last week and everyone there is extremely professional, knowledgeable and so lovely! Susan is so personable and nice. I felt so comfortable and left feeling great about myself and happy. The facility is incredibly clean and organized. I will definitely be returning; Thank you!
Very professional and very courteous. Very open to my questions and didn't beat around the bush.... You can tell when you speak to them that they care about their clients and make them feel welcomed... Would gladly recommend them to anyone. Absolutely love them
From the first day I walked into skin vitality Ajax I was very impressed. Friendly staff and very knowledgeable about what I needed to do to look and feel great ! Special shout-out to lisamarie@skinvitality.ca my fabulous Consultant and My fabulous aesthetics nurse Sherline. I would highly recommend this location and the Skin Vitality family !
Being with Skin vitality has been phenomenal. I have had the pleasure to receive services from Tatiana Popvitch and her staff at the Oakville location. I must say that they have been so nice, patient and a pleasure to work with. I definitely will be going back for more services in the near future. Thank you
I was very nervous for my appointment but Amanda took amazing care of me and relieved all of my worries! I am so happy with my results and will definitely be going back! The clinic was so clean and BEAUTIFUL!
Where can Sweat Reduction be applied?
Hyperhidrosis can be classified as generalized or localized depending on the body part affected. It can also be classified by onset, either congenital (present at birth) or acquired (beginning later in life). Currently, the treatment of Hyperhidrosis through Botox® injections has been approved by Health Canada and the FDA for the underarm area. Medical practitioners have also been using Botox "off-label" to treat other areas of the body susceptible to Hyperhidrosis. Many studies have outlined the effectiveness of this treatment to help those experiencing an excess of sweat.
Primary
Primary Hyperhidrosis is categorized by the areas that have the highest number of sweat glands. These areas include the hands, feet, armpits, groin and face. When the excess sweat is in a localized area i.e. palms, soles, face, underarms or scalp, it is referred to as primary hyperhidrosis.
Generalized
Excessive sweating involving the whole body is termed generalized hyperhidrosis or secondary hyperhidrosis. It is usually the result of another underlying health condition.
Founded in 1992, Skin Vitality Medical Clinic has 13 Locations across Southeastern Ontario. Our Medical Team consists of over 200 professionals including 10 Medical Doctors, 40 Nurse Practitioners and dozens of Registered Nurses and Registered Practical Nurses. We are the Largest Provider of Botox®, Juvederm®, CoolSculpting®, Hair Restoration®, Sculptra®, EMSculpt® and Fraxel® in Canada.
How Does Sweat Reduction work?
Studies have shown that Botox® can successfully treat sweaty palms in 80 – 90% of cases. For underarm sweating, dryness can last anywhere from four to fourteen months. Results may not last as long for the hands and feet, and you may need to repeat your treatment in about six months.
Injections don't take long and can be completed during a 30 minute visit. Your medical practitioner will inject Botox® just below the surface of the skin using a fine needle. The injections are made to form a grid pattern around your area of concern. Your doctor may give you something to prevent any pain, like ice or a numbing agent.
You can return to work and normal life as soon as you're done with your Botox® injections. Your doctor may ask you to schedule a follow-up appointment to check in and touch up any missed spots.
You can resume your normal activities immediately after receiving Botox® injections. It will take between two and seven days for you to stop sweating in the treated area. It can take two weeks for total dryness.
FAQ's About Sweat Reduction