Non-Surgical Treatment to restore and maintain youthful skin
Skin Vitality Medical Clinic is the #1 Provider of Morpheus8, Botox®, CoolSculpting®, Juvederm®, PRP Hair Restoration, Sculptra®, EMSculpt® and Fraxel® in Canada and WE CAN OFFER YOU:
One of the newest up and coming treatments in non-surgical aesthetics is Morpheus8, which is a new and innovative solution solution for treating skin laxticity while removing fat. Using a safe radiofrequency (RF) and an advanced needling treatment, Morpheus8 helps you achieve tighter and smoother looking skin on the face and body. The unique engineering of the device results in treatment that can be performed on both larger, easily assessable areas and smaller, more delicate regions that require precision.
The treatment delivers a 2-in-one, through the combination of microneedling with radiofrequency therapy. Micro needling entails the use of a device to make small pricks in the skin to trigger regeneration of cells and helps to erase wrinkles and scarring. Radiofrequency is usually applied on top of the skin to heat the cells below and causes your body to produce more collagen to tighten and smooth the skin. With 24 microneedles, the technology for morpheus8 reaches 4 mm into the skin and the radiofrequency is emitted through the tips of those needles. Thus, none of the electric current is lost in the top layers of the skin but instead permeates the dermis (where elastin and collagen are produced) and the fatty tissue below, which additionally leads to fat reduction and contouring of the face. The procedure can be used all over the face and body, but a specific reason for its popularity in the past year has been the results that it achieves under the chin, which is an area that is known for being notoriously difficult to treat effectively and permanently without cosmetic surgery.
Morpheus8 is a great treatment that delivers amazing results though the combination of micro needling and radiofrequency laser energy. The Morpheus8 treatment tackles pigmentation, acne scars, fine lines and wrinkles, and is an ideal treatment for a winter glow-up. It targets the deeper layers of the skin to reveal a tight, smooth and radiating appearance. Post-treatment requires the use of sunscreen and avoiding exposure to the sun, so winter really is the best time to enjoy the amazing results of this micro needling and RF treatment.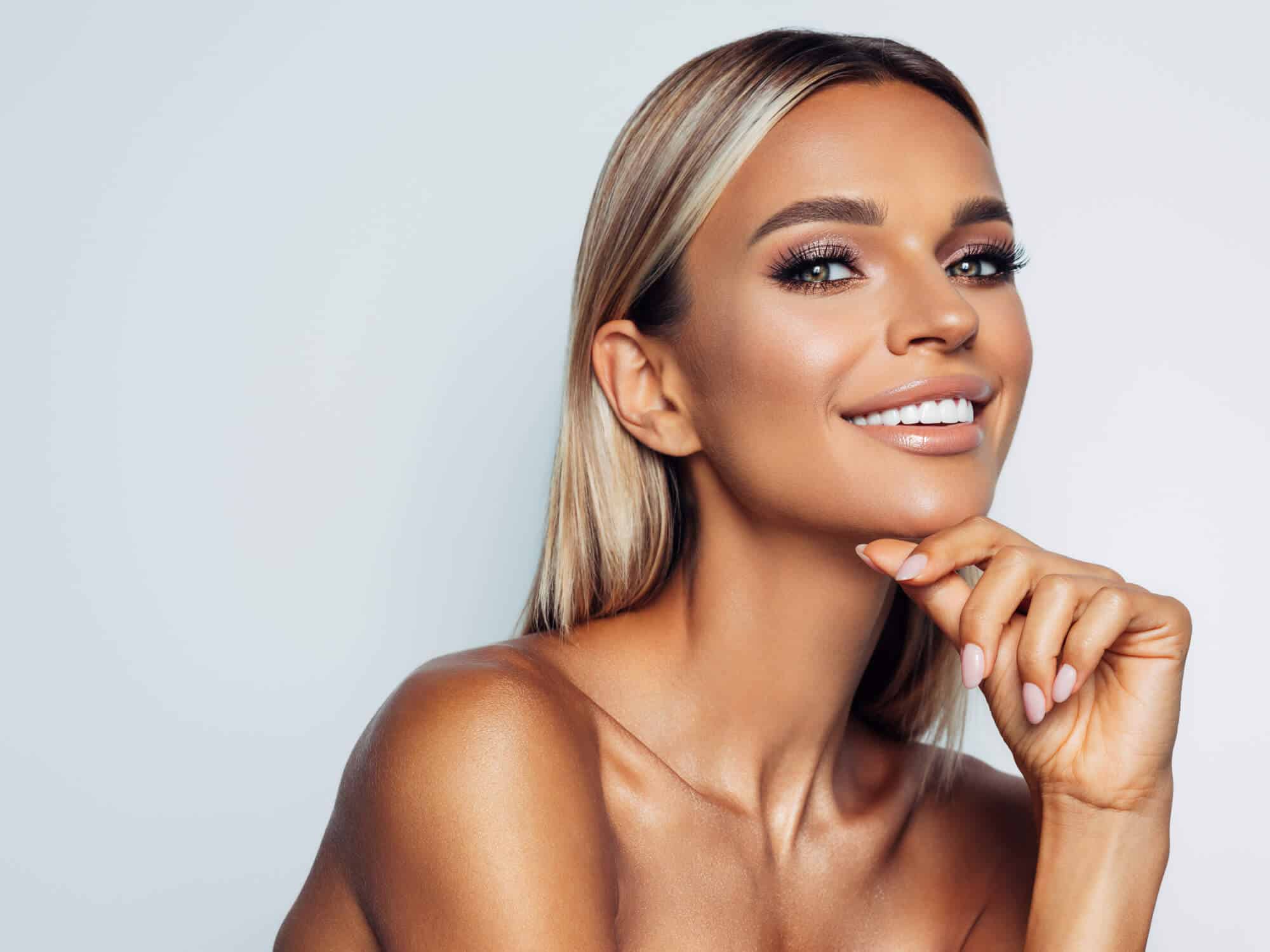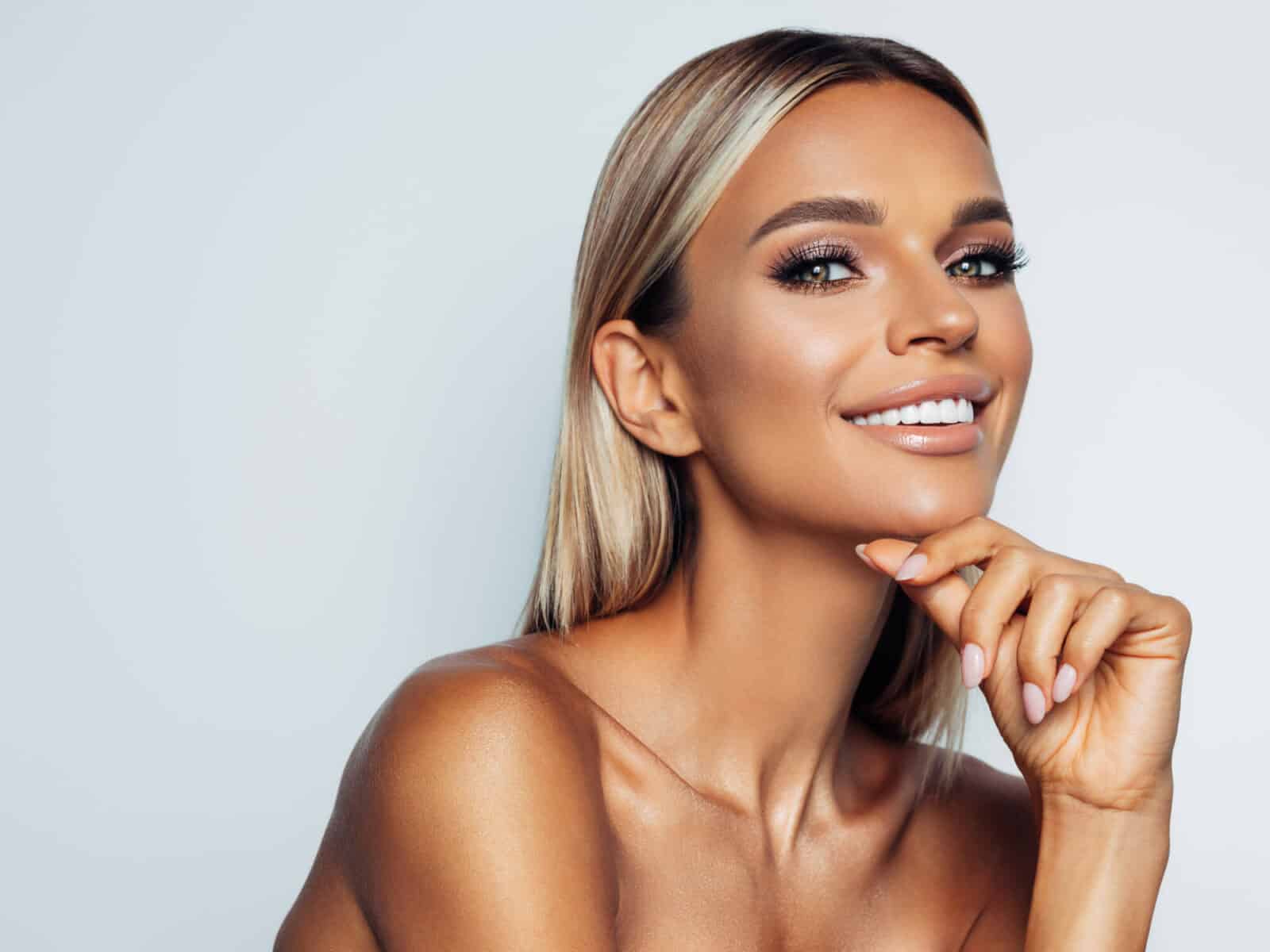 Micro needling, also known as collagen induction therapy, is a non-surgical treatment that makes tiny punctures in your skin to increase your body's production of collagen and elastin. The downtime for the treatment is minimal, however the winter season allows you to be able to stay home to rest and recover without drawing attention. Radio frequency skin tightening is a nonsurgical method that tightens the skin to allow similar results to a face lift, by reshaping sagging skin. It is a particular form of energy wave, with a number of different physical results possible. When it is used to treat the skin, the radio frequency permeates deep into the skin into the dermis, which is where the body produces collagen, elastin, and hyaluronic acid. When the waves enter this layer of the skin, they heat the are and initiate the skin's regeneration and production of collagen, to tighten the skin. Collagen is ultimately the backbone of our skin, it creates the framework of our sin and is what gives it firmness. But, like most things, the amount present in our skin decreases over time – particularly over the age of 40.
The famous Morpheus8 cosmetic treatment has many celebrities obsessed and might be the answer to your skin ageing concerns. Many A-listers, including Faye Tozer, Judy Murray, Amanda Holden, and Kim Kardashian, have experienced hugely transforming results post-treatment of Morpheus8.
Morpheus8 can work on any area of the body and treats a wide range of skin concerns. It treats irregular skin tone & texture, deep lines and creases, sun damage, acne and acne scarring, skin laxity, enlarged pores, and stretch marks. People exhibiting common signs of ageing can also undergo this treatment, as the results are universally beneficial.
A good way to describe Morpheus8 is like micro needling but on steroids. Before the word "needle" has you squirming in your seat, remember that the word "micro" means very, very small. A wand is used to apply these miniscule needles to the skin, creating microtears that are imperceptible, stimulating the natural production of collagen and elastin, the things that make your face appear more youthful, which time and age steal. During this procedure, nothing foreign is being put into your body and the skin is able to repair itself.
The radiofrequency that is transmitted through each tiny needle from Morpheus8 allows the treatment to accurately penetrate deeper below the skin to deliver more powerful results that continue to build over the course of about four months.
It's a unique treatment in which micro needling is used in combination with radiofrequency technology and has the ability to penetrate the skin at a deeper level than regular micro needling treatment sessions. Morpheus8 is typically a treatment for the face that is able to address and treat various skin concerns from hyperpigmentation to acne scarring but can also be really effective in firming and tightening tissue on most areas of the body.
As for the procedure, after using a topical numbing cream on the patient's treatment area, the handheld device is pressed into the area, which allows the minuscule microneedles to penetrate the skin. When the pins are in place, they emit radiofrequency (RF) waves. The heat emitted from these waves penetrates into the dermal skin layer, which tightens the skin and the fat below. This causes the restructuring and improvement in the appearance of what was formerly saggy to healthier and tighter skin. The entire procedure, including numbing and prep will not take longer than about 2 hours.
Keeping in mind of the skin concern that you are expressing, the medical aesthetician at Skin Vitality will customize the radio frequency energy that is emitted to reach different depths of dermal layers to achieve the best results possible. It is also possible to combine Morpheus8 with PRP for optimal results designed specifically for your concerns.
morpheus8 results
Wondering when you'll be able to see Morpheus8 results? While it's possible to see results as quickly as after your first Morpheus8 treatment, it is recommended to have a minimum of three sessions that are spaced roughly four to six weeks apart to be able to see full results from the treatment.  For downtime, you should expect to see some mild swelling and redness that looks and feels like a sunburn for 2-4 days post treatment, as well as some possible and minimal flaking as the tiny punctures from the microneedles heal.  The only thing to note is that you need to keep the area dry for 24-48 hours after the treatment. So, this means you can't wash your face or do any skincare for at least 24 hours, and then use a gently cleanse and hydrating serum. You can exercise on the second day, but since you don't want sweat to get the area wet, it's best to keep it light.
The treatment may leave you with some small scabs where the needles punctured the skin, but these are hardly noticeable. Occasionally, some small bruising may occur, but this can be easily covered up. Basically, there is no recovery time as there is no drastic damage that is done to the skin, other than a few things that aren't very noticeable, so life can go on as normal.
benefits of morpheus8
The innovative Morpheus8 treatment applies just the right amount of heat to:
Remodel skin texture on subdermal layers
Remove unwanted fat
Reintroduce collagen fibers for increased volume and suppleness
What's loved about the Morpheus8 treatment is that it delivers uniform results for all skin types without creating any thermal damage to your dermis. This innovative technology also reduces the risk of post-inflammatory hyperpigmentation, which can be a side effect of some other skin resurfacing techniques.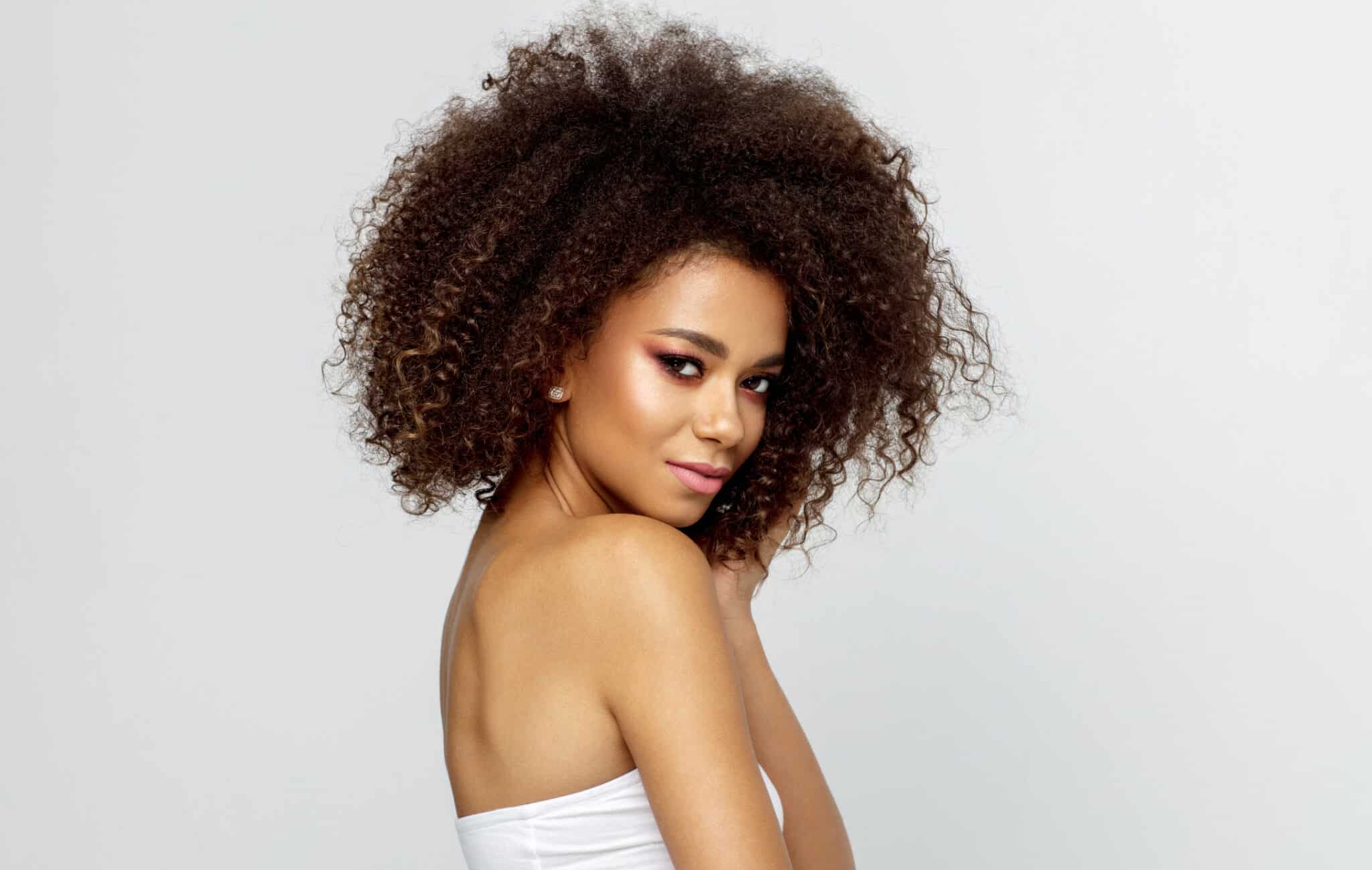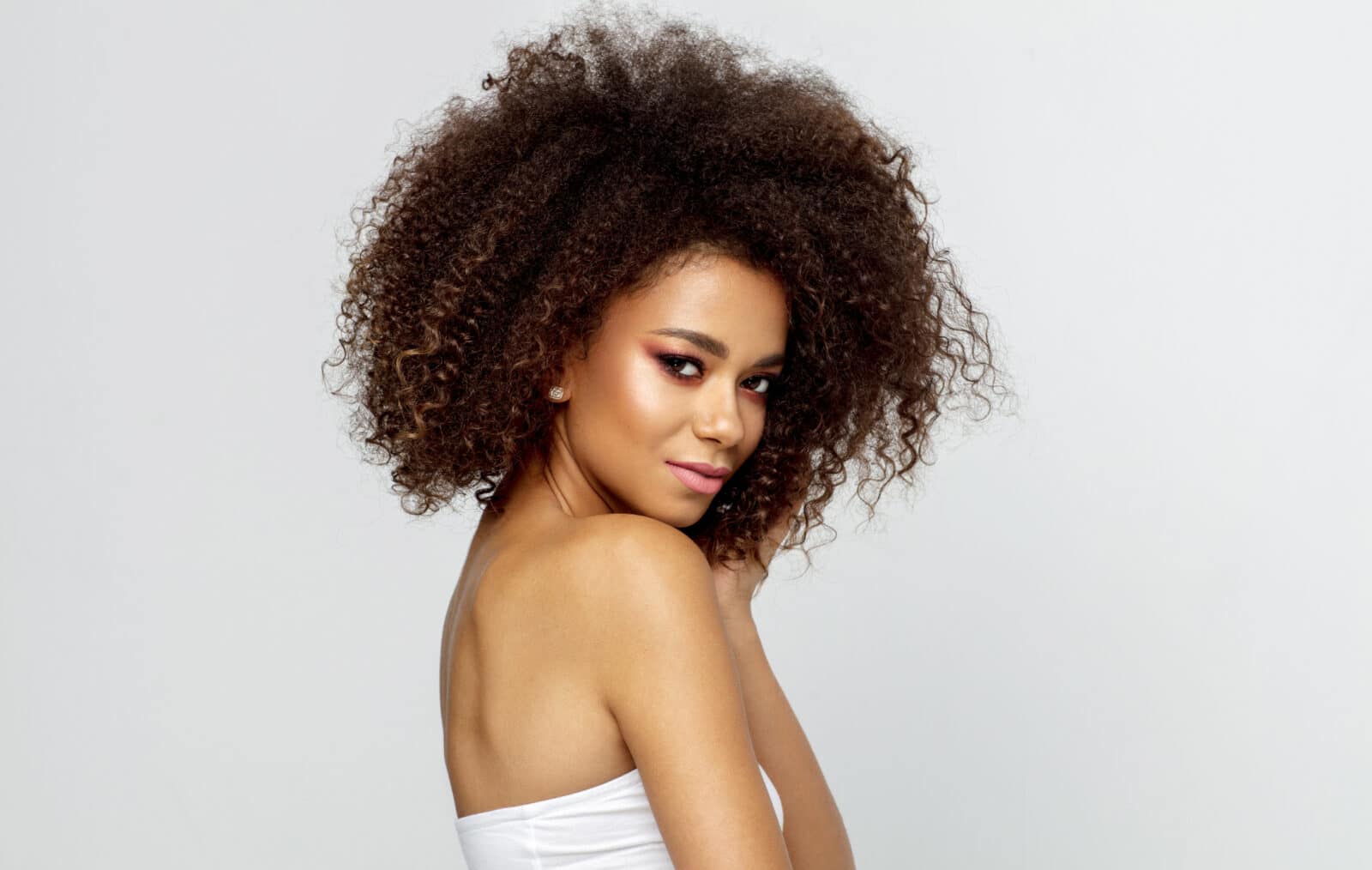 morpheus8 before and after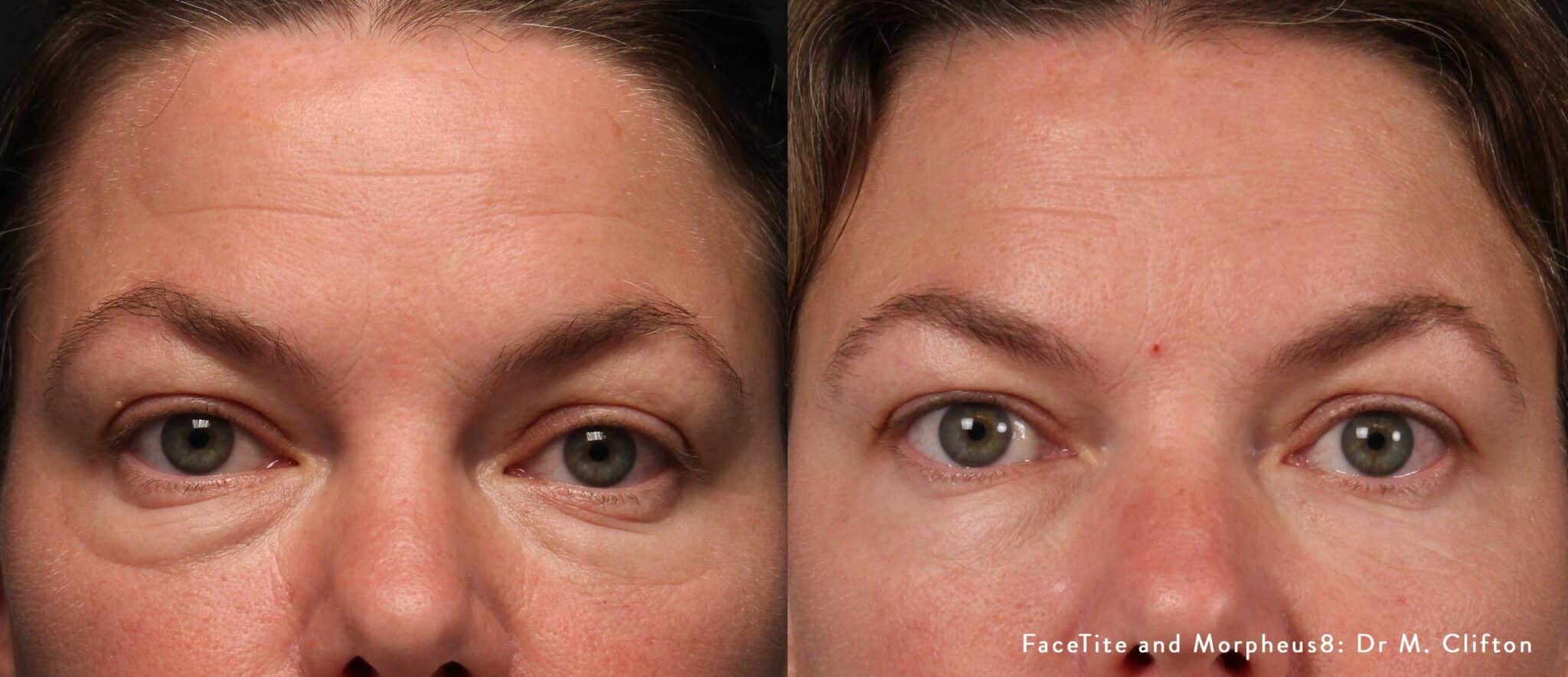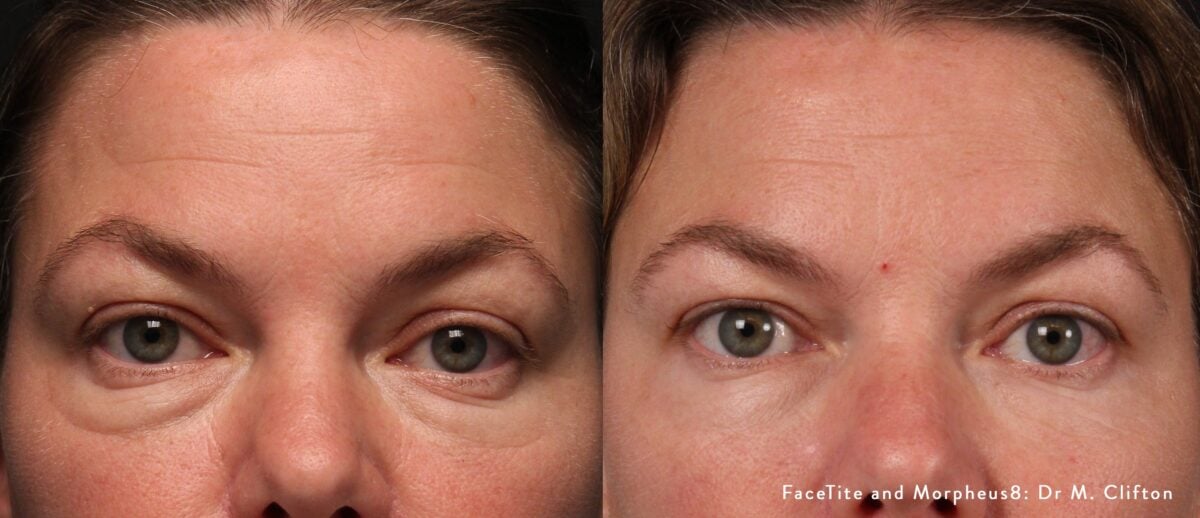 The innovative engineering of the Morpheus8 hand-held device has resulted in customizable device tips that are designed for deliver, meaning that treatments are able to be performed on both larger and smaller, more delicate areas. The needles will only affect the subdermal layers of the skin, so there's no risk of hyperpigmentation post-session, making Morpheus8 a fantastic option for all completion types. While it can take up to 6 months to see an improvement in collagen, some patients have noticed a reduction in cellulite in as little as one month!
Want a tighter neck, face or abdomen without surgery? Morpheus 8 RF Microneedling is the latest technology that tightens quickly and can last for years. After applying numbing cream, providers use a machine that punctures the first layer of skin with lots of tiny needles, boosting collagen, reducing wrinkles and tightening the skin. It can be used practically anywhere on the body, but many patients enjoy results on their face, body, abdomen, knees and arms. Patients typically see signs of improvement within a week, with more dramatic results following in the next three to four weeks, says Graper Harper's Director of Skin Care Angie Thomas. Patients can expect to receive a series of three treatments spaced four weeks apart, and there's little to no downtime. Individual results may vary, but results are expected to last three to five years. If you have loose skin on your face, or around your chin and neck, then you will definitely benefit from this treatment and will very likely see dramatic results.
Check out the results in these before and after shots: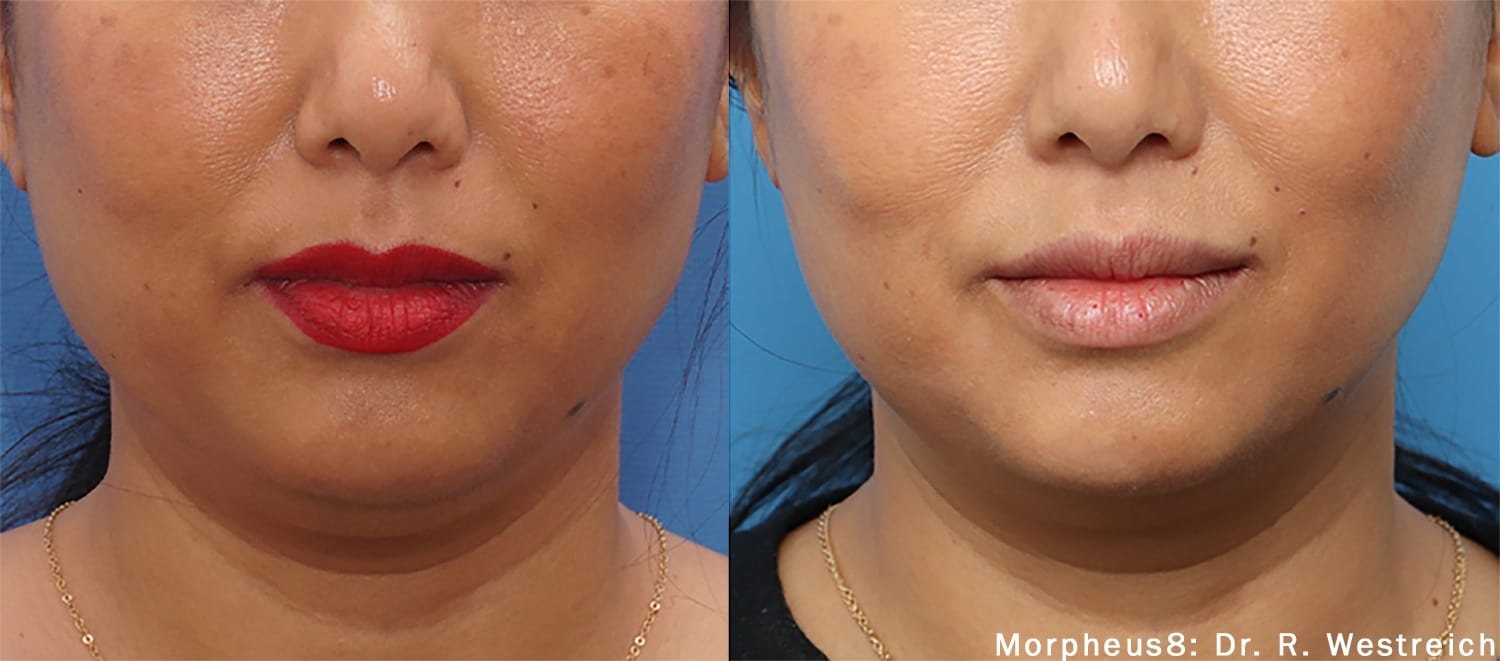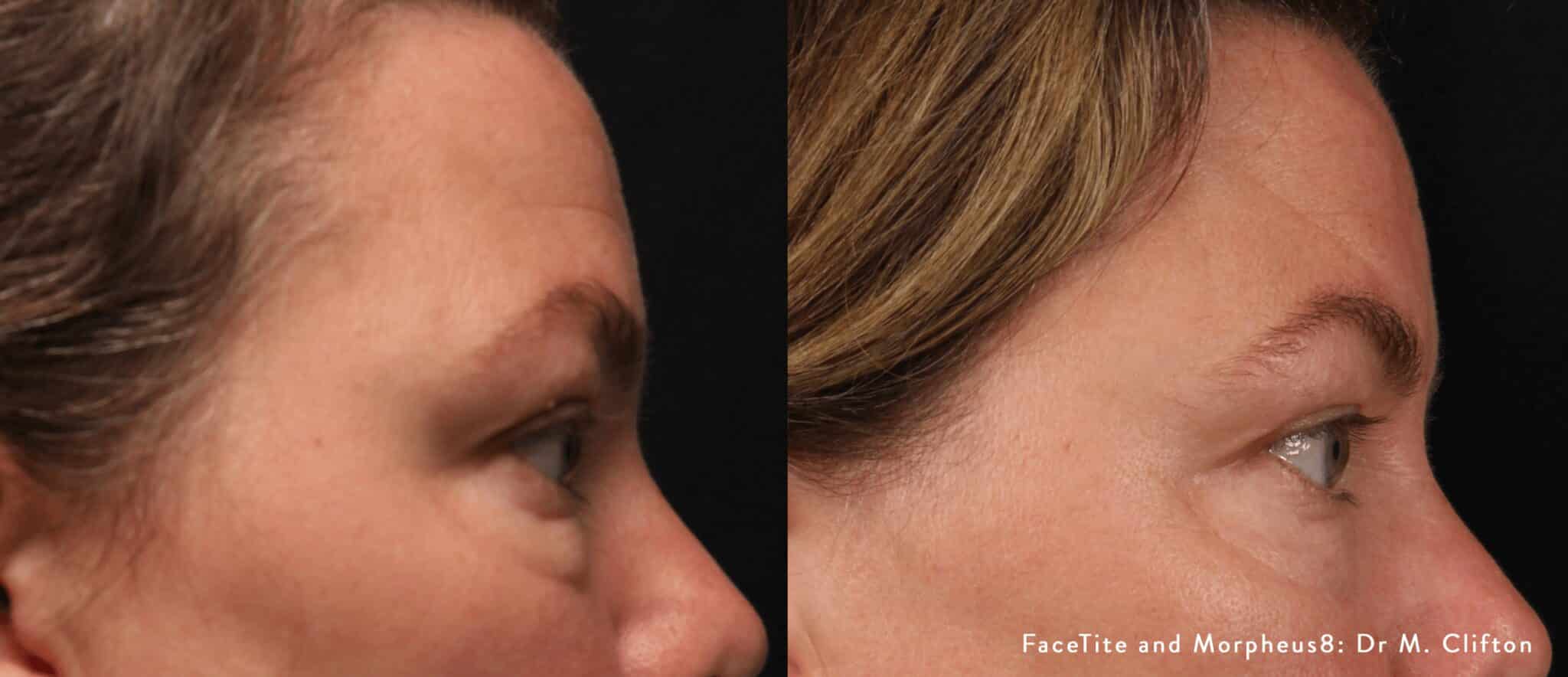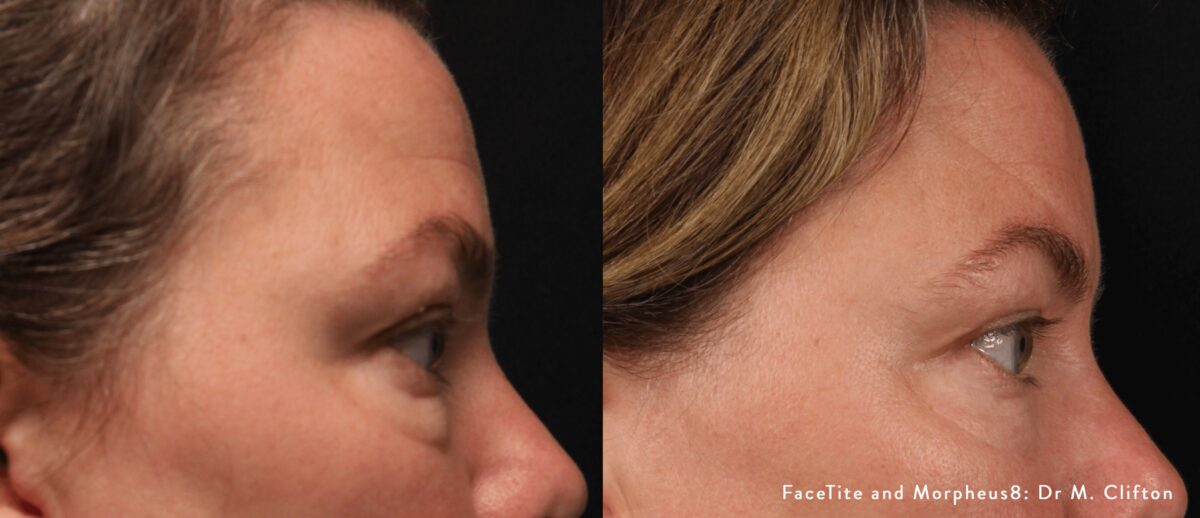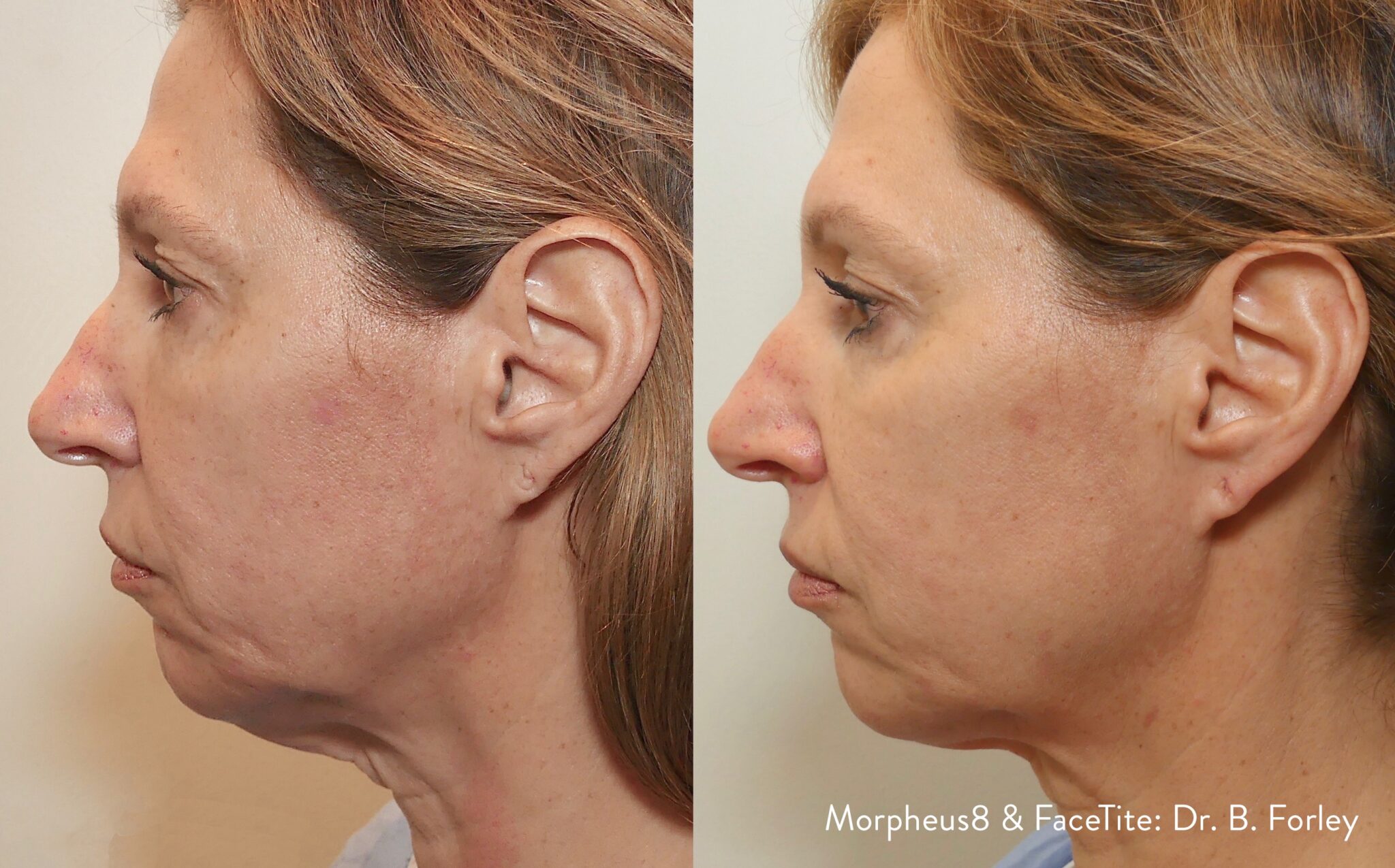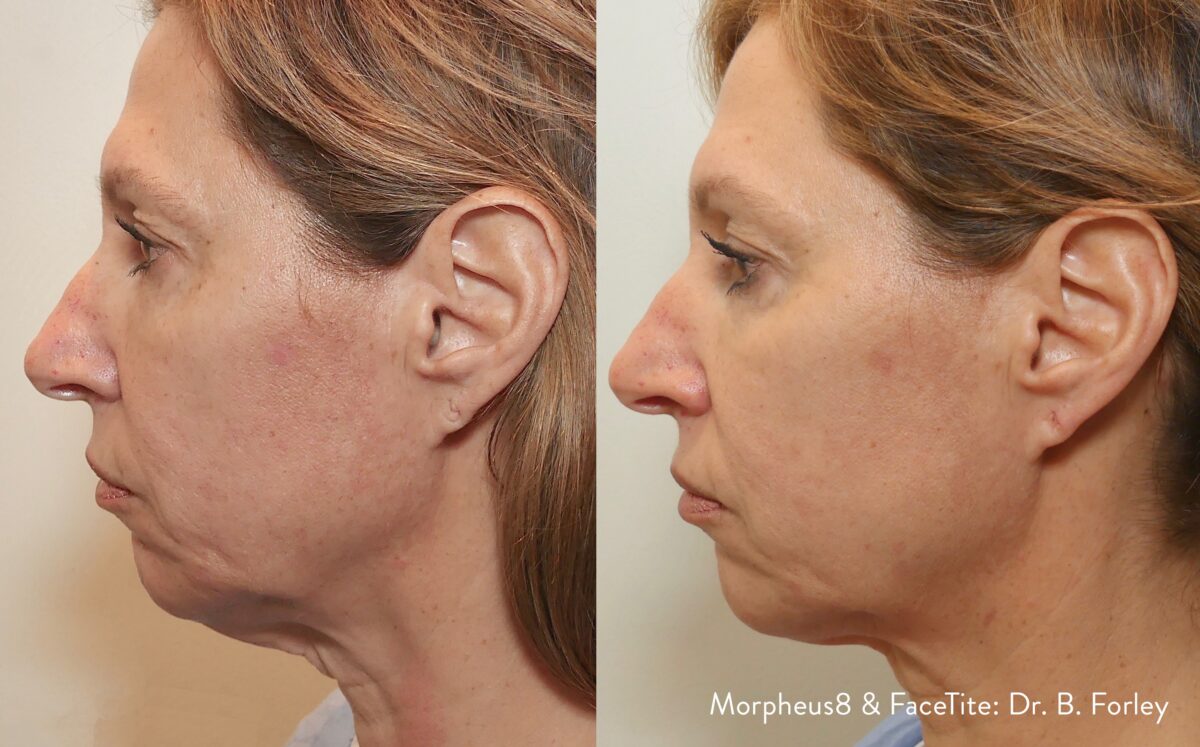 where can morpheus8 be used?
MORPHEUS8 FACE TREATMENT:
The Morpheus8 facial treatment is ideal if you're looking to rid the face of wrinkles and fine lines while also evening discoloration by restoring the skin's youthful complexion in these areas: 
Around the mouth

 

Jaw Line 

 

Neck

 

Lower and upper eyelids

 

Cheeks

 
MOPHEUS8 BODY TREATMENT: 
 Morpheus8 is an ideal treatment if you want to get rid of the following issues affecting body contour: 
Sagging skin around the thighs and buttocks

 

Cellulite

 

Loose skin around the stomach 

 
While it can take up to 6 months to see an improvement in collagen, some patients have noticed a reduction in cellulite in as little as one month!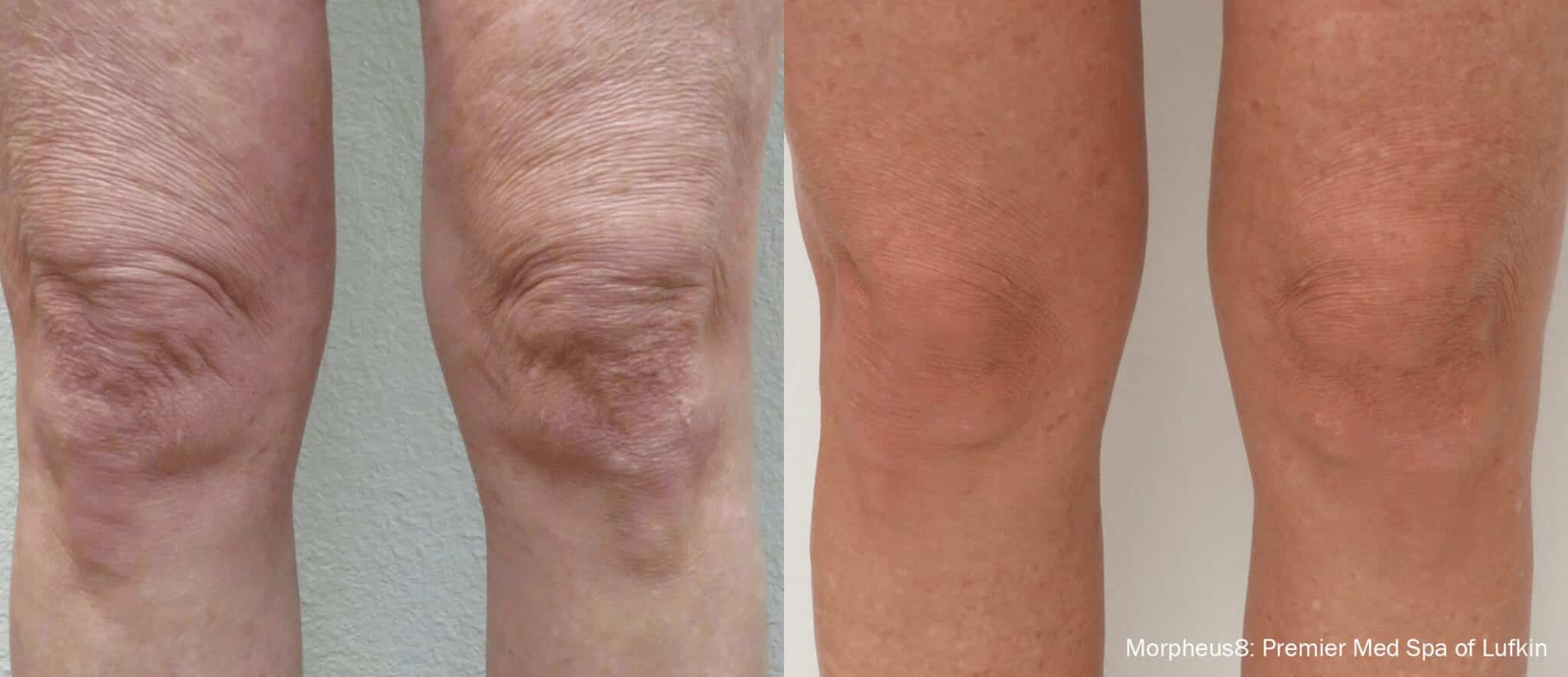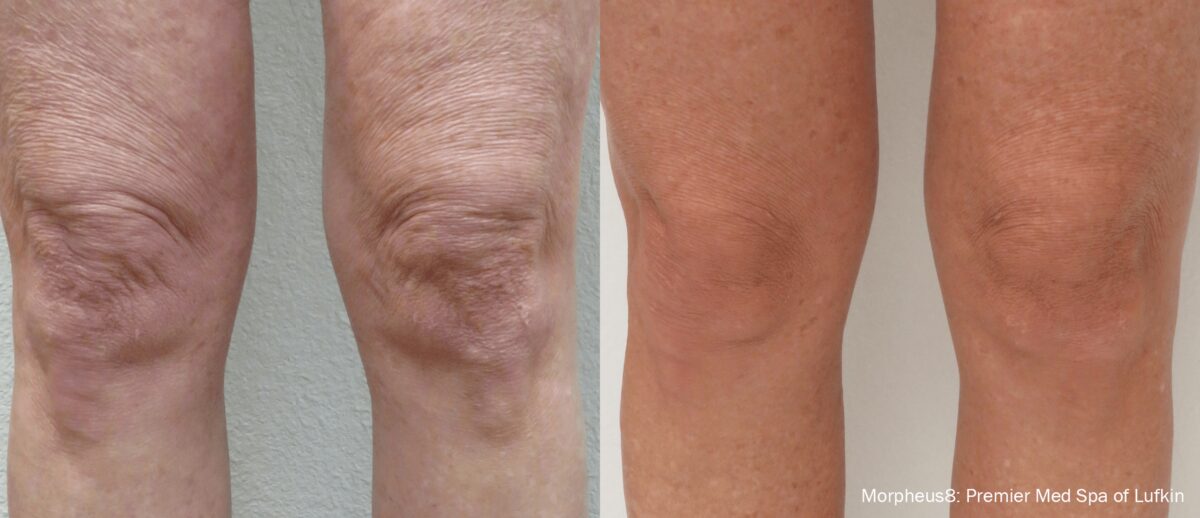 "I had Morpheus8 done facially by Annie. She was very pleasant and very informative. She answered all of my questions and made me feel so comfortable. Not only was she well informed but she also kept me updated on all the steps from beginning to end. I will be seeing her again and would recommend her highly." – Margaret L
"I had an amazing experience. The nurse made me feel so comfortable and did an exceptional job. I had Morpheus 8 done and I was reassured that it would not be uncomfortable. Thank you skin vitality I will continue to visit the clinic for my future treatments." – Authentic Reviews
"It was my first time to have Morpheus 8! What an experience! I asked a lot of questions and all answered which made me feel very comfortable and certainly in very experienced hands. I can not wait for my next treatment." – Margaret L
"I had my first Morpheus8 treatment yesterday and the girls were nothing more than kind and professional. Thank you so much for a great experience. I will see you next month!" – Sandra M
"I have come to the Yorkville clinic many times for a procedure that requires regular maintenance and recently had another procedure done there as well. I get a bit nervous when starting something new and like to do my research and ask a lot of questions. The staff at this clinic are very kind,friendly, accommodating and reassuring. My results are great and I am now using a skin care line that was suggested there as well. My skin has never looked better And I always look forward to my visits there." – Karey 
If you have loose skin on your face, or around your chin and neck, then you will definitely benefit from this treatment and will very likely see dramatic results. At Skin Vitality Medical Clinic agree, we will never tell you that you need surgery to accomplish your goals if you do not. We offer non-surgical and minimally invasive alternative treatments that will allow you to achieve your goals.
At Skin Vitality, we'll ensure the proper amount of radiofrequency heat is delivered safely to your target area in order to obtain the results that you want. We are able to accomplish this through in-depth training on our medical aesthetic practitioner, their extensive experience and the precise regulation of energy the device is designed to deliver.
I went in to buy my mom a gift card to use for her next treatment and I saved $200. I ended up buying myself one too! Totally worth it to buy in advance.
A great gift for my Mom who never takes time for herself. I have no idea what she does but I know she loves going to Skin Vitality. This will be the best gift for her and it was so easy to get. As a University Student, anything that gives me more for my money is sweet to me. A win for us both! I payed 180 and she gets 200 :)
My husband got this gift card for my bday. I really love how easy and smooth it is to use this card at SV. And on top of it, there is a discount when you buy the card. Really an amazing deal :)
Received GC as a birthday gift! best gift ever!
I saved a $100 When I bought a $900 Gift Card for my bestie. She was able to put $1000 toward her CoolSculpting treatments and even got a discount on her purchase. Really excellent savings 🙌🏻
WE ARE THE TOP Injectable PROVIDER IN TORONTO!
We perform thousands of injections every year – so many that we are voted the top provider of Botox® and Juvéderm® injectable treatments in Toronto and Canada. We also perform more CoolSculpting®, PRP Hair Restoration®, Sculptra®, EMSculpt® and Fraxel® treatments than any other providers in the country! Our doctors, nurse practitioners, registered nurses, and registered practical nurses have injected over 5 MILLION patients in the last 15 years. If you are looking for the best Morpheus8 results in Toronto, you have come to the right place!
skin vitality locations NEAR ME:
Skin Vitality Toronto is our fourth location in Southwestern Ontario. This Toronto medical spa is just one of our 13 locations. Not located in Toronto? No problem! We offers Morpheus8 treatments across the GTA; browse through the clinics below to find a location near you! 
Oakville offers Morpheus8 treatments at Skin Vitality Oakville, located beside the Harper's Landing on Cornwall Road.
Ajax offers Morpheus8 treatments at Skin Vitality Ajax, located in the Westney Heights Plaza, just North of the 401.
Milton offers Morpheus8 treatments at Skin Vitality Milton, located on the corner of Steeles Ave and James Snow Parkway. We are in the same plaza as Walmart and Staples Business Centre.