Address:Skin Vitality Medical Clinic 311 Fruitland Rd, Unit 3, Hamilton (Stoney Creek) L8E 5M8
Directions: Our Stoney Creek clinic is located just a couple of minutes from the QEW, at the intersection of Fruitland Rd and Barton St.
Hours of Operation
Monday 9:00 AM – 8:00 PM
Tuesday 9:00 AM –8:00 PM
Wednesday 9:00 AM – 8:00 PM
Thursday 9:00 AM – 8:00 PM
Friday 9:00 AM – 7:00 PM
Saturday 9:00 AM – 5:00 PM
Sunday CLOSED
Skin Vitality Medical Clinic is the TOP provider of Juvéderm in Stoney Creek, Hamilton.
We perform more Juvéderm dermal filler injections than any other medical practitioners in Canada. That includes all the doctors and nurses across the country!
Our talented medical staff, which includes 10 Medical Doctors, 40 Nurse Practitioners (NP) and dozens of Registered Nurses (RN) and Registered Practical Nurses (RPN) in Hamilton and the surrounding area, specialize in dermal fillers. A dermal filler is an injectable gel that:
enhances your facial contours
erases wrinkles
replaces lost volume
modifies the size and shape of your features.
The filler we offer at Skin Vitality Medical Clinic is an FDA and Health Canada approved "next-generation" dermal filler that is based on hyaluronic acid, a naturally occurring substance in your skin. A single treatment can provide a subtle to dramatic improvement of your appearance without surgery. You can find in-depth information about Juvéderm treatments here or feel free to schedule an appointment below.
Come visit us at our Stoney Creek Juvéderm clinic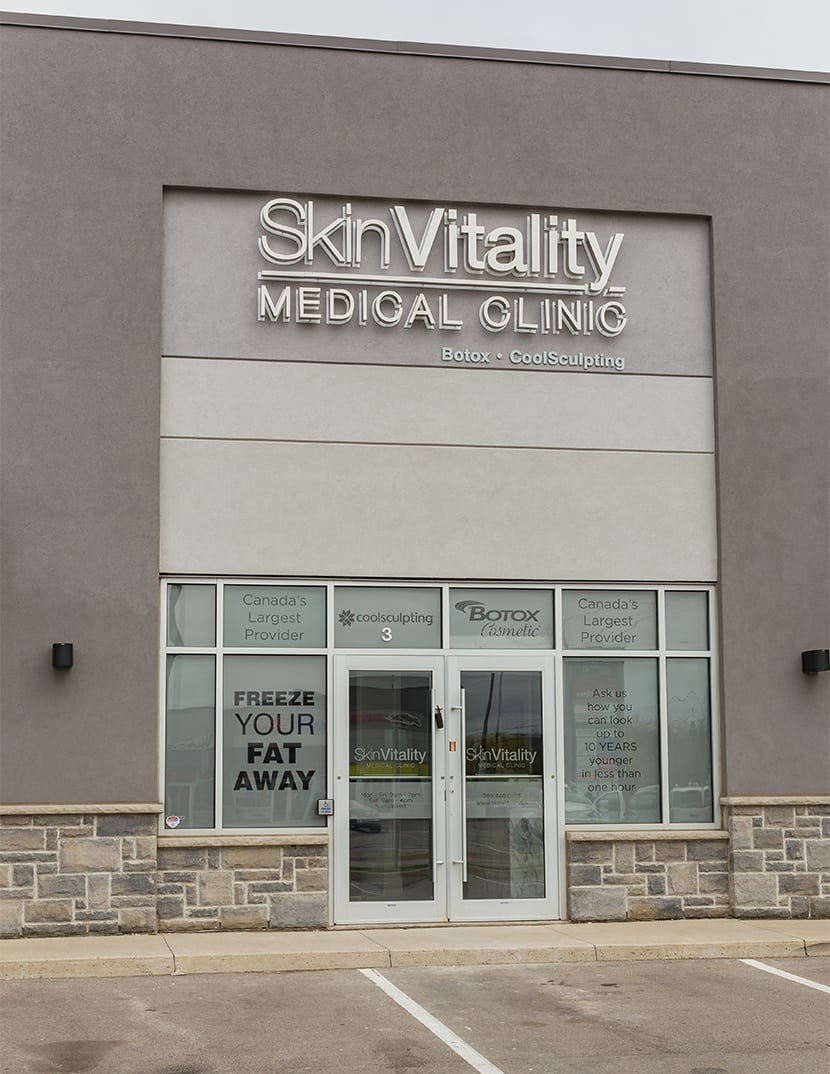 Top Botox® Provider in Canada
Skin Vitality Medical Clinic is the #1 Provider of Botox®, Juvéderm®, CoolSculpting®, PRP Hair Restoration®, Sculptra®, EMSculpt® and Fraxel® in Canada and we can offer you the Lowest Prices in the Country with the Best Possible Result! Our team consists of over 200 professionals including 10 Medical Doctors, 40 Nurse Practitioners (NP), dozens of Registered Nurses (RN) and Registered Practical Nurses (RPN). In addition to being open 6 days a week for over 28 years, Skin Vitality offers virtual consultations with a member of our Medical Team in the privacy of your own home. We also offer, Skin Tightening, IV Therapy, Clear & Brilliant, Gynecological Treatments, Nightlase (Snoring) Treatments plus more.
12 Locations to Serve You
Skin Vitality's team of over 200 Medical Professionals have the most Specialized Extensive Training and have helped hundreds of thousands of patients look and feel their personal best over the last 28 years. With 12 locations as far East as Ajax then West to London and everything in between such as Richmond Hill, Toronto, Mississauga, Oakville, Stoney Creek, St. Catharines and Kitchener we are open 9am to 8pm Monday to Friday plus Saturdays until 5pm, we are able to take care of any need or want you have to attain your personal goal.
Virtual Consultations
The Covid-19 pandemic is putting extraordinary pressure on everyone. As the Largest Provider of Medical Aesthetic Medicine in Canada, we have implemented the most effective health and safety protocols, in accordance with public health guidelines, to protect both you and our team. In order to align with the goals of fewer patients in the clinic, Skin Vitality is offering complimentary virtual consultations in the privacy of your own home with a Member of our Medical Team 8am until 10pm Monday to Friday as well as Saturdays & Sundays from 8am to 6pm. Your safety is our number one concern. Always.
CLIENT TESTIMONIALS

FIVE STAR RATING
My experience here has been amazing. All the people here are so friendly and professional. They really make you feel welcomed, as well as comfortable. I've had 2 different nurses, both were awesome! Definitely recommend going here, you won't regret it! I am loving my results! – Sarah J

FIVE STAR RATING
The staff was wonderful, very caring and helpful. I also felt very safe there during Covid as the staff took extra precautions to make me feel at ease during these times. I really look 10 years younger and feel that way too! Thanks! – Janice R
FIVE STAR RATING
Recommend! Recommend! Recommend! Not only a beautiful place but also beautiful staff inside and out. These ladies will go above and beyond to help you feel the best that you can. Lovely experience, knowledgeable staff, and great deals! – Caroline K