PRP Hair Restoration – The Best Hair Loss Treatment
Skin Vitality Medical Clinic is the #1 Provider of Botox®, CoolSculpting®, Juvederm®, PRP Hair Restoration, Sculptra®, EMSculpt® and Fraxel® in Canada and WE CAN OFFER YOU:
What is Platelet Rich Plasma?
PRP (also known as Platelet Rich Plasma) Hair Restoration is a safe, effective and non-surgical treatment used on individuals who have experienced or started to experience hair loss by addressing the root of the problem. PRP Hair Restoration helps to prevent hair loss on individuals who are starting to see the early signs of hair loss that comes with aging and to increase the chances of healthy hair growth.
Do you want your hair to become thicker, lusher, and more voluminous? Do you want a treatment with absolutely no downtime? Do you want to turn back the clock, look in the mirror and see your old self again? Well then PRP Hair Restoration just might be the hair loss treatment for you! 
In order to achieve the best results possible with PRP Hair Restoration, you need to be consistent. For the first three to four months of your PRP Hair Restoration journey, your treatments are usually done one time per month. After this your PRP Hair Restoration treatments will usually be every three to six months after this (this will depend on each and every individual's response and results to the PRP Hair Restoration treatments).
PRP Hair Restoration results can be seen within two to three months after following this protocol. Although PRP Hair Restoration treatments are very effective and long-lasting, individuals who have had the treatments done will still need to get touch-ups at least once a year to continue their new healthy hair growth after their results start to appear. 
Does PRP Work for Hair Loss?
PRP is an effective and safe way to restore hair loss for many people. We at Skin Vitality Medical Clinic provide a free assessment with one of our injectors prior to treatment because PRP is not for everyone, individuals who have an underlying disorder (such as lupus or thyroid disease) are not likely to have good results because these conditions over time will continue to cause hair loss.
Watch this Quick video to learn More about how PRP Facials work!
PRP Hair Restoration Before & After
There are many factors that can create hair loss in both male and female individuals, these can include: 
Family History/Heredity Issues
Androgenic Alopecia (or more commonly known as male-pattern baldness and female-pattern baldness) is a hereditary medical condition that is a result from aging, this medical condition is the most common reason for hair loss. It is not a sudden change but more so a slow and predictable pattern of hair loss. Male individuals will typically start to notice some bald spots and a receding hairline while female individuals will typically notice the hair along the crown of their scalp beginning to thin. 
Medical Conditions and Hormonal Changes
Alopecia Areata is not the only medical condition that can cause hair loss, hormonal changes that are caused by menopause, childbirth and pregnancy can also contribute to it as well as thyroid problems. All of these medical conditions can cause temporary hair loss or permanent hair loss. Ringworm (a type of scalp infection) and Trichotillomania (a hair pulling disorder) can also cause temporary hair loss and permanent hair loss. 
Supplements and Medications
For male individuals and female individuals who take certain medications and/or supplements for high blood pressure, gout, heart problems, depression, arthritis, and cancer, hair loss is possible as a side effect. 
Radiation therapy to the head 
For those individuals who have had to go though cancer treatments involving radiation to the head, an unfortunate outcome to this could be hair loss, or their hair not growing back how it originally was.  
Extremely stressful events
When people go through an event that leaves them with physical shock or emotional shock, after several months their bodies can react to the stressful event by having the hair become thinner. Fortunately this type of hair loss is only temporary. 
Treatments and Hairstyles
People who style their hair excessively or who participate in hairstyles that are meant for thin hair can experience a type of hair loss called traction alopecia. These hair styles meant for thin hair that tightly pull your hair (such as cornrows or pigtails) is what causes the traction alopecia. Treatments that can cause hair to fall out include hot-oil hair treatments and permanents, hair loss from these can be permanent if scarring occurs. 
This was the most professional medspa I have been to. I had my consult with Liz who was easy to talk to and listened to my concerns. Then I met with Elena the nurse and she explained everything to me in great detail. Everything including price was explained to me upfront. I am extremely happy with the results and will be going here from now on.
This location is the best because of Channel, she was absolutely amazing and extremely professional and knew what she was doing. She took her time and was thoughtful to explain everything and made sure I was comfortable. She did my last two sessions and I have been seeing some amazing results since then!
I absolutely love my time here at skin vitality Richmond Hill. The staff, injectors and office manager have been nothing but helpful and friendly. It is also a gorgeous space that has undergone some new renovations so the atmosphere is on point as well! I live downtown and I drive all the way here for their services and skilled injectors. I would recommend this to anyone who is looking for an amazing team of professionals! :)
Zoe is amazing. I highly recommend her. She offered me the best service I ever had and I am a client from many years. I felt for the first time an outstanding experience. It was so pleasant that I didn't want to leave. The location at Richmond is very clean, beautiful and the staff super friendly, warm and just lovely. Thank you Amanda again! Because of you guys, I will keep coming back.
This is my 3rd time coming in for beauty services at the Richmond Hill location of Skin Vitality. Every time all the ladies who have spoken to me and done my treatments have been super nice and professional. This is why I keep coming back. I have even recommended this location to my friends and family. The recent renovations are also wonderful.
Approximately one in three women in their lifetime will experience hair loss. The most common reasons for hair loss in women are hormonal conditions, aging, thyroid disease, androgenetic alopecia, and genetic female pattern hair loss. For female individuals who are losing their hair, the following treatments that a doctor can recommend can help to prevent further hair loss: 
Iron supplements (especially if your hair loss is caused by a heavy menstrual cycle or anemia)
Oral contraceptives
Aldactone (spironolactone) or other anti-androgen medications
Rogaine (minoxidil)
Another way to treat hair loss and other symptoms in women who have started menopause is hormone replacement therapy.
It is much more common for men to experience hair loss than women, about 85% of men experience thinning hair before they turn 50 years old (according to the American Hair Loss Association). Some causes of hair loss in men includes: low testosterone levels, aging, androgenetic alopecia, and genetic male pattern hair loss. For male individuals who are concerned about hair loss or potential hair loss, the following doctor recommended treatments might help:
Follicular unit extraction (hair transplant with only follicles, no connecting tissue used)
Follicular unit transplantation (hair transplant with underlying tissue)
Propecia or Proscar (finasteride)
Rogaine (minoxidil)
How Much Hair Loss is Normal?
It is normal to lose between 50 to 100 strands of hair per day according to the American Academy of Dermatologists, obviously losing hair strands will be more noticeable for individuals with longer hair strands. 
PRP is a breakthrough cosmetic treatment used to treat hair loss, but did you know that it can be used on other parts of the body as well? PRP Hair restoration is not the only PRP cosmetic treatment out there, there is PRP Face as well! Have you ever heard of a vampire facial? PRP Facial Rejuvenation (or more commonly known as a "vampire facial") is a treatment that will give you glowing and beautiful skin. But don't I need medications, chemicals and surgery to achieve this? Nope! With PRP none of that is needed, PRP uses your own blood so it is an all-natural treatment. How can this be done you ask? By using your own blood a PRP Facial treatment will minimize pigmentation, boost the production of collagen, ease inflammation and much more!
With PRP, your damaged facial tissue will be repaired and become new, regenerated and healthy! PRP can also be used to treat injuries to the body. Torn tendons, tendinitis, muscle injuries, arthritis-related pain and joint injuries can all be healed much faster with the use of PRP therapy. Once your healthcare provider has injected the platelets in the area of your body that is being treated, those platelets will break down and release factors of growth. This will help your cells to renew and repair themselves by triggering your body's natural healing process. 
There are many ways that hair loss can be prevented, although they are not guaranteed they can help. Here are a few of them: 
Avoid hairstyles that pull your hair
Although your hair is flexible, it can become permanently damaged when it is pulled/stretched too much. Your hair can be pulled away from your scalp if you have hairstyles such as ponytails, cornrows or tight braids, this will also cause the bond between your hair and scalp to loosen over time. 
Avoid hair styling tools that use high heat
Your hair follicles become vulnerable to damage and dehydrated when you use heat to style your hair. Over time, the continued use of hair dryers, hair straighteners and curling irons will cause damage. 
Do not bleach your hair or chemically treat it
Individuals who are concerned about hair loss or potential hair loss can decrease the risk by limiting (or by not using at all) perms, peroxide treatments, highlights, and dyes. These hair treatment chemicals can easily cause irrevocable and sudden hair follicle damage.
Use a shampoo that is suited for your hair type that is mild 
When you are out shopping and looking at the shampoo aisle, try to find a shampoo that is as all-natural as possible, make sure to read the ingredients. What most people don't know is that a lot of commercial shampoos have harsh ingredients in them. These harsh ingredients can strip your hair of the fatty acids and natural oils that cause your hair to be supple and strong after only one use. If you have been losing excess hair then it might be time to switch up your shampoo and other hair products. After all the purpose of shampoo is to clean the dirt and excess oil out of it.
Use a natural fiber soft brush 
If you want to avoid seeing hair clumps in you shower drain then it would be a good idea to brush your hair every day. If you want to promote healthy oil levels in your hair then using a natural fiber soft brush can help you to achieve that. To help condition and smooth your hair cuticle on a molecular level, it is a good idea to brush your hair gently in one direction (starting at the top and continuing through to the ends). The keratin proteins in your hair are stacked similarly to a roof with shingles on it, therefore this brushing technique is best.
Using low-level light therapy 
Your doctor can prescribe low-level light therapy to you, this type of therapy has been shown to promote hair growth in individuals who have alopecia. Low-level light therapy helps to promote cell repair and cell growth.
WE ARE THE TOP PRP® PROVIDER IN TORONTO!
We perform thousands of injections every year – so many that we are the top provider of Botox® and Juvéderm® injectable treatments in Toronto and Canada. We also perform more CoolSculpting®, PRP Hair Restoration®, Sculptra®, EMSculpt® and Fraxel® treatments than any other providers in the country! Our doctors, nurse practitioners, registered nurses, and registered practical nurses have injected over 5 MILLION patients in the last 15 years. If you are looking for the best PRP Hair Restoration results in Toronto, you have come to the right place!
Products that can help with Hair Loss
We here at Skin Vitality Medical Clinic believe in helping our patients look and feel their best, so we offer a wide range of products and services to help our patients do just that! For individuals who are suffering from hair loss (or who are worried about it in the future) we offer different options for your choosing. These include PRP Hair Restoration and Vivisical Professional Hair Products. These products include: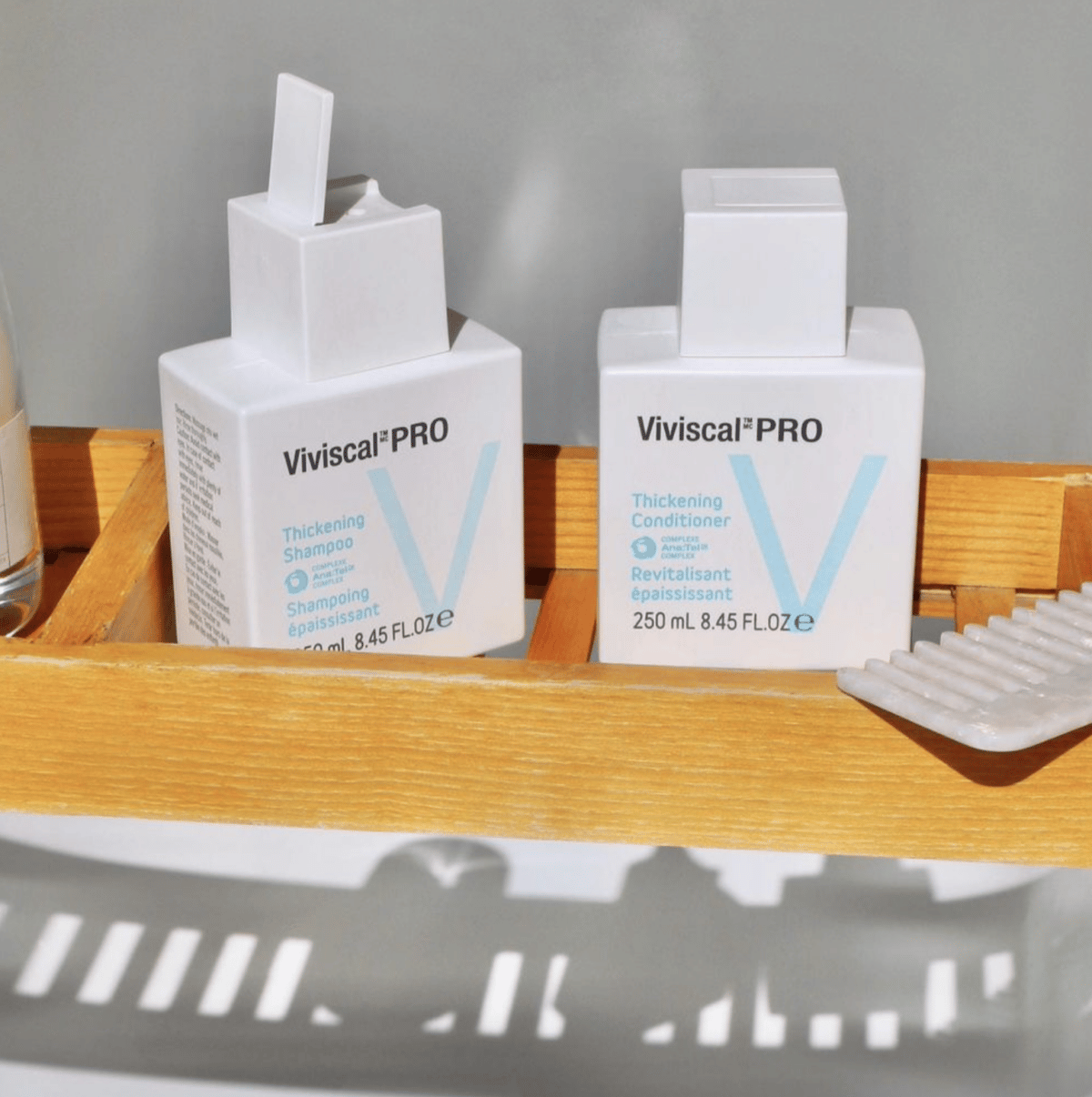 Viviscal Thin to Thick Shampoo will leave your hair looking thicker and fuller in no time after it gently cleanses your scalp and hair. Your hair will be smelling great thanks to the botanical fragrance that leaves your hair with a refreshing scent all day. As part of the complete Viviscal Professional collection, the Viviscal Thin to Thick Shampoo with promote gorgeous beautiful hair. Anatel (a proprietary complex that contains derived natural sources that are clinically tested) is included in our Viviscal collection. Grape seeds and pea sprouts are some examples of these. The viviscal collection promotes the healthy looking hair growth appearance that is desired by many using a combination of zinc, keratin and biotin.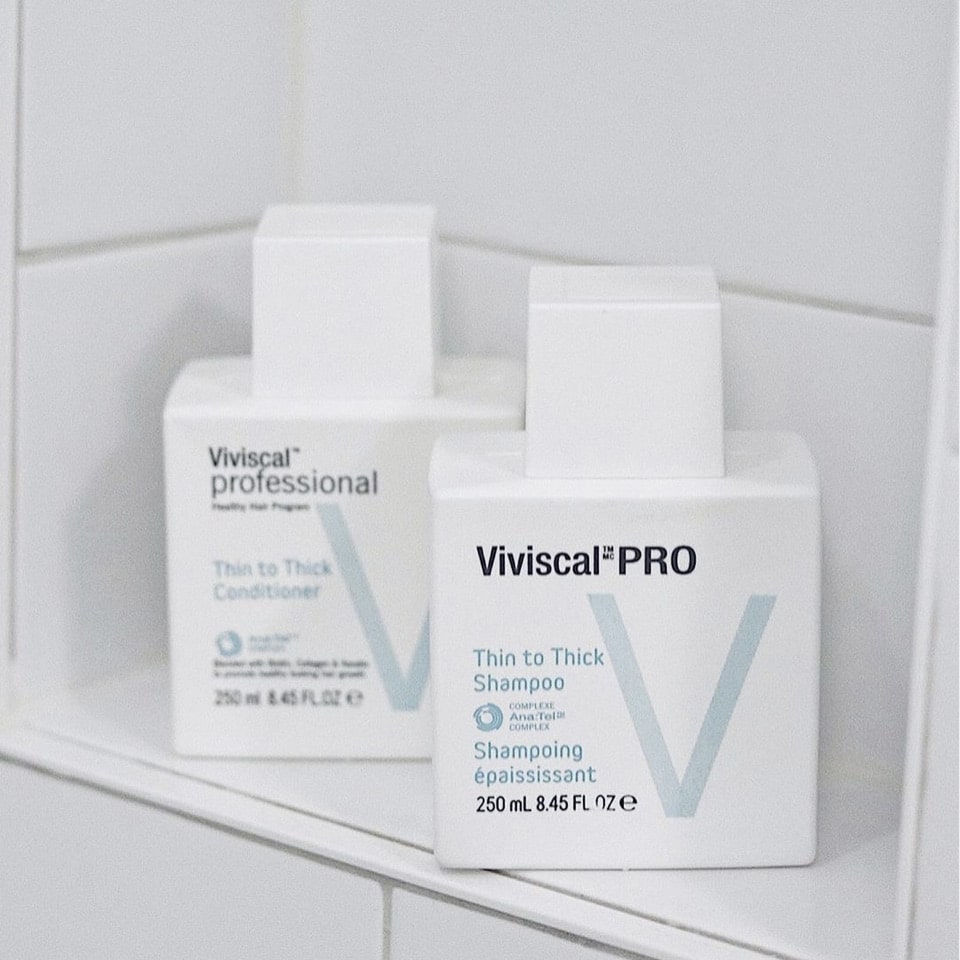 With Viviscal Thin to Thick Conditioner, your hair will become stunningly shiny, thicker and fuller after your hair receives its weightless moisture. Your hair will be looking and smelling great thanks to the botanical fragrance that will have your hair smelling clean and fresh all day. As part of the complete Viviscal Professional collection, the Viviscal Thin to Thick Conditioner will promote gorgeous beautiful hair. Anatel (a proprietary complex that contains derived natural sources that are clinically tested) is included in our Viviscal collection. Grape seeds and pea sprouts are some examples of these. The viviscal collection promotes the healthy looking hair growth appearance that is desired by many using a combination of zinc, keratin and biotin. 
PRP Hair Restoration NEAR ME
Skin Vitality Toronto is our fourth location in Southwestern Ontario. This Toronto medical spa is just one of our 9 locations. Not located in Toronto? No problem! We offer PRP Hair Restoration across the GTA; browse through the clinics below to find a location near you! 
PRP Hair Restoration Mississauga is offered at our Mississauga clinic, located around the Port Credit area.
PRP Hair Restoration Oakville is available at our Oakville clinic, located beside the Harper's Landing on Cornwall Road.
PRP Hair Restoration Richmond Hill is offered at our Richmond Hill location, just North of the 407, in the LCBO Plaza, a few stores down from the Shoppers Drug Mart.
PRP Hair Restoration Ajax is available at our Ajax clinic, located in the Westney Heights Plaza, just North of the 401.
PRP Hair Restoration Stoney Creek Hamilton is offered at our Stoney Creek, Hamilton location, a couple of minutes from the QEW, at the intersection of Fruitland Rd and Barton St.
PRP Hair Restoration London, Ontario is available at our London clinic, located within the Starbucks, No Frills and Shopper's Drug Mart Plaza on the northeast corner of Fanshawe Park Rd. W.
PRP Hair Restoration Kitchener Waterloo is offered at our Kitchener location, just north of the 401 in the Deer Run area.