Laser Hair Restoration
SERVING CANADIANS SINCE 1992
ABOUT Laser Hair Restoration
Introducing nonsurgical hair restoration!
Your hair isn't as thick and lush as it used to be. In fact, it's downright thin. You're balding! No matter how you brush and style your hair, you can't cover up those bald spots. You've tried creams and lotions, but nothing has worked.
Before you resort to hair transplant surgery or other painful option for your hair loss, there is a way to grow your hair easily again that's totally non-invasive. That's right — you can have thicker, lusher, and more voluminous hair without any surgery!
Skin Vitality Medical Clinic is proud to offer the Sunetics Laser for hair restoration, a low level laser (LLLT) that stimulates your hair follicles and heals them. This revolutionary technology restores your hair follicles to a healthier state, helping them to regrow the thicker, lusher hair you used to have.
Sunetics is the only Health Canada approved/cleared clinical device for hair growth!
No knives
No incisions
No drugs
No pain or discomfort
Just longer, thicker and healthier hair!
How does it work?
This is not hair transplant surgery! The Sunetics Laser for hair restoration is based on therapeutic low level laser light technology, also known as a cold laser or soft laser. This type of laser is not ablative and actually delivers red laser radiation, or photons, at a wavelength of 650nm to minimize reflection or scattering. When a hair follicle is penetrated at the desired depth of 4-5mm, this is what happens:
The production of Adenosine triphosphate (ATP) is increased. ATP is a molecule that stores and supplies  energy. When it is increased in the weakened hair follicle, it serves to energize and repair it.
Blood micro-circulation to the follicle is increased, improving function.
The amount of nutrient acquisition by the follicle is increased, providing much needed nourishment.
An increase in oxygen uptake and calcium ion mobilization is achieved, further nourishing the follicle.
The amount of dihydrotestosterone (DHT) is decreased and broken down, sending it to be eliminated by your body's waste system. DHT is a hormone that is the primary factor blamed for hair loss in both men and women. By decreasing it, the follicle can once again grow normal hair.
Follicular inflammation is decreased so that the follicle is healthier.
Why Sunetics is better than other hair restoration options
We know there are many hair restoration and hair growth treatments out there. However, only the Sunetics clinical device is Health Canada approved for hair growth. Even though there are other devices being used, they haven't been Health Canada approved as of today.
Let's look at two other examples of hair restoration treatments:
OmniLux: OmniLux is an LED device that is sometimes used for hair growth. However, it is only cleared for wrinkles and/or acne. There is absolutely ZERO scientific evidence proving that it can grow hair.
Propecia: Propecia is used to stop DHT from penetrating a hair follicle, however, it also comes with this side effect: it makes men go impotent! Over 90% of male patients who were treated with Propecia and became impotent were still impotent 5 years after their treatment.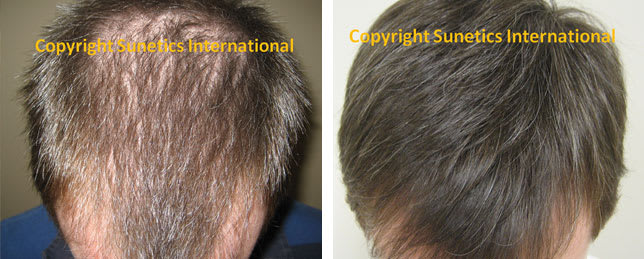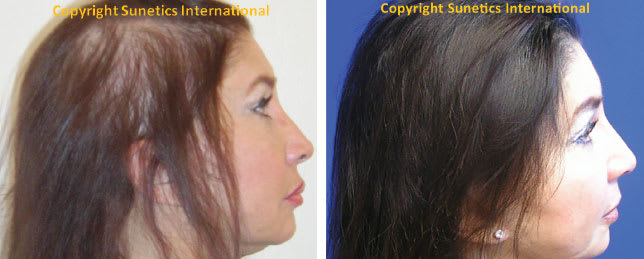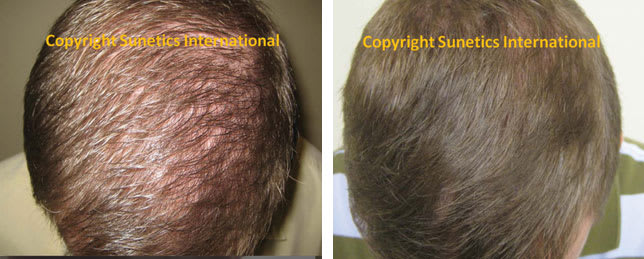 Check out the laser hair restoration results!
99%  of our patients notice that they stopped losing hair in 6-8 weeks.
As you progress with your treatment, the hair on your head will become thicker healthier shinier within 2-4 months.
You'll start to see new hair grow at about 5-6 months. However, for more difficult cases, hair replacement might take about 11-12 months.
Please note that stress can delay your results.
Good candidates for laser hair restoration
You my be a good candidate for laser hair restoration if you:
have a family history of hair loss
experience easy hair breakage
wear hair extensions
have lost hair due to chemotherapy and radiation (you may need more sessions, for a minimum of a 12 month program)
have Traction Alopecia, resulting from wearing your hair in tight ponytails, braids or other hairstyle.
We understand that hair loss can occur at any time in your life. Young or old, balding can happen to anyone. For this reason, you don't have to be a specific age for this treatment, as there are no age restrictions.
This non-surgical hair restoration treatment may not be suitable for you if you're pregnant or nursing. Men and women who are completely bald may not benefit from this treatment. If you have glaucoma, you should wear dark glasses during the treatment sessions.
Treatment programs
There are three treatment programs that you can undergo. The most suitable one for you depends on a complimentary consultation with our hair restoration specialist.
Standard
2 sessions a week for first 3 months
1 sessions a week for next 3 months
2 sessions a month if additional treatments are required
Aggressive
3 sessions a week for 4 weeks (first month)
2 sessions a week for the next two months
1 session a week for the next 3 months
Booster Treatment
1 session a month
How your hair grows

Every hair on your head and body grows in a continuous cycle. This cycle has four stages or phases:
Growth (Anagen)
Transition (Catagen)
Resting (Telogen)
Shedding (Exogen)
Not all your hair is at the same stage – 10-20% of your hair is transitioning or resting (Catagen or Telogen stage). The rest is actively growing (Anagen stage). For healthy hair, the Growth stage usually lasts about 3-6 years. However, in unhealthy hair, this lasts shorter. That means more hair is going through the other stages, to the point where the resting or shedding stages may even be longer than the growth stage. You experience less hair growth and more hair loss. While the average person loses about 100 hairs per day, you'll be losing much more.
Why you lose your hair
Science blames the hormone dihydrotestosterone (DHT) for male and female pattern hair loss (Androgenetic Alopecia). With higher levels of DHT, the blood flow to the hair follicle decreases. Your body does try to eliminate DHT, but it can become difficult when the levels are too high.  This causes your hair follicles to become smaller and weaker, which is how your hair ends up being, too. It's the main cause for male pattern baldness and female pattern baldness.
Call 1-877-356-7776 for more information about this amazing minimally invasive hair loss treatment.
Sunetics Locations
Toronto - Yorkville
11 Yorkville Avenue #202
Toronto, ON
M4W 1L2
Phone: (416) 969-9669
Mississauga
125 Lakeshore Rd E
Mississauga, ON
L5G 1E5
Phone: (905) 274-4440
Richmond Hill
8865 Yonge St Unit B-6
Richmond Hill, ON
L4C 6Z1
Phone: (905) 763-2001
Kitchener
4281 King St E
Kitchener, ON
N2P 2E9
Phone: (519) 650-4100
Ajax
15 Westney Rd N #1c
Ajax, ON
L1T 1P5
Phone: (905) 619-2639
St. Catharines
436 Vansickle Rd #3
St. Catharines, ON
L2S 0A4
Phone: (905) 682-7077
London
595 Fanshawe Park Rd W Unit F
London, ON
N6G 5B3
Phone: (519) 474-0007
Stoney Creek/ Hamilton
311 Fruitland Rd, Unit 3
Hamilton, ON
L8E 5M8
Phone: +1 877-356-7776
Oakville
481 Cornwall Road
Oakville, ON
L6J 4A5
Phone: +1 877-356-7776