ABOUT INJECTABLE TREATMENTS TO ERASE WRINKLES & RESHAPE FACIAL CONTOURS
In under an hour, you can remodel your facial contours for a proportionate improvement that enhances your natural beauty — without surgery! Cosmetic injectable treatments allow you to:
smooth away wrinkles
fill in deep creases
plump up depressed areas
remodel your features
erase the signs of aging
get rid of your double chin
Your treatment will only take a few minutes to complete, and within a few days to two weeks, you'll see the optimal results of your injection with a minimally intensive recovery period. You may even see your results instantly in the case of injectable fillers!
Your choice of injectable treatments
Choose from the following FDA and Health Canada approved injectables at Skin Vitality Medical Clinic:
Juvederm® Injectable Filler
Kybella® and Belkyra® Double Chin Treatment
Skin Vitality Medical Clinic is the #1 Provider of CoolSculpting, Botox, Juvéderm, Fraxel and EMSculpt in Canada & because of that WE CAN OFFER YOU:
The Lowest Prices in the Country with the BEST POSSIBLE RESULT!
Most experienced Medical Professionals with the most Specialized Extensive Training = BEST RESULTS FOR OUR PATIENTS!
Open 9am to 8pm Monday to Friday plus Saturdays until 5pm!
12 Locations across the GTA and surrounding area.
27+ years in Business taking care of Patient Needs
Over 200 Staff including 10 Doctors and 50 Nurses
Free Assessments with our Medical Professionals
100% Certified Authentic Non-Surgical Cosmetic Services
State-of-the-art facilities
Health Canada and FDA Approved
Five Star Testimonials / 96% Patient Satisfaction
All of our medical injectors specialize in techniques that minimize swelling and bruising so you can see your results faster. They have years of experience administering treatments that achieve beautiful results that enhance the natural beauty you already have.
The first thing to do is call us at 1-877-356-7776 to book your appointment with our physician. Our license physician will make sure that an injectable treatment is suitable for you and will achieve your goals. Then, an assessment of your concern is performed by your injectable specialist, who will then perform your treatment to achieve the results you desire.
Have you been noticing more wrinkles than usual on your face? There are all sorts of treatments such as anti-aging creams, injectables and laser technologies that can help reduce lines and wrinkles. Whatever the cause may be – aging, sun exposure, tanning or smoking cigarettes – you should definitely consider finding ways to either treat your wrinkles or prevent wrinkles from forming.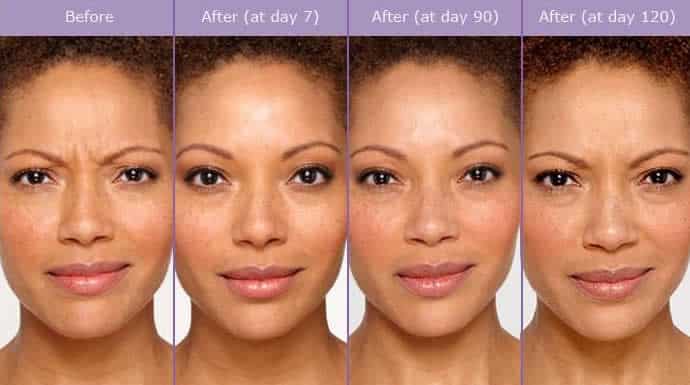 Taking Care of Your Skin: Preventing Wrinkles
Wrinkle-free skin is typically well moisturized and more elastic in quality. If your skin contains more natural skin oil, sebum, then it less prone to wrinkling. Normally, your skin becomes more wrinkle-prone as you get older, but you can find 20-year-olds with wrinkles and 60-year-olds with no wrinkles.
There are plenty of products that claim they can help prevent wrinkling. Whether you decide to purchase these products or not, here are some simple day-to-day things you should follow in order to keep your skin young and healthy, regardless of what grade your wrinkles are (read more about wrinkle grades here):
Don't expose your skin to too much direct sun
Stay away from tanning salons
Stay away from smoking
Drink lots and lots of water
Keep your skin moisturized
Taking Care of Your Skin: Treating Wrinkles with Injectable Treatments
The television is always filled with exaggerated visuals of women with frozen facial expressions who claim that some product has caused it! This is not the reality. Instead, injectable wrinkle treatments actually make your face more relaxed by triggering muscle relaxation, thereby preventing nerve impulses from reaching the muscle. The treatment is beneficial for both men and women.
Here are five major benefits and reasons to consider injectable cosmetic procedures:
It can lessen the appearance of: frown lines, crow's feet, brow lines, squint lines, and neckbands.
It is a quick and simple procedure, there's no recovery period! It typically takes about 15 minutes. After that, it takes about two to ten days for you to see the full effect.
It's a painless procedure. Any pain felt is equivalent to a small insect bite.
It is an affordable procedure. Depending upon your location and surgeon, the procedure can cost around $175 to $500 for treating one area.
The effects last for around 3 to 4 months! The more you go back for treatments, the longer the effects will last in between injections. Even after your first injection, your wrinkles will never come back to the way they originally were.
Just like any other medicine, there are side effects. Though these minor side effects are not definitive because they do not show up in everyone, it may helpful to know that there they do exist. You might experience an allergic reaction, minor swelling or a mild numbness or tingling in the area that has been injected. You may experience a small, temporary headache, nausea or ptosis. Again, all of these side affects are minor and they don't occur all the time. Most individuals go through the procedure successfully without experiencing any side effects at all. When you decide to go through with this cosmetic procedure, make sure you go to a qualified medical professional and be up front wit him/her. Once you've successfully gotten a treatment, you'll definitely enjoy your new wrinkle-free skin!
5 Things You Didn't Know About Our Injectable Wrinkle Treatment
Our injectable wrinkle treatment is an immensely popular product that we may think we understand well but there are many aspects of it that aren't commonly known. Here are five of the least known facts about it.
1. It Can Be Used for Medical Treatments
Our treatment was discovered through its medicinal benefits and this continues to be one of the most prominent uses of the product. Outside of its cosmetic applications, it is also instrumental in medical procedures that work to help patients with conditions like excessive sweating, migraines, crossed eyes, cerebral palsy, chronic muscle spasms, neck pain, abnormal head positioning and much more.
2. It Works on More Than Just Your Face
When we think of injectable wrinkle treatments we most often think of its common uses in reducing wrinkles on the face but it's also an extremely effective treatment option for the body as well. It can be used to revitalize the neck and underarms or even provide temporary breast lifts. The same principles that allow it to work on facial skin also apply, in many cases, to the body as well.
3. It Can Help with Facial Reshaping
Korean cosmetic doctors have pioneered exciting new uses that allow for unobtrusive facial re-shaping — an application that has become extremely popular throughout all of Asia and is now spreading to the rest of the world. Our treatment can work to relax jaw muscles, effectively recontouring the jawline. This works to alter the shape of the face through a procedure that is only slightly more involved than common wrinkle reduction therapy.
4. It is One of the Safest Cosmetic Options
Aside from being highly effective, our treatment is also one of the safest cosmetic products on the market. For more than 20 years the use of it has been well documented and regulated. This has lead to a wealth of research into the properties of the treatment and its side effects — all leading to the conclusion that BOTOX® is a very safe choice when administered by a qualified cosmetic doctor or nurse.
5. It Doesn't Require A Lot of Recuperation Time
While the effects of the treatment are excellent it doesn't require lots of recuperation time on the part of patients like some other cosmetic treatment options. Since side effects are so limited and subside after such a short period of time, treatments can be administered quickly and patients can return to their daily lives immediately after, only suffering from very temporary bruising, swelling and discolouration (if it occurs at all).