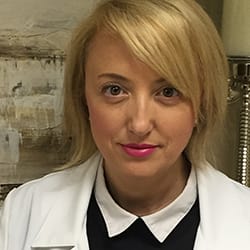 Susan Jezerinac is a Nurse Practitioner registered with the College of Nurses of Ontario. Susan graduated nursing in 1997 and began her career specializing in emergency and trauma medicine at Trillium Health Partners. Susan went on to continue her education and graduated from McMaster University with a Master of Science and Nurse Practitioner Certification.
Susan received extensive training and certification through Allergan's leading educators and is proficient injecting Botox, all forms of Juvaderm, as well as Belkyra. She is current with the latest techniques and trends using a variety of injectable products to create a "Soft Lift" to restore and maintain a natural youthful look. She has a strong interest and is renowned for lip enhancement procedures.
Susan has a steadfast and unwavering professional approach with all of her patients. Her intrinsic values of nursing coincide with Skin Vitality's expectations of excellence.
Internationally renowned facial aesthetics expert, Dr. Mauricio de Maio, has pioneered an innovative way of treating lines and wrinkles that zeroes in on feelings first and asks patients how they want to feel versus simply targeting lines. Dr. de Maio has trained thousands of facial aesthetic physicians and nurses around the world using his patented MD Codes. He takes a holistic approach to facial rejuvenation and recognizing that individual areas of the face are inherently linked to specific emotional attributes. Susan has completed three levels of advanced injectable training with this world-renowned plastic surgeon.