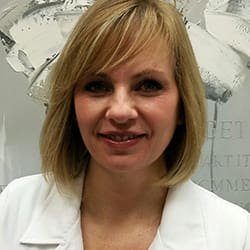 Annette Ruaux is Nurse Practitioner who began her career as a Registered
Nurse 27 years ago and has worked in various healthcare settings and
specialty areas while continuing her education in nursing.
In 2007 she completed a Bachelor of Science in Nursing and Primary Health
Care Nurse Practitioner Certification at Ryerson University.
Since then she has worked in the Guelph community as a Family Nurse
Practitioner providing care to individuals of all ages, with a focus on
Women's Health Issues.
With a personal and professional interest in Anti-ageing medicine she has
completed several certifications in Cosmetic Medicine and Aesthetics. She
has completed training with various experts in the cosmetic field including
Allergan, the makers of Botox and Juvederm.
Annette further holds a specialty certification in this field from CAMACS
(Canadian Association of Medical Aesthetics and Cosmetic Surgeons)