Soprano XL Laser Hair Removal Banishes Unwanted Hair
SERVING CANADIANS SINCE 1992
ABOUT Soprano XL Laser Hair Removal Banishes Unwanted Hair
Skin Vitality Medical Clinic is proud to offer a virtually painless approach to laser hair removal. Soprano XL Laser Hair Removal by Alma is one of the top technologies in the world for providing safe, comfortable, effective, and long lasting hair removal. Soprano®'s innovative technology is effective for all ages and skin type.
How is Soprano® XL Laser Hair Removal different?
Soprano uses pulses of infrared diode laser energy to gradually heat the hair follicles in the subdermal layer of skin until eventually, the hair can no longer grow. With the combination of IN-Motion™ technology and a patented Dual Chill™ treatment tip, the surface of your skin remains cool throughout the treatment.
Skin Vitality Medical Clinic is the #1 Provider of Botox®, Juvederm®, CoolSculpting®, PRP Hair Restoration, Sculptra®, EMSculpt® and Fraxel® in Canada and WE CAN OFFER YOU:
The Lowest Prices in the Country with the BEST POSSIBLE RESULT!
Most experienced Medical Professionals with the most Specialized Extensive Training = BEST RESULTS FOR OUR PATIENTS!
Open 9am to 8pm Monday to Friday plus Saturdays until 5pm!
9 Locations across the GTA and surrounding area.
27+ years in Business taking care of Patient Needs
Over 200 Staff including 10 Doctors and 50 Nurses
Free Assessments with our Medical Professionals
100% Certified Authentic Non-Surgical Cosmetic Services
State-of-the-art facilities
Health Canada and FDA Approved
Five Star Testimonials / 96% Patient Satisfaction
Finding the Right Medical Clinic
The beginning of any procedure starts with finding the right clinic for your needs. Before getting ready for the treatment itself, start off by asking friends, family or your doctor for recommendations. Once you've picked out a few good candidates, take the time to head over to the practice for a consultation that should be performed in complete privacy. Consultations are usually mandatory prior to treatment because it is considered a medical procedure. You may be charged for a consultation or, like at Skin Vitality, it may be free of charge. You'll be able to get a better look into the reputability of the clinic and staff that will tend to your treatment. Don't be shy in asking about our history and in introducing yourself to the doctor, nurse or technician that will be performing your hair removal. You'll get the answers your looking for about the procedure. We will offer to show you exactly where they perform the treatment. They'll also talk to you about the laser hair removal machine.
Preparing for the Procedure
Laser hair removal isn't painful or particularly complicated but there are still a few general rules to follow in the time leading up to your appointment. Patients that make use of a clinic's instructions are able to guarantee that they receive the best treatment results and minimize the risk of any side effects.
The most important advice, sure to be mentioned by your chosen clinic, is not to tan. Tanning is a form of damage to the skin, and you don't want to do this before your treatment because it can increase the risk of negative side effects occuring. Tanning can also decrease the effectiveness of laser systems that depend on a patient's natural skin and hair colour to work at their best. Usually you will be instructed to cease tanning (this includes natural and artificial tanning as well as the use of creams or sprays) before your procedure. Before treatment, any makeup, lotions or deodorants should be removed as well.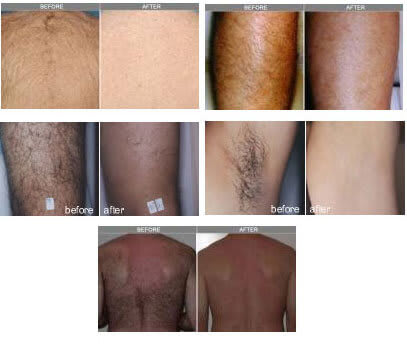 While these tips are standard in Laser hair removal procedures, always make sure to follow the specific guidelines laid out for you by your practitioner.
The procedure
When you arrive at Skin Vitality, a staff member will guide you to the treatment area and your procedure will begin shortly thereafter.
We will provide you with protective eyewear then ask you to bare the area where hair is to be removed (it's a good idea to wear loose fitting or easy-to-remove clothing for this reason).
The treatment itself is quick and almost entirely painless. Some practices will choose to apply a topical anaesthetic but, in the majority of cases, no painkillers are necessary.
Our modern laser technology incorporates cooling systems that help to minimize discomfort while also ensuring that the skin tissue surrounding the treatment area is unharmed. Therefore you won't feel much discomfort. At most, you'll feel a gentle heating of the area.
Following the Procedure
After the treatment is finished patients can expect to notice mild swelling, redness and a sensation that resembles a sunburn affecting the area where the laser was targeted. This is normal and begins to subside almost immediately. Swelling usually vanishes within about two hours with redness and discomfort subsiding after two or three days (much like the average sunburn). Most practices will recommend that patients apply ice (every 15 to 20 minutes) or a provided post-laser lotion or ointment in the hours following treatment in order to minimize these side effects.
To ensure that your laser hair removal treatment is effective it's important to take a few additional steps after the procedure. Sun exposure should be kept at the bare minimum until skin tone returns to normal and physical irritants (like scrubbing, scratching or performing additional hair removal) need to be avoided as well. Makeup can usually be applied right after treatment is finished although, in some cases, your practitioner may advise against using any topical products for a period of time after hair removal.
Skin should return to a normal look and feel within a few days and results will become noticeable somewhere between five to twenty days after the appointment, however this depends on how many treatments have been performed up to that date. In some instances, there may be no apparent change after the very first procedure, but this isn't a concern – repeated Laser hair removal treatments will achieve results. Many patients may be alarmed by what appears to be new hair growth at this time but this is actually surface hair shedding and is a natural part of the removal process. Follow-up treatments are necessary in order to achieve full hair removal so be sure not to get discouraged with your initial results.
What is Ingrown Hair?
Ingrown hair, otherwise known as also known as Pseudofolliculitis barbae (or PFB), is a condition that usually manifests as small and slightly raised reddish bumps surrounding hair follicles. Minor cases of ingrown hair often resembles (and feels like) razor burn but, when left untended, can become complicated and painful. Ingrown hairs can become infected, leading to substantial discomfort and the development of unsightly cysts.
The condition usually occurs when a hair (that has recently been shaved, waxed or plucked) grows back improperly. Often the hair gets trapped inside the follicle, curling into itself, or grows into the skin surrounding the follicle. When this happens the trapped hair causes skin irritation that can range from minor inflammation to moderate acne or severe infection. Aside from the inconvenience of the condition, people that chronically suffer from ingrown hair often have to treat isolated incidents through antibiotics and topical solutions.
Can Laser Hair Removal Remove Ingrown Hairs?
Yes! A common use of laser hair removal systems is the treatment and prevention of ingrown hairs anywhere on a patient's face or body.
Laser technology uses a specialized method for breaking down the growth of all hair and the effects of this work to effectively combat ingrown hair as well. Common hair removal methods (like shaving, waxing and plucking) are carried out by breaking the hair shaft on a superficial level (at the surface of the skin or just below it) and this can actually lead to more ingrown hair. Laser hair removal stops hair growth by halting it at the follicle root itself, permanently damaging the follicles ability to produce new hairs.
Lasers are able to stop the development of ingrown hair by addressing the problem at its source, stopping hair from growing before it has a chance to become trapped in the skin or follicle. It also works to address existing ingrown hairs in a similar way, offering patients a comprehensive solution to the problem. After only a few sessions of laser treatment, patients are able to put a stop to ingrown hairs forever and are free to live their lives without worrying about having to suffer through any further pain or embarrassment.
Laser Hair Removal Frequently Asked Questions
Laser Hair Removal Locations
Toronto
351 Eglinton Ave W
Toronto, ON
M5N 1A3
Phone: (416) 969-9669
Mississauga
125 Lakeshore Rd E
Mississauga, ON
L5G 1E5
Phone: (905) 274-4440
Richmond Hill
8865 Yonge St Unit B-6
Richmond Hill, ON
L4C 6Z1
Phone: (905) 763-2001
Kitchener
4281 King St E
Kitchener, ON
N2P 2E9
Phone: (519) 650-4100
Ajax
15 Westney Rd N #1c
Ajax, ON
L1T 1P5
Phone: (905) 619-2639
St. Catharines
436 Vansickle Rd #3
St. Catharines, ON
L2S 0A4
Phone: (905) 682-7077
London
595 Fanshawe Park Rd W Unit F
London, ON
N6G 5B3
Phone: (519) 474-0007
Stoney Creek/ Hamilton
311 Fruitland Rd, Unit 3
Hamilton, ON
L8E 5M8
Phone: +1 877-356-7776
Oakville
481 Cornwall Road
Oakville, ON
L6J 4A5
Phone: +1 877-356-7776