Skin Vitality Gift Cards & eGift Cards
Skin Vitality Medical Clinic is the #1 Provider of Morpheus8, Botox®, CoolSculpting®, Juvederm®, PRP Hair Restoration, Sculptra®, EMSculpt® and Fraxel® in Canada and WE CAN OFFER YOU:
The Holidays Are Right Around the Corner!
Blink and you'll miss it. November is almost over, and we all know what that means—the Holiday season is upon us! It still feels like yesterday since 2021 first started, or even 2020 for that matter. But if one thing is for certain, we couldn't be more excited to step into the season and enjoy some well-deserved time off together with our family and loved ones!
With the dinner party invites rolling out, comes with the laundry list worth of presents we somehow have to get in about a month's time. But have no fear! We're helping you take the stress out of Holiday shopping this year (😉). Regardless of how fast the season is approaching, we are one step ahead with holiday shopping and crossing off our friend's and family's wish lists.
Taking The Stress Out of Holiday Shopping
No matter what it is you are celebrating this time of year, the Holiday season can get stressful for a handful of reasons—work, kids, and—oh my gosh, I just remembered I need to call my mechanic to get my winter tires installed! I digress. This is the very reason why we are OBSESSED with giving the gift of choice with none other than our Skin Vitality gift cards! Our gift cards are the perfect present for that special someone who loves to be pampered, and isn't that just about all of us at this point? No need to stress this holiday season about what to get your favorite people, it's more of a question of how many to pick up!
Skin Vitality Gift Cards/eGift Cards
All 11 of our Skin Vitality clinics offer physical gift cards for purchase at the front desk, making it super easy to grab a few on your way out from your own appointment! But if you're looking to make your holiday shopping even easier, check out our online store where we sell Skin Vitality physical gift cards that get shipped directly to you (free of charge on all Standard delivery) or our eGift cards that are totally paperless. It's as easy as a click of a button to tackle your to-do list this year! If you're in more of a rush, we also offer Expedited delivery which will arrive to you in 2-3 business days within Ontario. All our physical gift cards will arrive in our signature black, ivory, or teal box with a ribbon and our eGift cards can be sent directly to the email account of your choosing!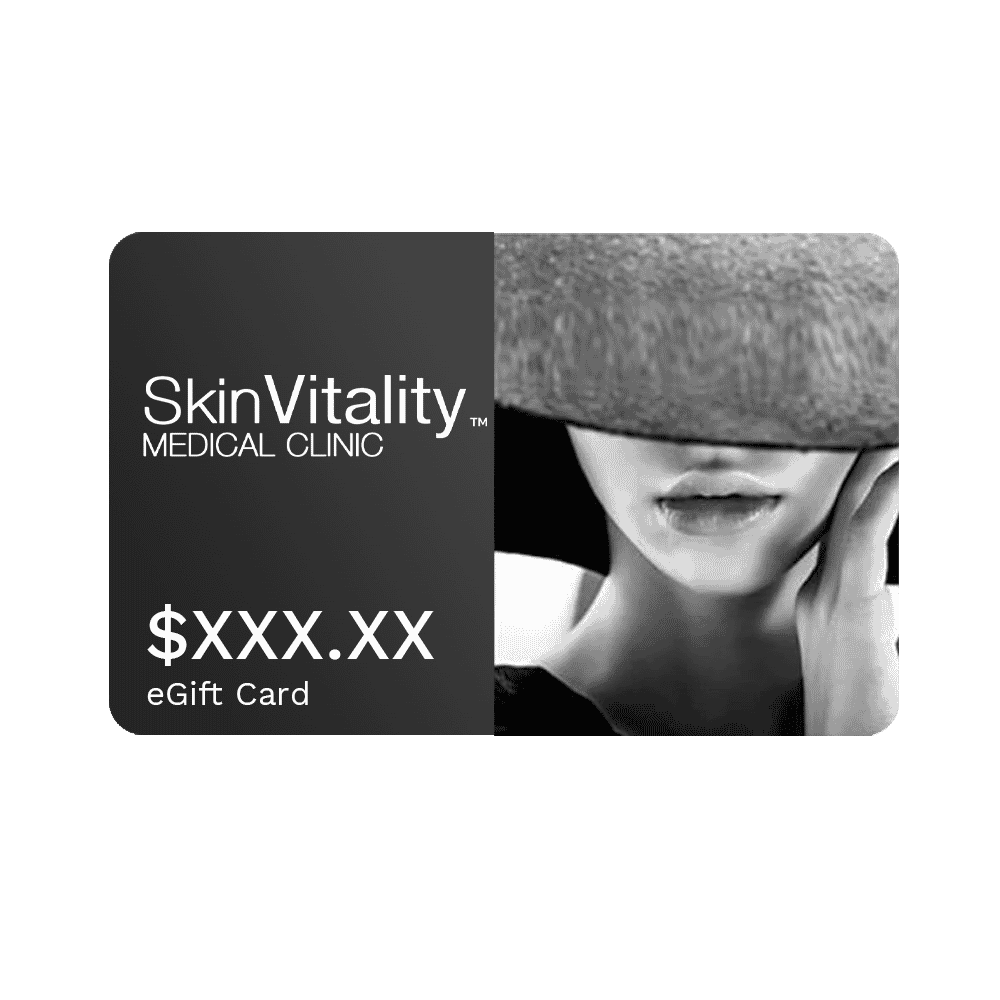 When you give the gift of a Skin Vitality gift cards, you're giving that special someone the gift of a rejuvenated self and access to any treatment, service, or product in-clinic. Skin Vitality offers many amazing treatments, whether you're looking to have:
Beautiful Flawless Wrinkle Free Skin
Permanent Fat Reduction
Toned Muscles
Thickening Hair Solutions
Plump Lips
Hairless Legs
A Glowing Complexion
Perkier Buttocks
The list really does go on! You name it, we can help.
Trusted for over 29 years, we've become the number one provider of CoolSculpting®, Botox®, Juvederm® and Fraxel® in all of Canada. We give the Skin Vitality promise you are choosing the right place to send your loved one for personal love and care.
Get FREE Money Towards Your Skin Treatments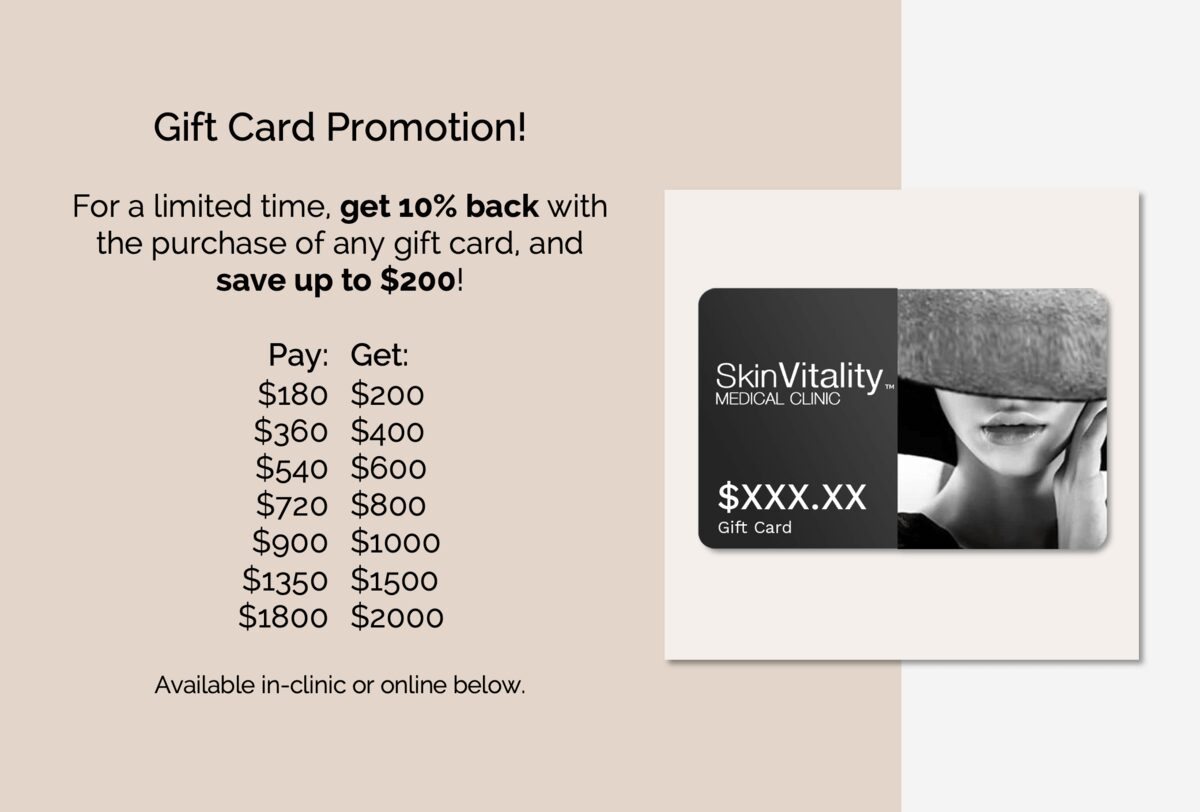 If that's not reason enough, as a gift to you, we're giving 10% back with the purchase of any Skin Vitality gift card for a limited time! That means whatever you spend on a gift card, we bump up by 10% up to $200. Spend $90, the amount of the card will bump up by 10%– AKA $10, making the credit on the card worth $100. If you spend $180, that gets bumped to $200. $360 gets bumped to $400 and so on!
I went in to buy my mom a gift card to use for her next treatment and I saved $200. I ended up buying myself one too! Totally worth it to buy in advance.
A great gift for my Mom who never takes time for herself. I have no idea what she does but I know she loves going to Skin Vitality. This will be the best gift for her and it was so easy to get. As a University Student, anything that gives me more for my money is sweet to me. A win for us both! I payed 180 and she gets 200 :)
My husband got this gift card for my bday. I really love how easy and smooth it is to use this card at SV. And on top of it, there is a discount when you buy the card. Really an amazing deal :)
Received GC as a birthday gift! best gift ever!
I saved a $100 When I bought a $900 Gift Card for my bestie. She was able to put $1000 toward her CoolSculpting treatments and even got a discount on her purchase. Really excellent savings 🙌🏻
A Gift That Keeps on Giving
Let's face it, the pandemic has put everything other than self-care at the forefront. In fact, psychologists say that time spent alone has increased the opportunity for self-critical thinking, which lowers self-esteem and confidence. Now that we're able to spend more time with friends and family, this can leave many of us feeling more self-conscious than ever. That's why we're not only grabbing a couple of gift cards for our family and friends, but also secretly picking up one for ourselves because we all deserve to treat ourselves this time of year.
Give the gift of variety; your loved one can say goodbye to those worry lines caused by the stress of the pandemic, those extra couple inches, or maybe that stubborn unwanted hair. Whichever way they wish to spend their Skin Vitality card is totally up to them!
Once your card has been loaded and sent-off to you, a friend, significant other or family member of choice, they're free to peruse our services and products to narrow down how they'd like to treat themselves. For more information on all our treatments, services, and products; check out our website, call one of our 11 clinics, or speak to one of our medical consultants on choosing the right service for you through our service line at 1 (877) 356-7776.
All our gift cards—physical and virtual, may be redeemed by text (78633), phone (844-691-1200), or in any one of our clinic locations.
Maybe you've been hearing a friend talk about a specific treatment they've been wanting to finally do, maybe you came across one of our services you know is the perfect gift for that one person on your list, or maybe that person on your list is you! Whatever the case may be, we've got you all set for giving the gift of choice so we can take the stress out of holiday shopping this year.
Good Luck and Happy Shopping!
Pay for your next treatment with your mobile device!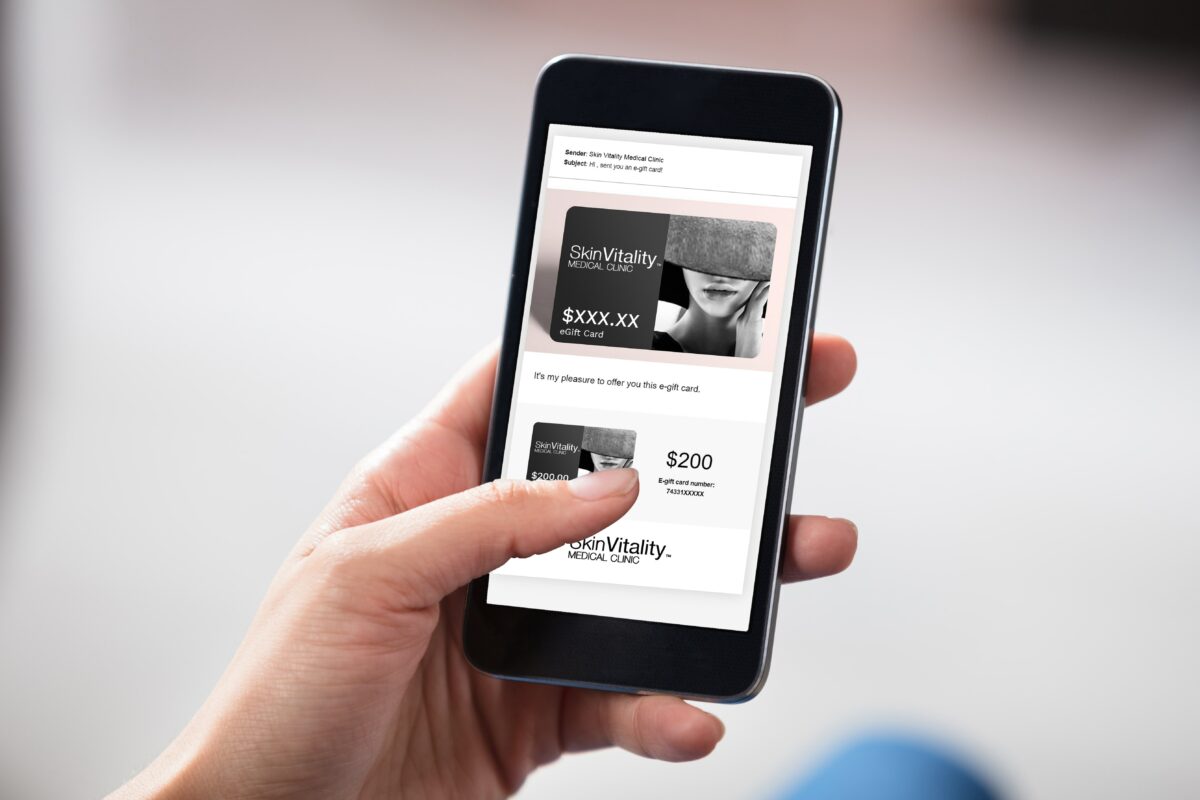 WE ARE THE TOP Injectable PROVIDER IN TORONTO!
We perform thousands of injections every year – so many that we are the top provider of Botox® and Juvéderm® injectable treatments in Toronto and Canada. We also perform more CoolSculpting®, PRP Hair Restoration®, Sculptra®, EMSculpt® and Fraxel® treatments than any other providers in the country! Our doctors, nurse practitioners, registered nurses, and registered practical nurses have injected over 5 MILLION patients in the last 15 years. If you are looking for the best Morpheus8 results in Toronto, you have come to the right place!
Skin vitality location NEAR ME
Skin Vitality Toronto is our fourth location in Southwestern Ontario. This Toronto medical spa is just one of our 11 locations. Not located in Toronto? No problem! We offer non-surgical treatments across the GTA; browse through the clinics below to find a location near you! 
Mississauga offers non-surgical treatments at our Mississauga clinic, located around the Port Credit area.
Oakville offers non-surgical treatments at our Oakville clinic, located beside the Harper's Landing on Cornwall Road.
Richmond Hill offers non-surgical treatments at our Richmond Hill location, just North of the 407, in the LCBO Plaza, a few stores down from the Shoppers Drug Mart.
Ajax offers non-surgical treatments at our Ajax clinic, located in the Westney Heights Plaza, just North of the 401.
Stoney Creek Hamilton offers non-surgical treatments at our Stoney Creek, Hamilton location, a couple of minutes from the QEW, at the intersection of Fruitland Rd and Barton St.
London, Ontario offers non-surgical treatments at our London clinic, located within the Starbucks, No Frills and Shopper's Drug Mart Plaza on the northeast corner of Fanshawe Park Rd. W.
Kitchener Waterloo offers non-surgical treatments at our Kitchener location, just north of the 401 in the Deer Run area.