Being A Parent is the Hardest Job in The World
Treat yourself with Looking 10 Years Younger in Less Than 30 Minutes
What Can BOTOX® Help Me With?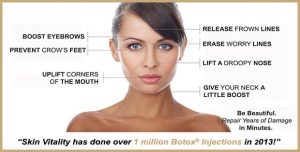 There are many aesthetic treatments made possible through the use of BOTOX®. BOTOX® is used in for a wide range of treatments including: wrinkle reduction on face and neck, facial sculpting (lifting eyebrows, adding volume to skin and lips and more), and facial contouring (creating a more triangular face and creating definition to cheekbones).All it takes is 15-30 minutes, and Botox® can iron out wrinkles earned over years of facial movements, such as smiling and frowning, concentrating and squinting. In addition to the most popular complaints — furrows between the eyebrows, crow's feet and forehead lines — women in particular get Botox® injections to correct some imperfections of their lips and necks.Recently, Botox® has found yet another use: a "chemical brow lift" to restore the arch to falling eyebrows.
---
*Please Note: All patients must undergo our medical consultation with one of our licensed physicians prior to receiving prescription medication. While supplies last. Some restrictions apply please call for details. Soft Lift™ is a registered trademark of Allergan Inc. JUVDERM® is a registered trademark of Allergan Holdings France SAS. Botox Cosmetic is a registered trademark of Allergan Inc. Above Prices does not include taxes.